The number of adult learners is growing within the United States.
This fall, 7.4 million individuals aged 25 and older are enrolled in college, according to the National Center for Education Statistics.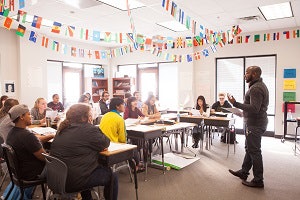 However, pursuing an education for many adults, whether it is their high school diploma or high school degree, still remains a daunting task.
The nonprofit thrift store, Goodwill, wanted to change that.
In 2010, after discovering that half a million working-aged people living in Indiana lacked a high school diploma, the Goodwill of Central and Southern Indiana created the Excel Center.
The tuition-free adult charter school helps individuals earn their high school diplomas.
"It's an opportunity for any adult who either dropped out or had previously been unable to complete their high school diploma to come back or in some cases, come for the first time, to receive not only an education and not only the actual diploma but kind of a chance and a new set of opportunities," said Katie Bustamante, school development director at the Excel Center's national office.
Participants have the opportunity to earn industry-recognized job certifications in a variety of fields such as pharmaceutical, electrical technology or welding. Students can also enroll in dual-credit courses to begin earning college credits.
"High school diploma is great and it's more than they had from an education standpoint, but there's limitations on that now," said Kent Kramer, president and chief executive officer of the Goodwill of Central and Southern Indiana.
Students not only have the opportunity to learn academic skills, but they are also able to develop soft skills needed for employment.
Nontraditional students often face a number of barriers that challenge the achievement of an education.
Since 53 percent of the program's participants have a child under the age of 18, the Excel Center offers free childcare on-site.
The program offers transportation assistance in the form of a bus pass or ride-share coverage. Additionally, they are given a life coach to help stay motivated and confident throughout the program.
Gloria Turner, an alumna of the program, originally didn't know what to expect from the Excel Center as she mostly enrolled for childcare purposes.
"I was really shocked that people cared beyond their job," she said. "I had a life coach that told me where I was in terms of graduation, but he went above and beyond. On weekends, he would call to make sure I was good to come back to school the following Monday. It was just an abundant cloud of support from the teachers, office managers, even the janitors. Everyone wanted to see you succeed. And when you come from a background where you don't have a lot of support, getting that support is everything."
Turner graduated in 2013 and always joked that she would come back to the Excel Center to work.
Eventually, she realized her passion is to help improve the lives of nontraditional students. She expressed her interest in being a life coach and was hired in 2015 at the Excel Center Meadows.
Turner said being a life coach has been one of the most challenging jobs of her life, but the most rewarding.
"It has its ups and downs, but mostly more ups than downs," she said. "It has been very rewarding helping individuals reach their goals because you are playing a part and you are making an impact on helping them succeed."
Due to the number of barriers, class schedules are flexible to fit individual need. They are offered Monday through Thursday either during the day or evening. Job certification courses and tutoring are available during the week on Fridays.
The courses are taught by licensed teachers and on average, it takes participants 13 months to complete the whole program. There is between 300 to 350 students who attend each Excel Center.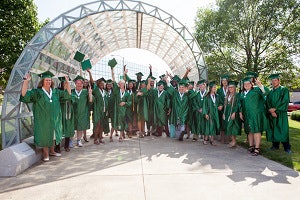 "It is a place where you are surrounded by empathetic teachers, staff, coaches, administrators and peers who will support you not only in your academics but in your life beyond school," said Bustamante.
Kramer has found that students are getting employed upon graduating from the Excel Center and are also looking to further their education.
Before starting the program, 30 percent of participants are employed. However, upon completion, 70 percent are employed. Additionally, 38 percent of students go on to community college, according to Kramer.
Besides employment and education, Kramer believes that the Excel Center helps the next generation.
According to the center, children of high school graduates are 50 percent less likely to drop out of high school than the children of dropouts are.
"We have had students tell us that they are more confident with their own kid, they can sit down with their own kid and help them on homework," said Kramer. "They can sit down when one of their kids is having an issue or problem and really help them work through that, whether it is through school administration or tutoring."
Since its establishment, the Excel Center has expanded to 25 cities, mostly throughout Indiana. However, other locations include Missouri, Texas, Tennessee, Arkansas and Washington, D.C.
Goodwill of Central and Southern Indiana licenses the model to other Goodwill stores. They receive funding from the state to keep the program going without fees.
Kramer hopes to further expand the program in the future.
"We are just extremely grateful for the support that we get from the state of Indiana," said Kramer. "We continue to hope that other states take note and help follow suit."
Sarah Wood can be reached at [email protected].