Only 10.9 percent of all United States study abroad students from 2016 to 2017 were from minority-serving institutions (MSIs), according to the Council on International Educational Exchange (CIEE).
CIEE, a nonprofit study abroad organization, created the Frederick Douglass Global Fellowship program to level the playing field and increase student accessibility to international travel.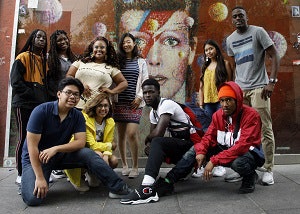 "Study abroad is fundamental to shaping strong leaders and contributing citizens," said Dr. James Pellow, president and chief executive officer of CIEE. "So, every university needs to embrace this."
Inspired by the advocacy and life story of abolitionist Frederick Douglass, the program was designed for students to learn about intercultural communication and leadership.
First-year and sophomore students from MSIs are chosen to participate in a four-week study abroad experience. Through a partnership with Rutgers Center for Minority Serving Institutions (Rutgers CMSI), their flight and program fees are covered.
"I know this is a program that brings out the best in these students and helps them to really see themselves, by the end of the program, as strong, whole, capable leaders," said Dr. Keshia Abraham, director of strategic initiatives at CIEE. "They go through a really deep process of introspection through this journey with us."
Since its establishment in 2017, the program alternates every year between London, England and Cape Town, South Africa.
"Both of those locations provide a really rich context for learning about intercultural learning and leadership," said Abraham. "Both are places that have obviously addressed slavery and diversity in really complex ways."
She added that South Africa, for example, "provides a fascinating lens for looking at equity across cultural difference.
The program's third cohort of 10 students recently completed their experience in London. Abraham and Quinton Redcliffe, the director of diversity and inclusion at CIEE, led the program from July 15 to Aug. 9.
"What makes this program unique is that it is taught by two people of color who come from different geographic locations but have both worked for significant portions of our career enhancing the lived experiences of students of all backgrounds," said Abraham.
For the most recent London course, the focus was on identity through digital storytelling. Students first applied to the fellowship by submitting their own videos.
Then, throughout their travels, they documented their findings and experiences. This was a way for students to monitor their personal growth and global understanding.
During their trip, the global fellows toured the area of Brixton to experience the cultural diversity of the city and participated in a learning tour in Belfast.
"We went to a number of iconic locations in London to both talk about how the city embraces its diversity and also where some of the complexity is around intercultural engagement," said Abraham.
There was also a focus on the impact of Brexit. The students engaged in a mock press conference where the topic was Brexit and United States president Donald J. Trump. During the exercise, students were able to interview a journalist who was pro-Brexit.
Additionally, the students engaged with poet and literary activist Dorothea Smartt, who discussed Black British identity.
Though most of the program's itinerary was planned, students were given weekends off to explore. Many chose to visit other countries, including France, Belgium, the Netherlands, Scotland and Ireland.
Global fellow Hali Smith, who attends Clark Atlanta University, found her experience to be eye-opening.
"I learned how minimal some of our problems are compared to other people and what's going on globally," said Smith. "It helped me prioritize what's truly important to me."
She enjoyed being part of a program where she was introduced to people from a number of various backgrounds and life experiences.
"This is more than just a study abroad trip, but an actual life-changing experience," said Smith. "It's important not to come in with any expectations and be ready to be open to dialogue, learning and leadership."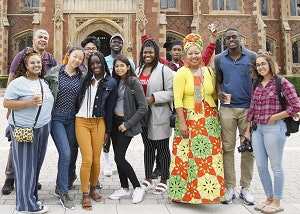 CIEE offered a $1,500 grant for students to study abroad who applied for but did not receive the Frederick Douglass fellowship. Those scholarship awardees can choose any of CIEE's summer programs, which include places such as Spain, Germany, Senegal and Ghana.
"Our summer scholars, or any of other students who are participating in traditional programs, they are well-received, well-supported and expected to take this opportunity and bring it back to their home campus and do something with it, similar to the Frederick Douglass fellows," said Abraham.
In order to create more study abroad accessibility, Pellow believes that universities need to provide students with resources, including offering their time and creating partnerships.
"I think the most fundamental things that leaders and colleges can do is recognize that this experience is not an add-on, it is not something that is extra-curricular." said Pellow. "It is a core experience that every one of their graduates should have the opportunity to pursue. It is as fundamental as anything in their core curriculum, any STEM course, any business course. It is fundamental to creating student leaders who can contribute and succeed for their families, communities and, ultimately, long-term for the universities."
Sarah Wood can be reached at swood@diverseeducation.com.