Athletics were always a major part of Julie Cromer's family life.
She grew up having a deep appreciation for college sports due to her father's background as a college athlete and coach.
Cromer understood that her father, who was a first-generation college student, would not have been able to pursue a postsecondary education without his athletic scholarship.
"I completely believe in the transformative power of higher education for those students who prepare and embrace the opportunity," said Cromer, who recently was named director of athletics at Ohio University. "I think it can change their lives and the lives of generations after."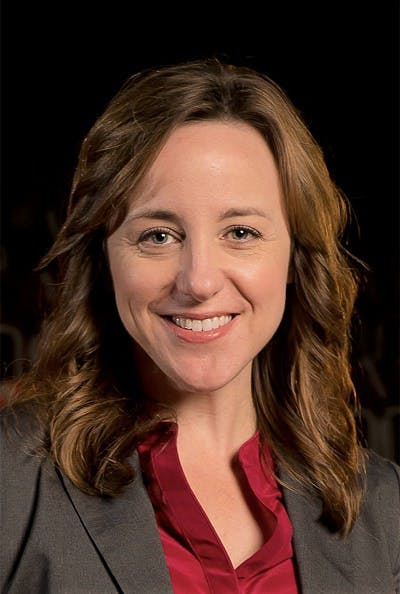 As she got older, Cromer also saw how sports were a "connected tissue of our communities."
"In American culture, we rally around sports events, we pick our teams, we identify ourselves by the fanbases to which we belong and I recognized that socially there was power in sports as well," she said. "I was drawn into the opportunity to be a part of that."
Cromer attended Missouri State University and later earned a master's degree from Indiana University (IU).
Her passion for athletics led her to start a career in the Midwestern Collegiate Conference where she became assistant athletics director at Wright State University.
Soon after, Cromer began to work at the National Collegiate Athletic Association (NCAA) national office as the director of academic and membership affairs where she focused on policy initiatives, academic reform and building partnerships with faculty, coaches and administration.
"It really shaped my viewpoint and gave me a broader landscape of college athletics," she said. "It gave me an opportunity to work in shared governance and to understand from a national policy perspective how important higher education is to our workforce development, to the development of our culture and also to the development of communities across the country."
Given the opportunity to work with other sports throughout her career, Cromer says that "football chose her" after she was offered the role of executive associate athletics director and senior woman administrator at IU. It was her first opportunity to supervise football at the collegiate level and she became one the first women in the Big 10 to oversee all football operations.
Cromer found that more women in athletic leadership roles often work in U.S. Olympic sports such as women's and men's basketball. She acknowledged that football continues to be a sport that has been slow to embrace women due to its long history and tradition.
"I am really encouraged by the number women that I see seeking opportunities in football and are willing to go into that space," she said. "Once they are there, a lot of times, they are able to thrive because at the end of the day, it's often about results. In an environment where everyone wants to win, you're looking for an edge, you're looking for the best talent. For those women who prepare themselves and are ready to embrace that challenge, I think once they are in that space, they can find that it may not be as difficult or as intimidating as they had imagined from the outside looking in."
Cromer advanced in college athletics, serving as senior deputy athletics director, associate vice chancellor and senior woman administrator at the University of Arkansas.  There, she focused on marketing, ticket sales, fundraising, licensing, branding and worked with their football program.
In August, Cromer was named the new director of athletics at Ohio University, becoming the first woman to hold that position.
"On a personal level, for me, it is a great opportunity to go to work and do great things for students and coaches," she said. "At a university level, I think it's an opportunity to embrace leadership that looks different from what they've seen before."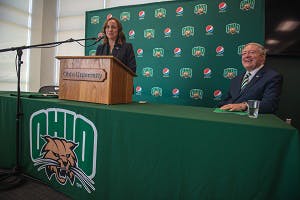 She said that it's important for all student groups to see positive representation.
"Particularly for underrepresented groups, to be able to see leaders and influencers on campus and in their lives that they may have an opportunity to see a little bit of themselves in, I think that's very important for them as they imagine and set the goals they hope to achieve in their own lives," she said.
Hunter Yurachek, vice chancellor and director of athletics at the University of Arkansas said that Cromer will make a great addition to Ohio's athletic department.
"Throughout her career as an administrator at the NCAA and at several prominent institutions around the country, Julie has been a respected voice within intercollegiate athletics," he said in a statement. "In working alongside Julie within our program, it is clear to me that she shares the same focus and commitment to student-athlete success."
Cromer serves on the NCAA Division I Board of Directors and is a member of the Board of Directors of Women Leaders in College Sports.
She has received several accolades including being named the Nell Jackson Administrator of the Year by Women Leaders in College Sports in 2015 as well one of Northwest Arkansas Business Journal's top 10 "Women in Business" in 2016.
In her new role, Cromer said that she hopes to provide the best possible experience for students on campus as they prepare for life after college.
"For us, that is developing them academically, personally and also athletically," she added.
Sarah Wood can be reached at swood@diverseeducation.com.