Lesly Guillen stood outside the Supreme Court in a plastic rain poncho, holding a sign that read "Protect DACA." She flew in from Houston, Texas Tuesday morning, only to fly back that afternoon. She's in her second semester of law school at South Texas College of Law, skipping school to join the "Home Is Here" rally, where she and her sister joined hundreds of undocumented immigrants and advocates. Some had marched for 16 days from New York City, a 230-mile walk.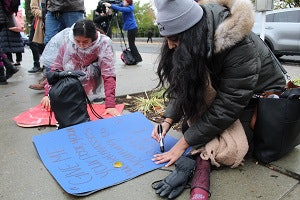 "I felt like I was sitting in the shadows and not doing anything," she said. "I felt like I needed to be here."
Guillen was born in Mexico, and since she became a DACA recipient in 2012, she feels like she's had to live life "two years at a time," on her DACA renewal schedule. It's stressful, she added, but it's "better than nothing."
She wishes she could tell the Supreme Court, "these are our lives in the balance," she said through tears. "It's more than just a piece of paper to us. It's the only kind of stability that we have."
A discussion about her fate – and the fate of about 700,000 DACA recipients – happened inside the monumental white building steps away, where the Supreme Court heard oral arguments about the Deferred Action for Childhood Arrivals program. The Obama-era policy protects immigrants who arrived in the U.S. as children from deportation and enables them to work in the United States.
Since the Trump administration's 2017 attempt to end the program, no first-time applications for the DACA program have been processed. But lower courts decided against DACA's removal, which means current DACA recipients can still apply to renew their status as the Supreme Court deliberates.
Supreme Court justices examined three lawsuits on Tuesday: McAleenan v. Batalla Vidal, Department of Homeland Security v. Regents of the University of California and Trump v. NAACP. The central debate hinges on whether President Trump rescinded the program on a sound legal basis when he argued that Obama didn't have the power to instate it in the first place.
"I do not favor punishing children," Trump said in his 2017 statement on DACA's termination. But he called the program "unlawful and unconstitutional" and said it "cannot be successfully defended in court."
DACA recipients face an uncertain future if the Supreme Court sides with Trump's rationale. Jason Hernandez, director of the Rutgers Immigrant Community Assistance Project at the Camden campus – said DACA students at Rutgers University fear they won't be able to find work if their DACA status is retracted.
If they can't work, many may not able to afford college, even though undocumented students will be able to continue attending Rutgers with in-state tuition and scholarships available. Students also worry "they will have invested all this time and money into a degree, but then they won't be able to use it without work authorization," he said.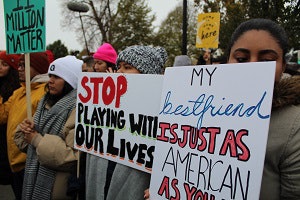 But perhaps their biggest worry is that they'll be targeted for deportation, given the government already has all of their information on file.
"Students are experiencing a lot of stress and anxiety," Hernandez said. Recently, it's been "very hard for them to focus on their studies."
Hernandez is encouraging students to renew their DACA status as soon as they can, even if their two-year term isn't up, so they can "maximize the amount of time left on their DACA status" if it ends, though renewal requires paperwork and a $495 filing fee. He also wants DACA students to meet with immigration lawyers to review their options, because some may qualify for other forms of legal protection like asylum.
In the meantime, colleges and universities can help by making sure they have staff on hand who are trained to advise DACA students, he said. They can also offer on-campus work opportunities that DACA students can do without work authorization, like research jobs funded by grants and scholarships.
Many universities, including Rutgers, have already signed amicus briefs in support of DACA students, and Hernandez hopes more will.
"Regardless of your immigration status, you can succeed in school and make incredible contributions to the various facets of American life," he said. "And I think many universities need to sort of reflect on what contributions their students make and laud those contributions and make them known to the public."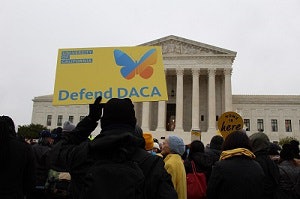 It's still unclear what the Supreme Court will decide or when. While the DACA program has enjoyed bipartisan support, the Supreme Court's deliberation comes down to a debate over "procedural issues" in a conservative majority court, which could go either way, Hernandez said. And even if the court comes down in favor of DACA, he's not convinced there won't be other attempts to rescind it.
"This isn't the end," Hernandez said.
If DACA does fall through, Dr. Daniel Morales, an associate professor of law and George A. Butler Research Professor at the University of Houston Law Center, hopes there will be a renewed push for the Dream Act, which would create a pathway to citizenship for these students. He thinks the majority of Americans, Republicans included, are in favor of a solution for undocumented young people.
"There's just not a very good reason not to give these kids status," he said. "It's morally reprehensible. It's economically ludicrous."
But for now, the conversation about DACA remains in court, based in "really esoteric legal concepts" about presidential authority, which Morales considers a sign of failure on the part of U.S. immigration law.
"The real tragedy is that we're here at all," he said, debating a deeply human issue from within a "morally bankrupt" framework. DACA students are caught in the middle of a national conflict over America's multiculturalism, and immigration law can't provide a "ready-made remedy" as it is now.
"The reason we're here is America is having a fight about who we are," Morales said. "We are trying to decide whether to be who we've always been – which is a White supremacist state with a small minority population that was kept in its place – or whether we want to become the multicultural, multiracial state of equals we can become if we want to. I think immigration law is a function of who we think we are and who we want to be."
Sara Weissman can be reached at sweissman@diverseeducation.com.