After CEO and co-founder of L+M Development Partners Ron Moelis noticed a dearth in the number of diverse students entering the urban planning field, he decided to fund a new scholarship program at the University of Pennsylvania (UPenn).
Under UPenn's Stuart Weitzman School of Design, the Moelis Fellows Program aims to diversify the field by covering the cost of tuition for two students. The goal was to provide financial support to those students pursuing careers in public or private development as well as community and economic development.
"Financial assistance is always really critical to us when we are trying to recruit new students," said Dr. Lisa Servon, professor and chair of the Department of City and Regional Planning at UPenn's School of Design. "We were sometimes missing out on getting good students because we weren't able to offer them competitive financial aid packages. So, this has really enabled us to go after some the best students and get them to come to Penn."
Eboni Senai Hawkins and Sean Dajour Smith were named as the first cohort of students. In addition to tuition coverage, they are given a stipend and opportunity to build relationships with professors to help assist with finding internships.
For the application process, students applied to the master's program as well as wrote a 550-word essay depicting their future career goals. The scholarship also funds an annual lecture which will focus on topics such as food insecurity in low-income communities.
"I think it's a great fellowship," said Servon. "People who want to pursue degrees in planning can certainly make a comfortable living but often our students are really nervous about taking on a lot of debt. Many are coming to us having already taken out loans so it's a terrific opportunity to get your education paid for and participate in a really cool field."
Hawkins had always been intrigued with major cities. Living in Brooklyn, San Francisco and Chicago made her become interested in the policies and financial aspects associated within public spaces.
"Each of those cities holds a place in my heart and I look at how amazing they are but also what they could be doing better," she said.
Though interested in further pursuing her education, Hawkins had not yet figured out how she was going to pay for graduate school.
Additionally, as a mother of a three-year old, Hawkins felt that she was looking at programs that were going to interrupt her life. She needed a program that would account for student parents. After talking to Servon, she was encouraged to apply to UPenn as well as the fellowship program.
"Everybody's availability to talk to me alongside the actual fellowship was key," she said.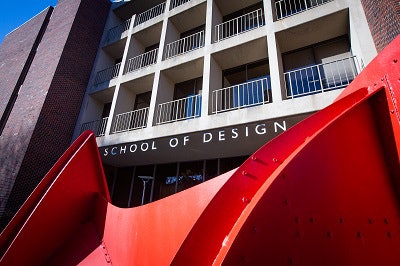 On the other hand, Smith was influenced by the structure of his neighborhood.
"It's hard to delay and defer gratification and I knew that not everybody has the means or desire to go to school," he said. "So, on my end, I wanted to think about from the neighborhood level, what barriers and impediments get in the way of people getting to pursue a fulfilled life. I figured planning was a good way to open multiple entry points."
After realizing his passion for planning, he found that UPenn checked a lot of his boxes.
"I wanted to make sure that I was going to an institution that allowed me to be me and allowed me to be my authentic self and keep my integrity," he said. "I didn't want to get socialized. I felt like I needed a space that was moving in a direction that I wanted to move in."
Smith said that he hopes this master's program can give him a starting point for his career.
"I don't have all the answers," said Smith. "That's why I'm in graduate school, I got curiosity, but I don't have the answers."
In the future, Servon said she hopes to increase the number of fellowships and eventually receive more funding from other donors.
Since stepping into her chair role three years ago, one of Servon's key priorities has been to tackle the issues of equity and diversity within the urban planning field.
Thus, in addition to the Moelis Scholars Program, the Stuart Weitzman School of Design also offers the Dean's Diversity Scholarship. The scholarships range from $12,000 to full-tuition. Additionally, they can be renewed if a student maintains full-time status and good academic standing. According to DataUSA, White students earn the largest share of the degrees in urban planning, with 49.5%. Additionally, the field is predominately male.
"We are just super grateful to Ron and to other people who have supported our students," said Servon. "We have an amazing group of students and support like this can really broaden the field. And the work that they end up doing when they get out is so important."
Sarah Wood can be reached at [email protected].