Since the University of Southern California's (USC) campus closed in the wake of the coronavirus, going to class looks a little different for junior Andrea Alba.
A first-generation low-income student, Alba now shares a room with her two brothers, ages 16 and 25, in her family's two-bedroom house. Her parents, who work at USC, are also at home, waiting on emails about what their work will look like during the campus shutdown. There's no room where she can be alone to take her online courses.
"If I go in my room, my brothers are there. If I'm in the kitchen, if I'm in the living room, someone's always there," Alba said. "I don't have space to be as productive as I can. I don't have space to do my classes comfortably."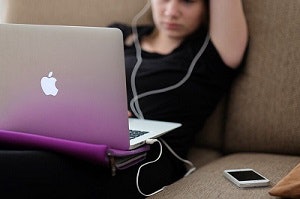 Meanwhile, she has a payment due to the university for her dorm room and dining services, campus resources she hasn't been using during the shutdown. She recognizes the school is still figuring out how to dole out refunds amidst the chaos, but "I don't have this money," she said.
In the past month, Alba and classmates like her have faced a lot of uncertainty and a slew of extra costs. Universities are working hard to respond, but for students who rely heavily on campus resources like food, housing and healthcare, there is a growing list of needs.
A survey by Course Hero, which offers online academic resources, bears out just how diverse those needs are in the wake of the coronavirus. The education technology company is opening a student emergency relief fund, and in doing so, analyzed students' applications to get a better sense of low-income students' costs. A breakdown of responses from 15,000 students from about 4,000 universities showed that money for rent and food each made up a quarter of students' overall financial need, followed by costs associated with lost jobs and technology like laptops and Wi-Fi.
Qualitative data from the survey reveals an even wider array of challenges. Students asked for funds to afford gas, medication, household cleaning products, car repairs, feminine products and so on.
"I am a DACA student who lost their job," one student wrote.
Another requested money for "child clothing and [an] asthma pump for my 4 year old."
"Basic household goods," wrote another. "Unable to go to the store and buy anything as everything in my area is gone."
Louis Lin, a first-generation, low-income senior at the University of Pennsylvania, has seen this variety of needs play out on his own campus.
When his school closed, with six days to leave, students frantically messaged each other in their first-generation students' group chat with all kinds of concerns. At the University of Pennsylvania, the school is reimbursing students for their moving costs, but some low-income students struggled to pay for their flights upfront, Lin said. If they had nowhere else to go, students could fill out a short application to stay on campus, but students didn't know what level of detail to put in their answers or what to do if their applications were rejected. They're still waiting on information about refunds for campus housing.
Louis' family, meanwhile, is in "limbo," he said. His parents work in a Chinese restaurant that's closed for the foreseeable future as a result of the coronavirus.
"We don't know when things will get better," he said. "We're not sure what will happen."
For Lin, it's important for universities to recognize that low-income students aren't a "monolith."
"… All students are going through different experiences," he said, so even the best sweeping policies aren't "going to work for every single student."
His advice to universities is to be flexible in response to student input. For example, he's advocating for the University of Pennsylvania to extend its deadline for students to decide on letter grades versus pass/fail for grading as the university moves to an optional pass/fail system. He wants to make the best decisions for his GPA, but he and others are preoccupied with "family priorities," he said, so the more flexibility on deadlines the better.
He also suggests schools have a clear mechanism or point person for low-income, first-generation students to ask for help and offer feedback, like the University of Pennsylvania's First-Generation Low-Income Center. That way, schools can "anticipate problems that might occur before they even do," he said.
For Alba, something as simple as an acknowledgment from universities that first-generation students may be facing extra challenges would make a difference. Student organizations like the USC First-Generation College Student Union and La CASA, a group for Latinx students, have been sharing resources specifically for students like her as they make the online transition, but affinity groups wouldn't have to if the university did more outreach, she said.
USC's specialized events and student clubs have given her a chance to "find a home" on campus as a first-generation, low-income student, but with campus shut down, she still feels like she needs specialized help. There's no guide out there on how to take online classes cramped in a room with two brothers – or even just recognition from the university that might be the case.
"The first step is to really acknowledge the different consequences [of the coronavirus] that come with the different communities," she said. "There should be different approaches for different ways that they reach out to different communities. They have to stop generalizing. That's the biggest thing."
Sara Weissman can be reached at sweissman@diverseeducation.com.