During her 16-year tenure as the longest serving chancellor in the history of the San Diego Community College District, Dr. Constance Carroll has taken her leadership to a new level. She is known in her community as "the people's chancellor," and her track record supports that moniker.
Earlier this year, Carroll announced plans to retire in 2021. Within weeks of her announcement, COVID-19 began sweeping the nation, prompting stay-at-home orders as illness and death tolls rose. This was just the latest of numerous challenges that Carroll and her team have faced over the years.
One member of that team, Dr. Pamela Luster, president of San Diego Mesa College, says "the people's chancellor" is an apt description of Carroll because of her "unwavering commitment to those most vulnerable in our communities. Even though she has attained great stature in our work, she still works tirelessly to support non-profits, public-private partnerships, community organizations along with our district to assure access to opportunity." Carroll was Mesa's president for 11 years before becoming chancellor.
As leader of the San Diego Community College District, Carroll has authority over City College, Mesa College,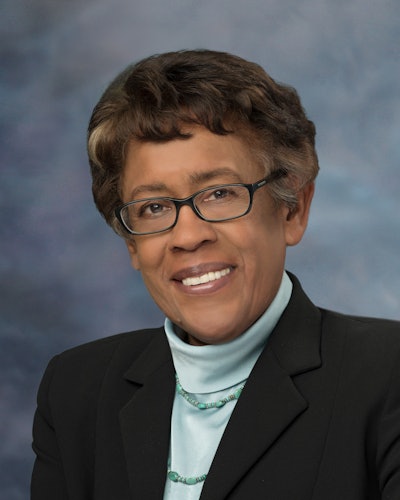 Miramar College and a seven-campus Continuing Education division. The district has a total enrollment of 105,000 students per semester and is one of the largest community college districts in the nation.
Carroll says her career choices and interest in equity and diversity were largely inspired by her mother's experiences seeking a graduate degree in segregated Maryland in the 1950s. Dr. Rebecca Evans Carroll was not allowed to enroll in graduate school at the University of Maryland, College Park (UMD) but the state permitted qualified Black students to attend any other institution of their choice in the country — at Maryland's expense. Rebecca Carroll was accepted at the University of Chicago, where she graduated summa cum laude with a master's degree in human development and education.
Undaunted by the past discrimination, her mother "kept her sights fixed on the University of Maryland because she was determined to bring that to closure," Carroll says of her mother's decision to return to the university in the 1960s to pursue her doctorate in education. In 1966, she became the first African American woman to receive a doctoral degree from UMD.
Chancellor Carroll stresses the "terrible irony" of her mother's experience. "The University of Maryland chose to pay tuition, room, board, books and travel expenses for Black students to go elsewhere, so that they [UMD] would not have to accept those students." As a result, she explained that her mother was able to attend one of the leading universities in the country. Carroll said a number of Black students chose institutions all over the country. "One of her friends went to the University of Hawaii — they went everywhere — places they never would have been able to afford had it not been for the payment by the State of Maryland."
Carroll, herself, was part of the transition of Baltimore public schools from segregated to integrated. "Prior to the passage of Brown v. the Board of Education, which ended de jure segregation, there were two school systems in Baltimore: Baltimore city schools and the Negro department of education," Carroll recalls. "When Brown v. Board passed, the two merged. As you can imagine, in a merger of unequal partners, the stronger of the two dominated." As a result, she said most of the Black administrators lost their jobs and were put into classrooms, "but my parents were among the few who made it into what had been the White school system. Her father, James Carroll, became a high school principal and her mother an administrator, ultimately becoming deputy superintendent of the integrated Baltimore City Schools.
Transforming the campus
Carroll's efforts on behalf of the district have stretched beyond the physical boundaries of the campuses. She spearheaded a successful $870 million bond measure effort in 2006 that she describes as "a real political campaign" that included fundraising, polls, telephone banks and walking precincts. "It was quite controversial at the time — the press was against it — because there had been a bond measure in 2002 … but that measure had been insufficient to meet the district's needs," Carroll explains. The election victory resulted in 42 new buildings, 20 remodeling projects, infrastructure improvements and the purchase of state-of-the-art equipment.
"It was a major, major transformation of our campuses," she recalls. "It's made an enormous difference in the quality of education. We always had an excellent faculty but the facilities did not match the faculty; through these measures, we brought the district up to state-of-the-art in a very short period of time."
Dr. Maria Nieto Senour, president of the San Diego Community College Board of Trustees, says Carroll deserves the many accolades she has received including the 2007 national Marie Y. Martin CEO Award, as the top-rated community college CEO in the nation.
"We've had a number of challenges since she's been chancellor, including the economic collapse in 2008, and she's seen us through the hard times," Senour says, adding that the current COVID-19 crisis has presented another test of leadership. "She's extremely astute about getting things done in a good way."
Carroll also "got things done" as head of a coalition advocating for California's Baccalaureate Pilot Program, which was approved by the state legislature in 2014. As a result of that effort, California became one of 25 states allowing community colleges to confer four-year degrees in certain disciplines. Currently, 15 community colleges in California, including San Diego Mesa College, are now offering four-year degrees. She is also leading the campaign to expand the program.
"I will continue my efforts to make sure that, just like Florida, California will be able to have its community colleges offer bachelor's degrees without limitations," Carroll says, noting that it is part of her next chapter. "I have founded the California Community College Baccalaureate Association, and that will be my post-retirement focus."
Carroll also co-chaired a successful two-year campaign to end disparities in community college funding across the state. That effort brought $240 million to California community colleges including $9 million to her district in ongoing funding.
Equity for Latinx students
"Our board is very progressive — we care about things like equity and inclusion — we're fiscally conservative but socially very progressive," Senour says, citing Carroll's strong advocacy for the district's undocumented students. SDCCD's largest demographic group is Latinx/Hispanic, which is about 36% of the student population.
"Because of our location in Southern California, we have grown considerably in the number of Latinx students that we have," Carroll says. "That's a very strong cultural group within our district." For that reason, along with her own interest in languages, Carroll says she is in her fifth year of studying Spanish. "And I'm getting pretty good at it!" she laughs.
Carroll also explains that the district's demographics are "one of the reasons we joined the lawsuit against the U.S. Department of Education. We have thousands of DACA students who are undocumented and of whom we are very proud and to whom we are devoted, and we will bend over backwards to see that they are treated the same as any other students."
She was referring to legal action taken by California Community Colleges Chancellor Eloy Ortiz Oakley to stop the U.S. Department of Education from restricting CARES Act relief funds slated to mitigate the effects of COVID-19 for students. The department later excluded undocumented students from the provision, leaving up to 800,000 students statewide without aid.
Carroll considers one of her highest honors being nominated in 2011 by President Barack Obama and confirmed by the United States Senate to serve six years on the National Council on the Humanities.
Carroll earned a bachelor's degree in humanities from Duquesne University and a master's and Ph.D. in Classics (Ancient Greek and Latin) from the University of Pittsburgh. She also received a Certificate of Proficiency in Hellenic Studies from Knubly University in Athens, Greece, and attended the Harvard University Institute for Educational Management.
In her district profile, Carroll said, "Students of the classics understand the history and the complexity of issues such as the nature of democracy, the causes of international conflict, the institution of slavery and other issues that are familiar in contemporary times. It gives you a terrific look into the past. The past is prologue — it's still relevant."
In addition to following in her mother's footsteps, she inherited Rebecca Carroll's love of music. She plays guitar and piano and, like her mother, loves opera. But it's the fighting spirit and perseverance that she witnessed growing up that has inspired her career.
"My focus on access, inclusion, equity and diversity come from my direct experiences, and seeing the impact of limited access, lack of support and low expectations has made me absolutely devoted to making sure that doesn't happen to other people," Carroll says. "We have to fight for human rights for all people in America."
This article originally appeared in the June 25, 2020 edition of Diverse. You can find it here.