California higher ed leaders are hosting California Community College Black Student Success Week from April 26 to 30, an event dedicated to Black and African American student success at California community colleges.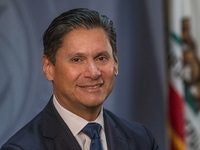 A daily webinar series – called "The Black Hour" – will be held throughout the week from 12 to 1 p.m. and open to California Community College administrators, staff, faculty and students. Registration opens April 1.
"Follow the Money: Unapologetically Supporting Black Students," with speakers such as Eloy Ortiz Oakley, chancellor of the California Community Colleges; Pam Haynes, president of the California Community Colleges Board of Governors; Dr. John B. King, 10th U.S. Secretary of Education and President of The Education Trust; Dr. Edward Bush, president of Cosumnes River College; Dr. Darla Cooper, executive director of The RP Group; and Dr. Frank Harris, professor of postsecondary education and co-director of Community College Equity Assessment Lab at San Diego State University.
Other topics throughout the week are April 27's "The ADT Journey for African American Students," April 28's "Black Leadership in Higher Education," April 29's "Legislative Briefing and Advocacy Day" and April 30's ¬"Faculty Diversity." There will also be a virtual advocacy day on Thursday, April 29.