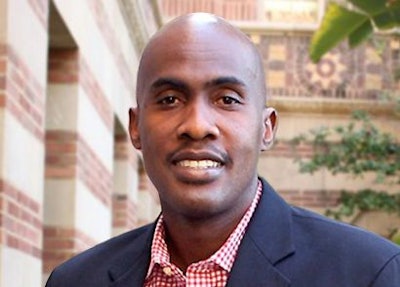 A new report reveals how the pandemic's unequal toll on Black and Latinx students in Los Angeles threatens to undo years of California's progress to better support such students into and through college at the same rates as their white peers.
The Campaign for College Opportunity, a nonprofit dedicated to higher education equity in California, released the report titled, "The State of Higher Education for Latinx and Black Angelenos." California is home to the nation's largest Latinx population and fifth largest Black population. And Los Angeles County, the state's most populous county, is home to about one third of Blacks and Latinx in California.
"This is a really important location from an equity standpoint in the state," said Dr. Vikash Reddy, senior director of policy research at The Campaign and one of the report's authors. "COVID-19 has had such a different impact on communities of color. But from our findings, it doesn't look like we've made targeted investment and support to address the fact that the pandemic itself was targeted. We need to make sure that the equity gaps we found don't remain durable in the pandemic."
Over the last decade, the share of Black and Latinx graduates in the LA Unified School District (LAUSD) who completed courses required for eligibility to the University of California (UC) and California State University (CSU) systems has nearly doubled. These courses are known as the A-G curriculum, and they have become part of LAUSD's high school graduation requirements.
But as the report notes, this positive trend dramatically shifted in 2020 when the pandemic hit. That year, the percentage of Black and Latinx students graduating from LAUSD who completed A-G courses plummeted from 63% to 54% for Latinx graduates—and 53% to 46% for Black graduates. Yet over the same time period, the percentage of white graduates in LAUSD who met A-G requirements went up from 66% to 67%.
"That's a notable decrease, especially when there has been so much intentionality over the years around increasing those numbers," said Dr. Tyrone Howard, a professor of education in the School of Education and Information Studies at the University of California, Los Angeles (UCLA). "To see them go down is troubling. That coupled with LA's community college enrollment drops is concerning."
The report also found that COVID-19 reduced first-time student enrollment in the Los Angeles Community College District (LACCD) by 32% for Latinx students and 40% for Black students. Overall, enrollments for first-year students at LA's community colleges were down by almost a third in 2020, a decline beyond the national average drop in community college enrollments for that year.
"That suggests to me that maybe there were economic pressures on students to help support their families, so going to college was being put off," said Howard.
Tanya Ortiz Franklin, the Board Member for LA Unified School Board District 7, agrees. She notes that many Latinx and Black high school students are part of the communities that the pandemic has hit the hardest.
"So many kids are having to decide between contributing to their families or leaving them to go to college and pursue their dreams," she said. "It's hard. Public education says our values are closing opportunity gaps for kids who have been the most harmed by historical and systemic racism. Yet we still need to make a lot of strategic changes to not only prepare students to go to college but to thrive there."
Ortiz Franklin added that these challenges present an opportunity to make such changes in the entire K-12 and higher education pipeline for bolstering equity.
The Campaign's report includes recommendations for high schools, community colleges, universities, and the state to better support Black and Latinx students in LA. At the high school level, the report said schools should ensure that A-G coursework continues to be a key part of the LA Unified School District's graduation requirements. Also, students should be expected to complete those courses with a "C" grade or better to then be eligible for admission to the UC and CSU systems.
Howard, however, said he is looking for more ambitious goals among educators and leaders.
"I want to raise the level of expectations for Black and brown students," he said. "I think that we're doing this in stages. There can be such a low bar where the goal is just to graduate Black and brown students from high school. It's not just about A-G courses. It's about honors courses and dual enrollment. I'm big on how we should make this about competitive eligibility."
Howard noted, for instance, that three-fourths of the LAUSD population is Latinx, but only about a quarter of the UCLA student population is Latinx. He stressed that UCLA should do more outreach to high schools and college counselors who support Latinx students. That could help students be aware of "what it means to be competitively eligible, not just eligible."
The Campaign's report additionally pointed out that over 80% of Black and Latinx first-year students at UCLA are supported to graduate in six years. Yet Howard said there is still a racial gap when comparing those figures to Asian and white students at UCLA.
Moving forward, he emphasized that the bar for educational equity needs to be higher for Black and Latinx students across the board.
"I think we hold those numbers up with rose colored glasses to say these are better numbers than at other institutions," said Howard. "But what we don't talk about is why is it that for white and Asian students at UCLA, those numbers are about over 90%? We have to acknowledge the fact that we're still seeing unequal outcomes for Black and Latinx students."
Rebecca Kelliher can be reached at [email protected]