It's SAT testing season, and across the nation students are putting in their final days of prep.
Students are still enrolling to take the test despite the fact that many schools, particularly during the pandemic, have made score submission optional as part of an application. Data from The College Board, the nonprofit that administers the SAT, shows 1.5 million students from the class of 2021 took the test at least once.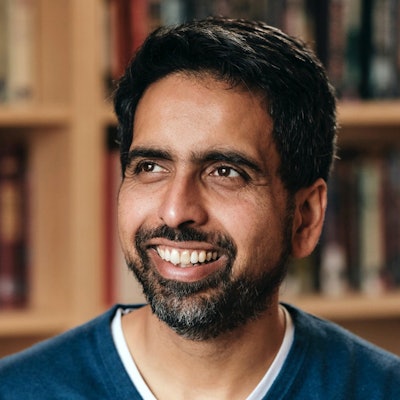 "[Students] know what gives them the best shot of going [to college,]" said Dr. Sal Khan, founder of Khan Academy, a free, open-access online resource dedicated to education from pre-K to college. "As far as I can tell, the percent of students admitted [to a college] without SAT or ACT scores is far lower than those applying with, and it's because the universities need some signal of readiness."
In November 2021, the University of California decided to end SAT and ACT test score submission requirements through 2024, and should it be unable to find a suitable replacement, will end test submission altogether by 2025 or create its own assessment test. But many schools still rely on SAT or ACT scores as a way of assessing a student's college readiness, and some scholarship opportunities are contingent on a minimum SAT score.
The SAT and other entry examinations have long been criticized of increasing the socioeconomic divide in higher education. Students with more resources are more likely to attend well-resourced high schools and have access to tutors that can help them prepare for the test. About 60% of students will take their test during SAT School Days, where schools transport their students to testing centers and give a portion of the day to the test. But that leaves 40% entirely dependent on other modes of access.
"It's still a debated issue, whether the SAT hurts or hinders access to students who are underprivileged, have fewer resources, less exposure to college, lower resource schools, those kinds of things," said Dr. Anthony Lising Antonio, an associate professor in Stanford University's graduate school of education.
In an attempt to level the playing field, The College Board made the announcement the SAT was going digital. Starting in 2023, the SAT will be administered on computers with graphing calculators built into the program. The College Board also shortened the test from three hours to two, changing the length of passages students must read and only asking one comprehension question after each paragraph.
In some ways this digitization will improve equity, said Antonio, especially for students in rural or remote areas who sometimes must drive hours to reach a testing site. But in other ways, the issues of inequity remain the same.
"Overall, making the test more accessible, shorting it so it wasn't so taxing cognitively and physically, doesn't really address the primary critiques regarding test bias, as well as high correlation of test scores to socioeconomic factors. Those things aren't going to change with an online administration," said Antonio.
Antonio said he worries that, in places without test score submission, new weight might be placed on more subjective elements like letters of recommendation or admissions essays. He cited emerging research he coauthored that shows essay content is affected by socio-economic status.
"Largely, it's really unclear how those things are evaluated, and what they mean for readiness for college," said Antonio. "So that leaves applicants in a place where they're putting together an application with very little insight as to how to put those parts of the application together to put their best foot forward."
Kent Hopkins has worked with admissions at Arizona State University (ASU) for nine years. ASU, and the two other state universities in Arizona, University of Arizona and Northern Arizona University, are test optional. ASU does not use essays as part of its admission process.
"I view tests as part of a learning portfolio," said Hopkins. "I think being test optional focuses students on what I think is most important, and that's curriculum. Get your college prep, and then, if you sit for the test, it allows you to get another indicator of how you're doing. I see it as value add."
ASU is working with local K-12 programs to build college readiness skills during high school. At ASU, as long as applicant students have at least a 3.0 GPA and take required high school courses, they are admitted. For students who fall short of these goals, ASU offers students ways to connect with opportunities that can increase their college readiness, including online courses or an introduction to their local community college system, Maricopa County Community College, with whom they have "strong partnerships," said Hopkins.
"Our retention studies show, if you're B-average and have a solid college curriculum in high school, your retention changes are much higher," said Hopkins. "We want [our students] to complete the foundation in high school because we know they'll be more successful in university."
Building that strong foundation is exactly what Khan Academy hopes to do. While its reach is limited inherently through internet and broadband access, the Academy offers students a chance to engage with interesting and free resources to underscore their high school learning. The Academy's SAT prep course can be taken as many times as a student needs to feel ready to take on the higher-stakes real test.
"Our focus is, how do we get kids early and make sure they have strong foundations," said Khan. "That's where apps like Khan Academy Kids becomes a safety net. Ideally, it's an accelerate, used in conjunction with K-12. When students put in just 45 minutes a week, it grows them more than expected."
Standardized tests were originally designed to broaden college acceptance outside the very few elite, said Khan. While the SAT or other assessments might be imperfect messengers, they are data tools that can be helpful indicators of where a student needs to strengthen their skills.
"Let's not shoot the messengers—let's focus the root of the program," said Khan. "When you take things away, the people with means are going to find ways to provide signals that their kids are ready for college. Those without means, when you take options away, have even fewer options."
Liann Herder can be reached at [email protected].