Among the myriad of issues impacting Americans, higher education does not rank high on the list, says one of the nation's most influential pollsters.
The cost of living, COVID-19, immigration, crime and climate issues continue to occupy the attention of most Americans, said Kristen Soltis Anderson, who is the author of The Selfie Vote: Where Millennials Are Leading America (And How Republicans Can Keep Up).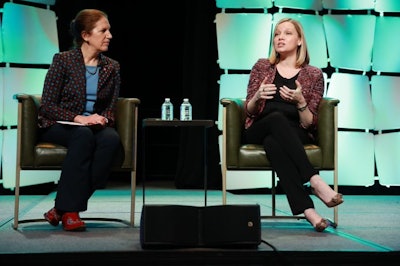 Anderson delivered her remarks at the annual meeting of the American Council on Education held in San Diego.
While "not necessarily a top issue, higher ed plugs into so many other issues," said Anderson, who engaged in a lively conversation on Sunday with Sylvia Burwell, the president of American University.
DACA, the push for carbon-free institutions, climate issues and inflation are issues that are deeply linked to higher education, she said.
While concerns over the rising cost of tuition is nothing new, a common refrain from parents and students alike is that the cost of a college degree is rising faster than inflation.
"All they're seeing is a number and they are concerned," Anderson said of students who worry that mounting debt from attending college will force so many of them to forego getting married or buying a new home.
Her advice to college leaders: the return on investment has to be clear.
"The return can't be esoteric," she said. "It has to be concrete."
More young Americans, she said, are feeling uneasy about making a long-term financial commitment to pursuing a college degree, adding that many youngsters are not worried that they can get a job upon graduation, but wonder if they can "get a good job and a career that will help them grow."
"This does raise the stake for institutions to deliver on full value propositions and whether they can deliver the skills needed in order for students to get a job in their field of study," said Anderson.
Even at the K-12 level, there is a wide divide among millennials and Generation Z about whether a college degree will translate into opportunities post-graduation. And during the COVID-19 pandemic, there has been a growing sense of anxiety that high school students are not adequately prepared to even take on college level work.
"There's a lot of stress that parents are feeling. They wonder, 'Is my student on the right track?"
Unlike previous generations, Anderson said that social media has created a "much stronger connection," between parents and their children, even if they are separated by geographic distance. This phenomenon, commonly referred to as "helicopter parents," has presented ongoing challenges for higher education leaders who have to stave off around-the-clock inquiries from demanding parents.
And yet, the pressures—particularly as a result of social media—is deeply connected to some of the mental health challenges that confront students both on and off campus.
Anderson said that the pressures of social media "and the need to curate your public self," has taken a devastating toll on the self-esteem of so many students, particularly young women. In the wake of these technologically driven disruptions, she said that it important that college leaders work to "ensure that young people feel needed."
This is the first year since the pandemic crippled the world two years ago, that ACE has gathered in person.
Dr. Ted Mitchell, president of the organization, praised college leaders for their "innovative and creative" approach to higher education amid ongoing challenges like the pandemic.
"What has not change has been our commitment as a field, as individuals and as institutions," he said, adding that higher education continues to be a great equalizer in advancing racial and gender equity and promoting social mobility.