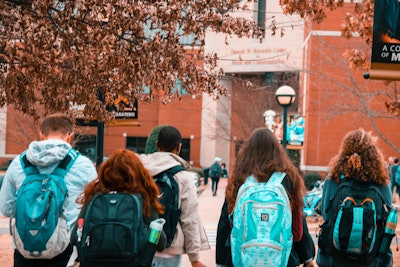 A small shift in tone or word choice on a syllabus can bolster students' feelings of belonging and potential for success in a classroom, which can improve academic outcomes. That insight lies behind the launch of a free First Day Toolkit from the Student Experience Project (SEP) with a syllabus review guide.
The toolkit was created through SEP by the higher education research and advocacy groups the Association of Public and Land-grant Universities (APLU), the Coalition of Urban Serving Universities (USU), and the College Transition Collaborative (CTC), said Samantha Levine, associate director at USU and APLU.
"The SEP aims to not locate the problem within students but instead to seek changes in the learning environment that's around them by equipping faculty with strategies to convey their beliefs in their students' potential and to foster a sense of belonging," said Levine, who developed the toolkit with university partners.
Social psychology research spanning more than a decade has revealed that when students feel welcomed and set up to thrive in a class, they attain better academic outcomes. Levine noted this is especially critical for historically underrepresented students, such as first-generation, Black, Latinx, and Pell grant recipient students.
"The syllabus is a cornerstone to set the tone on the first day of class," she added. "Changes can be small like saying to students, 'Here's my contact info, I encourage you to get in touch with me.' Or 'Here's how to access a textbook that might be expensive.' It's so important for students to know that instructors see them as human beings with complex lives."
Another example could be shifting the phrase "office hours" to "drop-in hours," then stating that students are welcome to stop by for help. That can make office hours more approachable, normalize struggle in a class, and take away the so-called hidden curriculum in which students are often expected to know what office hours are.
Faculty at several public research universities as well as other higher education institutions piloted and refined the toolkit through SEP. At a virtual event on Thursday, faculty from three of the universities that took part shared their experiences with the project.
"The toolkit brought home to me just how many students still come into an intro to STEM class with the expectation that the instructor sees it as a gatekeeping course," said Dr. Laurel Hartley, an associate professor of biology at the University of Colorado Denver, who revised her syllabus for an introduction to biology course. "You have to tell students over and over again that you don't have that mindset. So, I explicitly said in the syllabus that my mindset was that all students could succeed in this course."
As part of the toolkit's piloting, nearly 300 instructors used evidence-based practices to revise their syllabi with a growth mindset and to foster a sense of belonging. Students were then asked to rank syllabi for how supportive and clear they were, reporting that the revised syllabi were 25% more supportive and 8% clearer than unrevised syllabi.
The benefits were also felt among instructors.
Over 90% of the faculty who took part in SEP's training in evidence-based practices said they would recommend the training to a colleague. Also, 90% of instructors reported that the training helped them bring a growth mindset into their syllabus.
"This is just so easy to do," said Dr. Tiffany Mfume, associate vice president for student success and retention at Morgan State University. "When you think about all the projects that require money, technology, or more people, this toolkit is so thorough and self-explanatory that it's low-hanging fruit. You could invest less than an hour on applying the syllabus guide, and that syllabus could be passed down for generations. So, the return on investment can be high. Why not do it?"
Looking ahead, SEP is collecting data on the impact of other classroom practices, including course policies that promote equity, to strengthen students' sense of belonging and perception of their professor's growth mindset.
Rebecca Kelliher can be reached at rkelliher@diverseeducation.com.