As colleges and universities prepare for a fourth academic year shaped by the COVID-19 pandemic, students continue to endure mental health issues at a high rate. However, students' sources of stress and anxiety may be changing, according to a new survey from TimelyMD, a telehealth provider that focuses on higher education.
The survey, conducted at the end of July, garnered nearly 1200 responses from college students who plan on returning to school in the fall. Although the respondents are not necessarily demographically representative of the college student population in America, their responses offer insight into the contours of mental health on campus.
The results show that mental health remains a crisis. Nearly seven out of ten respondents said that they were currently experiencing some form of mental health issue, such as stress, anxiety, or depression, and 86% reported that their level of stress or anxiety was the same or greater as at this point last year.
However, the causes of student stress may be evolving.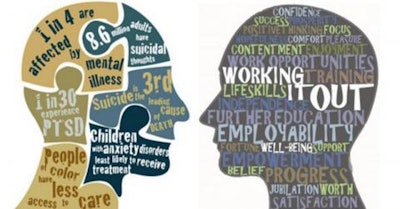 "If mental health was a fire, COVID was the gasoline," said Dr. Rufus Tony Spann, executive director of mental health at TimelyMD. "However, the survey found COVID is no longer the primary accelerant."
In contrast to a winter poll in which 73% of students said that they were more or equally concerned with COVID compared to a year prior, only 46% of students said that they were more or equally concerned about COVID now as previously. Students' most frequent sources of anxiety included mass shootings (41%), inflation (40%), finances (40%), and academics (38%). However, the most common source of stress for students was their own mental health, with nearly half including it. This finding may reflect the continued influence of COVID and its attendant social, financial, and medical upheaval, even as students became less concerned about the pandemic itself.
"The pandemic has had a major impact on people's mental wellness," said Spann. "There's definitely a correlation."
The survey also found that more vulnerable groups had greater mental health struggles. 86% of non-binary students reported mental health issues, compared to 75% of females and 60% of males. LGBTQ+ respondents were more likely to be anxious or stressed (79%) than their heterosexual classmates (63%). And Native Hawaiian/Other Pacific Islander Natives, who were found to be three times as likely as white people to contract COVID-19 and twice as likely to die from it, were the most likely to experience mental health issues (87%) among all racial and ethnic groups.
These problems can be exacerbated by the institutions, according to Demeturie Toso-Lafaele Gogue, a PhD student in the Higher Education and Organizational Change division of the University of California, Los Angeles.
"For NH/PI folks, when someone in your family is sick, our cultural practice is to center our family, our communities," he said. "So, when students have to miss classes or midterms because they're committed to helping the family during this time, of course they're going to have heightened stress levels. Higher education institutions don't really care about the cultural aspect of students, to be honest."
However, not every vulnerable group seemed to experience an equal impact on mental health.
The racial or ethnic group with the lowest percentage of members reporting mental health issues was Black or African-American students (64%). These students were also the least likely to say that they were stressed by current events, including the political climate.
"I find it surprising," said Spann. "I want to know more. Could it be protective factors? Could it be just how this generation of students are seeing the world?"
Respondents also seemed increasingly apt to seek support for mental health issues, with 71% saying that they intended to do so in the coming academic year, a seven percent bump from the winter survey. In a statement, TimelyMD attributed this to "mental health awareness [becoming] increasingly prevalent and destigmatized." Students' most common methods for coping with stress or anxiety included talking to friends (57%), exercising (45%), and talking to family (42%). Playing video games or watching TV or movies was listed by 40%. Professional help was less popular: only 16% of students intended to seek out in-person mental health counseling, and only 14% planned to try counseling in a virtual format.
Spann suggested that these results were to be expected.
"You're sharing a very private space, which is your mind," he said. "Our family and friends, we're going to share with them first because we have that rapport or there's already that familial connection."
Overall, the survey results show offer some reason for hope, they also make clear that the campus mental health crisis continues.
"Universities [and] colleges need to address this," said Spann. "There need to be preventative measures. How do you put things in place that help support a student's mental wellness? How do you support your counseling centers?"
How schools and governments will respond is unclear, but results like these show that although the specifics of campus mental health may change, the problem is unlikely to go away anytime soon.