As the countdown to the midterm elections crosses the two-week mark, college students are poised to make a difference at the ballot box. With control of the House, Senate, and 36 governorships up for grabs, students could play a decisive role in many races, according to the Center for Information & Research on Civic Learning and Engagement at Tufts University, particularly the Senate races in Georgia and Arizona and the gubernatorial race in Wisconsin. But will college students turn out at the polls?

College voter participation has traditionally been low. Students are often eligible to vote for the first time and haven't yet made it a habit. They've often moved to a new precinct for school. And students may feel disillusioned or disempowered about the process. In the 2014 midterm elections, the average student voter rate was only 19%, according to the Institute for Democracy and Higher Education (IDHE) at Tufts University. But in recent years, student voting has jumped significantly. In 2018, the average student voting rate more than doubled from the previous midterm, to 40%. And in the 2020 elections, the student voting rate was 66%, similar to that of the general population.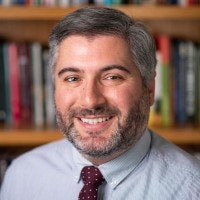 The increased voting numbers correlate with the rise of Donald J. Trump, who galvanized voters of all ages for and against him in the six years since he declared himself a candidate for the presidency. But without Trump in office, college voting should remain high, according to experts.

"Politics right now is an issue of pop culture," said Dr. Adam Gismondi, director of impact for the IDHE. "It's something that seems to find its way into every corner of public life."

Although Trump will not be on the ballot, he still casts a shadow over the candidates who will be.

"A lot of candidates have either chosen to affiliate themselves with Trump or have spoken about their distaste for him, whether they're Republicans or Democrats," said Gismondi. "The dividing lines are pretty clear across the country."

According to Gismondi, voters who got engaged with politics during the Trump years are likely to maintain their interest.

"During the Trump years, we had a national civics lesson, whether we wanted it or not. People that ordinarily didn't pay attention to politics all of a sudden knew who the Secretary of State was and had opinions about what was going on in this country," he said. "I think that a lot of that has stuck."

Gismondi also believes that recent political events will keep young voters interested.

"I think that the repercussions of the last decade of politics is still just starting to be felt when you think about the Supreme Court and overturning Roe vs. Wade," he said. "I think that issues like that will continue to animate student voters through this election and beyond."

That is what Drew Holm, president of the Bucknell College Democrats, is seeing. His group has been doing outreach to potential voters in partnership with the John Fetterman senatorial campaign, as well as canvassing with the Union County Democrats.

"I think there's definitely a lot of excitement," he said. "I think a lot of it is just kind of the sense of, 'We have to vote this way because if not, our rights are going to be taken away.'"

Danny Fersh, communications director for Students Learn, Students Vote, a nonpartisan non-profit dedicated to increasing college voter participation agrees that student voting will remain high. But he cites recent work done by non-profits, community organizations, and college administrations as a key driver of the shift.

"Over the past six years or so, there has been an extraordinary effort nationwide to make voting visible, more accessible and more part of the culture on college campuses in every part of the United States," he said. "People are working to ingrain voting into campus culture so that it's part of what's expected of you, what you do when you come to college and are part of that institution."

According to Fersh, in 2022, on-campus events have been helpful in building that culture.

"We've just seen hundreds of campuses celebrate National Voting Registration Day in late September, National Voter Education Week in early October. They'll be celebrating Vote Early day this Friday," he said. "There'll be marches to the polls, there'll be parties, there'll be barbecues. We saw DJs, stilt walkers, you name it, on campuses throughout the country celebrating these events, making voting not just something you do as a citizen, but a celebration and a part of the fun of being on campus."

Matthew Zhou, chairman of the College Republicans at the University of Michigan, has witnessed the impact of an administration committed to getting out the student vote. Although his group has held social events and canvassed in the local community, he credits the school itself with leading the way when it comes to turning out students to the polls.

"There's been a polling station right in the heart of campus," he said. "[I've gotten] email from specific departments within the university promoting voting. You see billboards and they'll spray paint the sidewalk."

Participation may not reach the heights of 2020, but a strong showing by students at the ballot box looks likely. Although college students have historically been tough to lure to the voting booth, changes over the past several elections—caused both by the intensity of the Trump years and the efforts of activists—may prove to be long-lasting.

Jon Edelman can be reached at JEdelman@DiverseEducation.com.