The Dr. Melvin C. Terrell (MCT) Educational Foundation, Inc. has announced the 2022 cohort of MCT Scholars, recognizing 10 first-year graduate students in higher education or student affairs students at six institutions.
The program is funded through a grant provided to the Dr. Melvin C. Terrell Educational Foundation by the Center for Advocacy and Philanthropy at the Educational Testing Service (ETS), the world's largest private research and assessment organization.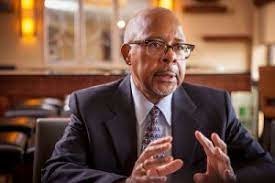 The Dr. Melvin C. Terrell Educational Foundation, Inc is committed to providing support for African American, LatinX, and other underrepresented groups through scholarships, grants, and professional development.
"I am deeply committed to transforming the MCT Scholars through diversity, research, and scholarship" said foundation namesake and chair emeritus, Dr. Melvin C. Terrell.
Throughout the 2022-2023 academic year the scholars in their respective Higher Education Administration/Student Affairs master's programs will fully emerge in their academic programs along with professional development, mentoring, and a research study on graduate student identity and The Black Lives Matter movement. This study aims to measure how this movement has impacted the identities of students of color in higher education graduate programs.
"The MCT Scholars Program will create more avenues of access for underrepresented students to be leaders in today's evolving society and expand pathways for success," said Dr. Martino Harmon, MCT Foundation Chair and vice president president for student life at the University of Michigan. "I am thrilled to welcome these 10 students to the program and deeply appreciate ETS for their demonstrated financial commitment to the program, the scholars, and the field of higher education and student affairs."
2022 MCT Scholars
California State University, Fullerton
Vanessa Cerano (Dr. Rebecca Gutierrez Keeton, faculty mentor)
Jaelyn Johnson (Dr. Rebecca Gutierrez Keeton, faculty mentor)
Indiana State University
Trinity Brooks (Dr. Kelsey Bogard, faculty mentor)
Keontae Lee (Dr. Kelsey Bogard, faculty mentor)
Morgan State University
Franchesca Delrosario (Dr. C. Sean Robinson, faculty mentor)
Delnita Evans (Dr. C. Sean Robinson, faculty mentor)
North Carolina Central University
Erica Clinton (Dr. Regina Gavin Williams, faculty mentor)
Adorah Moore (Dr. Tryan L. McMickens, faculty mentor)
Southern Illinois University Edwardsville
Caleb Sewell (Dr. Cherese Fine, faculty mentor)
University of Wisconsin – Madison
Sofia Garcia (Dr. Brian A. Burt, faculty mentor)