Almost three-quarters of currently enrolled college students (72%) report that the reproductive health laws in the state where their college is located are at least somewhat important to their decision to stay enrolled, according to a new study from Lumina Foundation and Gallup.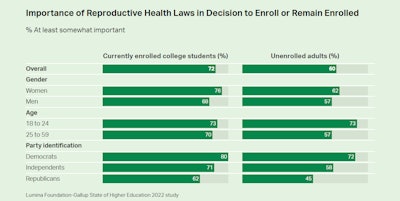 The Lumina Foundation-Gallup State of Higher Education 2022 study looked at web survey responses from 6,008 U.S. adults currently enrolled in an associate degree, bachelor's degree, certificate, or certification program, and 6,007 U.S. adults – ages 18-59 – not currently enrolled.
The study found that for 60% of unenrolled U.S. adults without degrees, such laws are at least somewhat important to their enrollment decisions for specific schools.
Among unenrolled adults, 73%, ages 18-24, said reproductive health laws were at least somewhat important to their decision to enroll, while the matter seemed less significant to those ages 25-59 (57%). And for currently enrolled students, Democrats (80%) are most likely to report that state laws governing abortion access are at least somewhat important to them. And most enrolled independents (71%) and Republicans (62%) agreed.
Most enrolled women (76%) and unenrolled women (62%) reported that these laws either do or would influence their enrollment.
Among those to whom reproductive health services matter for their enrollment decisions, 81% of currently enrolled students and 85% of unenrolled students said they preferred to attend in a state with more access to such services.
After the U.S. Supreme Court's 2022 overturning of Roe v. Wade, many states have looked to implement new reproductive healthcare legislation. Some states, such as Florida and Oklahoma, have sought to restrict abortion access, while others, such as Massachusetts and California, have tried to increase access and protections for reproductive care.