Spring Commencement speaker Wynton Marsalis called University of Michigan graduates "the avant-garde of our optimism," as he advised them on how to proceed in their lives.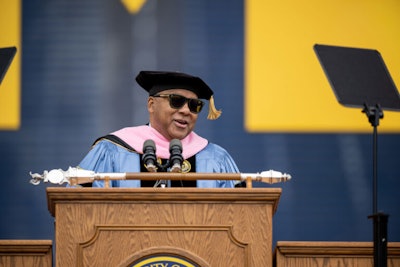 "You need a strong constitution and a willingness to invest in your position as emissaries of the past to the future," said Marsalis, managing and artistic director of Jazz at Lincoln Center. "You're going to be responsible for bridging unforeseen transitions from one crisis to the next, from one time to the next, and from one way of being to the next."
The event took place Apr. 29 at the Michigan Stadium, where Marsalis was presented with an honorary Doctor of Music degree.
"Although all eyes are upon you, you are not a destination," Marsalis advised. "You are connected, forever spanning what was and what will be, and actualizing the dreams and aspirations of parents, ancestors and alumni.
"You are also an inspiration to younger relatives, future graduates and those not yet on the path of higher education who wish to follow. You're actually a bridge, a powerful translator between the generations of your family, this institution and of our way of life."
There exists a need for leaders to address the divisiveness in the U.S., Marsalis said. He urged the graduates to bring enthusiasm, willingness, and solutions to the table.
"The headlong descent into shameless decadence and unchecked commercialism has created an anxiety and an isolation that is increasingly destroying the mental health of our young," Marsalis said. "This causes us to murder each other over minor disputes, to gun down young children in schools, to desire empty transactional lives, and ultimately, to interface more eagerly and meaningfully with gadgets and devices than with people.
"We need a revolution of thought and feeling through collective participation. An entire nation cannot hold itself hostage and become an armed perimeter in fear of itself."