Every so often, we get to see a college president overjoyed by the honor of awarding their son/daughter a diploma at commencement.
That was the case for Dr. David K. Wilson, of Morgan State University in Baltimore, who in 2021, presented a degree to his son, alongside hundreds of other cheering Morgan graduates.
But rarely do we see a college president preside over a commencement ceremony where they get to award a degree to their spouse. But that's what's slated to take place on this Sunday when Bonita Brown—interim president of Northern Kentucky University (NKU)—hands over a degree and likely a big hug—to her husband Wesley, who will proudly walk across the stage after earning a bachelor's degree in photography several decades after he first graduated from high school.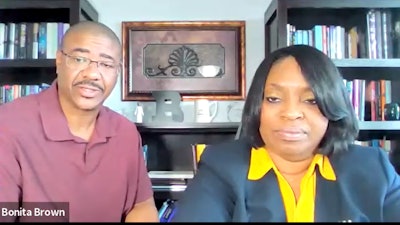 Four years ago, Wesley Brown enrolled at NKU shortly after his wife Bonita, was named vice president and chief strategy officer at NKU. But when the former president of NKU resigned from his post earlier this year, the NKU board appointed Bonita Brown to the interim post, making her the first woman and the first African American to lead the school that boasts a student population of about 15,000.
As fate would have it, Bonita Brown's new position meant that she would now officiate this year's commencement ceremony that includes her husband, making an already celebratory event an even more joyous occasion.
"We couldn't have dreamed this would have happened," said Bonita, who has been Wesley's biggest cheerleader. "I couldn't have scripted that."
Like so many others, Wesley enrolled in college after he graduated from high school. But then he "ran into financial issues," before starting a family with his first wife, who would later pass away after a bout with Crohn's disease. In the subsequent years that followed, Wesley was mostly concerned with taking care of his children and making ends meet, though he would go on to earn an associate's degree.
But by the time he met and married Bonita who had already carved out an impressive career in higher education, Wesley—who had made a living as a professional photographer—had developed a burning desire to return back to college to pursue a bachelor's degree.
"He always wanted a degree," said Bonita, who encouraged him to sign up for classes at NKU once the couple relocated South after living in the Washington, D.C. area where Bonita worked as vice president of network engagement at Achieving the Dream, after first serving as director of higher education practice with the Education Trust. "He sailed through the photography classes, but the general education classes were a bit challenging."
Still, Bonita cheered him on, adding that she came to better understand NKU through the eyes of her husband.
"I absolutely learned a lot about the campus," she said, adding that Wesley quickly emerged as a "rockstar" and became a mentor to so many of the younger students.
The transition back to college, however, wasn't easy.
"In the beginning, I just felt old," Wesley said with a laugh, adding that when he walked into his classes, many of his classmates mistook him for being the professor. "I felt like I was going to school with my kids. Most of my classmates were the same age as my kids and it was a huge adjustment."
But over time, things evolved and before he knew it, he was progressing toward completion and was enjoying the experience.
Wesley's story, said Bonita, is representative of the growing number of nontraditional age students who are returning to college in the droves to finally earn their degree, sometimes decades after they first started the journey.
"There are so many supports and programs now for adult students," said Bonita. "You can sit in class face-to-face, you can go online, you can go hybrid. You can almost have access to education anyway you want to."
Her advice to older students considering going back to college is quite simple: "Just try it. Start with one course and build that confidence," she said.
Wesley agrees:
"Never let up. You're never too old to go back to school," he said. "Just keep pushing. If that's what you want to do, go for it, because it opens up new experiences."
Wesley said that when he receives his degree on Sunday, he will have fulfilled a dream.
"When I got my associate's degree, I said I was not going for a bachelor's," he quipped. "I have the bachelor's, I'm not going for a master's."
But Bonita Brown isn't fully convinced that her husband is done.
"That's what he says now," she said with a hearty chuckle.