Part 1: Will Diversity Suffer After the Budget Crisis from COVID-19 (1:00-1:45 p.m. EDT)
Budget cuts are coming from federal, state and local sources, some students aren't returning, some institutions are being sued and endowments have shrunk. Yet we haven't even discussed the existing furloughs, hiring freezes, pay cuts, halting of construction, refunding of tuition and fees and campus closures. In the first part of this webcast we will delve into how institutions are planning to cope with the financial crisis and how they can maintain and preserve all the existing diversity and inclusion efforts.
Panelists: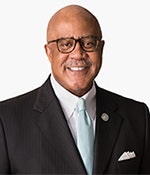 Dr. Walter Bumphus,
President, American Association of Community Colleges
Dr. Walter G. Bumphus is President and CEO of the American Association of Community Colleges. From 2007 to January 1, 2011, Dr. Bumphus served as a professor in the Community College Leadership Program and as chair of the Department of Educational Administration at the University of Texas at Austin. He also held the A. M. Aikin Regents Endowed Chair in Junior and Community College Education Leadership. He previously served as president of the Louisiana Community and Technical College System (LCTCS) from 2001 to 2007. LCTCS later conferred upon him the title of President Emeritus of the Louisiana Community and Technical College System. From November 2000 to September 2001 he was chancellor of Baton Rouge Community College (BRCC). Prior to joining BRCC, Dr. Bumphus worked in the corporate world serving as President of the Higher Education Division of Voyager Expanded Learning. Six years prior, he served as president of Brookhaven College in Dallas County Community College District.Dr. Bumphus holds a bachelor's degree in speech communications and a master's degree in guidance and counseling from Murray State University, and a Ph.D. in higher education administration from the Community College Leadership Program at The University of Texas at Austin. In 1992, Dr. Bumphus was recognized as a distinguished graduate from both Murray State University and The University of Texas at Austin. Dr. Bumphus holds the distinction of being one of the few leaders in the field of education to receive the ACCT Marie Y. Martin CEO of the Year Award, to chair the AACC Board of Directors, and to receive the AACC Leadership Award.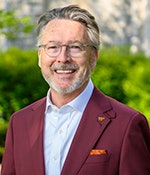 Dr. Timothy D. Sands,
President, Virginia Tech
Dr. Timothy D. Sands is the 16th president of Virginia Polytechnic Institute and State University, joining the university in June of 2014. A scientist, educator, and inventor, he has dedicated much of his career to advancing the impact of research and innovation in public education. As president, he has engaged the university community in a visionary plan to advance Virginia Tech's role as a global land-grant institution, confronting the commonwealth's, the country's, and the world's most challenging problems.Before coming to Virginia Tech, President Sands served as executive vice president for academic affairs and provost of Purdue University in West Lafayette, Indiana. He was acting president during the summer and fall of 2012, before Mitchell E. Daniels became the 12th president of Purdue.He earned a bachelor's degree with highest honors in engineering physics and a master's degree and doctorate in materials science from the University of California, Berkeley. He joined the Purdue faculty in 2002 as the Basil S. Turner Professor of Engineering in the schools of Materials Engineering and Electrical and Computer Engineering. Prior to becoming provost, he served as the Mary Jo and Robert L. Kirk Director of the Birck Nanotechnology Center in Purdue's Discovery Park.From 1993 to 2002, President Sands was a professor of materials science and engineering at the University of California, Berkeley, and before that, he performed research and directed research groups at Bell Communications Research (Bellcore) in Red Bank, New Jersey. Throughout his career, he has participated in and led research teams and academic programs that have been characterized by open collaboration across a wide array of disciplines.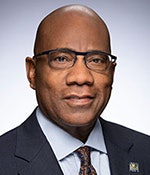 Dr. David K. Wilson,
President, Morgan State University
David Kwabena Wilson, Ed.D., the 10th president of Morgan State University, has a long record of accomplishment and more than 30 years of experience in higher education administration. Dr. Wilson holds four academic degrees: a B.S. in political science and an M.S. in education from Tuskegee University; an Ed.M. in educational planning and administration from Harvard University and an Ed.D. in administration, planning and social policy, also from Harvard. He came to Morgan from the University of Wisconsin, where he was chancellor of both the University of Wisconsin Colleges and the University of Wisconsin–Extension. Before that, he held numerous other administrative posts in academia, including: vice president for University Outreach and associate provost at Auburn University, and associate provost of Rutgers, the State University of New Jersey.Dr. Wilson has authored two books and more than 20 articles published in scholarly journals. Among the many honors and recognitions he has received for his work: he was named one of the nation's top 100 leaders in higher education by the American Association of Higher Education in 1998, was selected as one of The Daily Record newspaper's Influential Marylanders for 2011, and was honored by the University of Alabama with an award for outstanding leadership in engaged scholarship in April 2011.Dr. Wilson's educational philosophy is to put the students' experience first. As a leader, he is a consensus builder and a strong believer in transparency of process. His goal is to make Morgan a leader in producing the next wave of innovators in the U.S.
Part 2: The Remaining Unanswered Big Diversity Questions (1:45-2:30 p.m. EDT
This second part will be the 3rd and final segment of a series of webcasts jointly produced by CoopLew and Diverse: Issues In Higher Education.
After our previous discussions about the status of higher education and the impact of the new normal on matters of diversity lead to essential questions about the role and significance of diversity leadership during budget-cutting, enrollment shrinkage, and spikes in virtual learning.
Remaining Big Questions:
This portion of the webcast will explore the impact on diversity professionals while addressing three hard-hitting questions from the viewing audience.
How do we discern equity versus equality in online education classes?
How will DEI practitioners stay relevant in the COVID19 era if academics aren't in our portfolio?
What is the future paradigm for diversity professionals in higher education?
Panelists: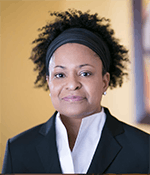 Dr. Lisa M. Coleman,
Senior VP for Global Inclusion and Strategic Innovation, New York University
Dr. Lisa M. Coleman is New York University's (NYU) inaugural Senior VP for Global Inclusion and Strategic Innovation and in the role serves as the institutions' Chief Diversity Officer. Reporting to the President, Dr. Coleman works with Deans, internal stakeholders, external partners, and constituents to advance, promote and build capacity for strategic global inclusion, diversity, equity, belonging and innovation initiatives across NYU globally and this includes New, York, Shanghai and Abu Dhabi, and NYU's other thirteen sites, and numerous global centers. Prior to NYU, Dr. Coleman served as the first Chief Diversity Officer and Special Assistant to the President at Harvard University, 2010-2017, and during her tenure, she and her team developed some of the first initiatives focused on the intersections of technology, disability, and access.Dr. Coleman has spent 20+ years working with numerous colleges and universities, for-profit, and non-profit organizations on leadership, global inclusion and diversity (GID), innovation and technology initiatives. She is the recipient of numerous awards, recognitions, and honors for her outstanding leadership and teaching efforts, and for her work on diversity, inclusion, belonging, equity, and innovation globally.Dr. Coleman earned her doctorate in Social and Cultural Analysis, American Studies from NYU, and three master's degrees from the Ohio State University in African and African American Studies; Women's, Gender, and Sexuality Studies; and also in Communication Studies. Her undergraduate foci were sociology/anthropology and computer science.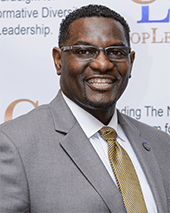 Dr. Ken D. Coopwood,
Co-Founder, CoopLew
A 4-time chief diversity officer, "Dr. Coop," as students and colleagues call him, has earned national prominence as a transformative agent in higher education diversity administration. After serving at five institutions in three states, he instructs certification coursework at the national level. He holds certifications in cognitive diversity applications, diversity return on investment, diversity executive leadership, creative problem solving, and adaptive-innovation theory. Dr. Coop is an alum of Indiana State University. He is also a post-doctoral alum of both the Harvard Management Development Program and the American Association of State Colleges and Universities' Millennium Leadership Initiative.
Dr. Coop is a member of the International Association of Diversity Officers and Vice President for the National Academic of Educational Research (NAER). He is also a past board member and co-chair of professional development for the National Association for Diversity Officers in Higher Education, and a past member of editorial, academic, natural disaster, and international boards.
He is Co-Founder of CoopLew, a diversity training consortium of researchers and scholars. CoopLew training has pioneered experiences that address and prepare participants for the transformation of chief diversity officer lived experiences. He is also Owner of Coopwood Progressive Workshops & Developments, LLC (CPWD), a multi-faceted diversity education, speaking, research and development company, and Vice President for DiversityWorks, a private, comprehensive, consulting company.
Dr. Coop earned his Ph.D. in educational administration, leadership, and foundations, his master's degree in political science, with emphasis on federal policy, and his undergraduate degree in business administration, with an emphasis in finance, marketing, and management.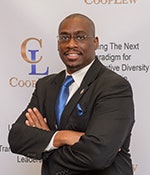 Dr. William T. Lewis,
Co-Founder, CoopLew
Dr. William T. Lewis, nationally recognized diversity and inclusion thought leader, entrepreneur and executive coach is co-founder of CoopLew, www.cooplew.com, a company dedicated to providing executive development and training to chief diversity officers. Lewis has authored several articles, most notably, he was one of three co-authors of the historic Standards ofProfessional Practice for the Chief Diversity Officers, published by the National Association of Diversity Officers in Higher Education (NADOHE).
His thought leadership has appeared in regionally and nationally recognized media outlets such as New England Public Radio, FAST COMPANY, and INSIGHT Into Diversity. Throughout his career Lewis has provided administrative leadership for diversity and inclusion initiatives. He has been an advisor and consultant to university presidents, and corporate executives.
Lewis is a former Chief Diversity Officer, he has led diversity and inclusion efforts at three highly acclaimed colleges and universities-- Indiana University, Bridgewater State University and Virginia Tech University. Currently, Lewis is the Special Consultant to the President for Belonging, Equity and Inclusion at and Forsyth Technical Community College.
He has dedicated his entire professional to living the spirit of his social work background by "providing a voice for the voiceless and creating inclusive spaces for each person to reach their full potential."
Dr. Lewis earned a doctoral degree from Indiana University, and a master's degree and a bachelor's degree from Indiana University Purdue University. Lewis proudly and honorably served his country for 8 years while in the United States Marine Corps Reserves.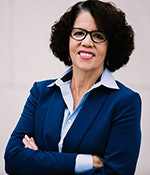 Dr. Debra Joy Pérez,
Senior VP for Organizational Culture, Inclusion and Equity, Simmons University

Dr. Debra Joy Pérez is the Senior Vice President for Organizational Culture, Inclusion and Equity at Simmons University in Boston. Prior to joining Simmons University, Dr. Pérez was the chiefevaluation and learning officer at the Gordon and Betty Moore Foundation here in California where she employed her extensive experience in leading research, evaluation, and monitoring practices in philanthropy. Dr. Pérez has been a leader in advancing transparency in philanthropy through evaluation. Dr. Pérez previously served as Vice President of Research, Evaluation and Learning at the Annie E. Casey Foundation, and assistant vice president for research and evaluation at the Robert Wood Johnson Foundation. During her career, Dr. Pérez has been instrumental in building the field of public health services and systems research as well as addressing inequities in healthcare and evaluation.
Dr. Pérez earned a bachelor's in communication from Douglass College; a master's in social science and women's studies from the University of Kent in England; a master's of public administration from Baruch College, City University of New York; and a doctorate in health policy from Harvard University.
Dr. Pérez has received multiple awards including the 2010 Latino Trendsetter Award, the 2011 YWCA Women of Industry Award and the 2015 Hispanics Inspiring Student Achievement Leadership in Mentoringaward. In 2015 she received an Honorary Doctorate from Thomas Jefferson University, Philadelphia. She is a 2016 Hispanics in Philanthropy HIPGiver recognized for her outstanding work mentoring underrepresented emerging leaders and helping others succeed. She was featured in Latina Style Magazine as one of the Latina leaders in philanthropy.
Moderator:

Dr. Jamal Watson,
Editor-At-Large, Diverse: Issues In Higher Education
Dr. Jamal Watson is an award-winning journalist. He has held numerous roles at Diverse: Issues In Higher Education. He has been a senior staff writer, executive editor and is currently the editor-at-large. He has written for the publication since 2005. A native of Philadelphia, Watson earned his bachelor's degree in English and Theology from Georgetown University, a master's degree from Columbia University's Graduate School of Journalism, a master's degree in Higher Education from the University of Delaware and a master's and a Ph.D. in Afro-American Studies from the University of Massachusetts, Amherst. His writings have appeared in numerous publications including The Baltimore Sun and USA Today. He is the author of a forthcoming biography on the Reverend Al Sharpton and is on the graduate school faculty at Trinity Washington University.