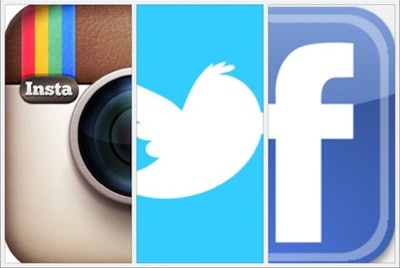 With such a high profile election, there has been no shortage of political conversations taking place on venues such as Facebook and Twitter. According to an article published on the Pew Research website, "22 percent of registered voters have let others know how they voted on a social networking site such as Facebook or Twitter."
Excited voters from across the country flooded the social media stratosphere with photos of their voting experience and memorabilia including T-shirts, "I voted" stickers, wide smiles — and voting ballots.
Social media sites such as Twitter, Facebook and Instagram have been buzzing with people showing their support for their favored presidential candidates. But this public display of support could actually be a disservice to the candidates' election efforts.
Facebook helped users track some election day statistics by allowing them to share with their friends about their voting experience by clicking an election day prompt on the website. After clicking the prompt, Facebook users were redirected to the website www.facebookstories.com/vote. The website features an interactive map with real-time "bursts" of Facebook users who shared that they voted all across America. Website visitors also have the option to click on the different states to see the number of statewide Facebook users that shared their election day information with their Facebook friends.
The site also provides some statistical information, like the number of male and female voters, a percentage breakdown by age groups, and a histogram that shows a record of voting activity over the course of the day according to time zones.
Through the use of hashtags like #ElectionDay2012, #TeamRomney, #TeamObama, Twitter users can see thousands of up-to-the-second updates on what people in worldwide have to say about the election. Numerous celebrities have also been tweeting throughout the day about which candidate they support in a last minute attempt to inform and influence their followers about who they believe should be elected. Major news outlets are also helping the world stay informed by live blogging about the election via their Twitter accounts.
Not all social media posts have had a positive impact on this election. There has been controversy surrounding the practice of taking pictures of completed ballots and uploading them for all of their friends and followers to see.
With photos of voters' ballots popping up left and right, there has been a great deal of confusion surrounding ballot photographs and whether these publicized ballots could potentially be taken out of the voting pool all together — or worse, lead to jail time.
After being spooked about possible legal action taking place against those non-compliant with voting laws, many subsequently removed their photos from the Internet.
A 2012 election report conducted by the Citizens Media Law Project shows that laws have been set up in several states strictly prohibiting voters from photographing their ballots. One of the gravest causes for concern is "vote buying." The intent behind these laws is to prevent people from being coerced into voting for a specific candidate.
Precinct 37 representative in Washington, DC, M.A. Doll Fitzgerald says that while in other states taking photographs of ballots is strictly prohibited and could lead to your vote being disqualified, in the District of Columbia "No one else can photograph your ballot, but once you are alone in the voting booth, you're free to do as you please."
In states such as Hawaii, laws dictate that "if any person … willfully exhibits the person's ballot or the person's unvoted ballots in a special primary or primary election … after the ballot has been marked, the person shall forfeit the person's right to vote." In other words: show your ballot to anyone, and your ballot will be torn up, and thrown out all together.
According to California Elections Code 14291, "[a]fter the ballot is marked, a voter shall not show it to any person in such a way as to reveal its contents."
It isn't clear, however, if these laws apply to showing the ballot via social media platforms. First amendment specialist and author of the Citizens Media Law Project guide to ballot disclosure rules, Jeffery Hermes, says that while they may be in effect "Virtually all of these laws are older laws that predate the current technology." In essence, the laws have not quite caught up with modern technology.