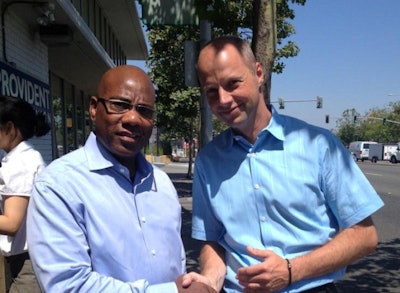 The deepening reach of the movement to develop free Massive Open Online Courses, or MOOCs, is taking a new path with two historically Black public universities seeking partnerships with Udacity, one of the leading MOOC platform organizations.
One of the schools, the Baltimore-based Morgan State University, reports that it is close to completing an agreement with Udacity that would enable school faculty members to develop courses for delivery through the company's MOOC platform. The agreement, which Morgan State officials expect to announce publicly by late January, is also supposed to allow Morgan State students the option of earning academic credit for MOOCs taken through Udacity.
"We are moving forward toward a partnership with Udacity through (assistance from) the Thurgood Marshall College Fund," says Morgan State University president David Wilson. "Morgan (State University) is a serious player in higher education in this country, and we expect to also be at the table to participate in MOOCs and to learn from it."
Wilson says university officials will announce the details of an inaugural MOOC that a Morgan State faculty member will produce with Udacity course developers at the company's headquarters in Palo Alto, Calif. Wilson declined to identify the faculty member and the subject matter of the inaugural MOOC, explaining that the school and Udacity are still working out agreement details.
Wilson noted "the course itself will probably be ready (to be delivered to students) no later than the summer of 2013." He says that Morgan State faculty members will be prepared to monitor and assess student consumption of other courses on the Udacity platform by the fall of 2013.
"They have a world-class laboratory out there (in Palo Alto). And so they are able to make these online courses so extraordinarily attractive that we want our faculty here at Morgan to be exposed to that," Wilson says about the Udacity headquarters, which he visited this past summer.
A MOOC agreement between Alcorn State University, the second school, and Udacity could happen as early as late spring 2013, according to Dr. Donzell Lee, the Alcorn State vice-provost. The Lorman, Miss.-based Alcorn State is exploring an arrangement similar to what Morgan State seeks, which would allow professors to develop courses on the Udacity platform and enable Alcorn State students to earn academic credit from Udacity MOOCs. Lee says school officials have the fall of 2013 in mind when Alcorn State would like to debut a MOOC through Udacity.
"We're still in the beginning stages of a collaboration. … One of the things that we like about the Udacity model (of building courses) is that it's really strong in terms of pedagogy," Lee says.
Also participating in the discussions and negotiations among Udacity and historically Black university officials has been the Thurgood Marshall College Fund (TMCF), an advocacy and support organization for public historically Black universities. The organization, which has 47 member schools, has become an advocate for MOOC development by historically Black colleges and universities (HBCUs).
"I want us to be part of the testing and exploratory process in the beginning. … We want to say that HBCUs are actually on the forefront of this," says Johnny C. Taylor Jr., TMCF president and CEO.
Joining the Club
Efforts by Morgan State and Alcorn State to join the ranks of MOOC provider schools are likely to spark a new conversation about MOOCs, one of the most publicized developments in American higher education in recent years. With online enrollment reaching tens of thousands in individual courses, MOOCs have demonstrated an enhanced scalability that has enthralled U.S. higher education and news media.
The phenomenon recently motivated The New York Times to dub 2012 as "the year of the MOOC."
Udacity, along with the edX and Coursera organizations, has played a leading role in the emergence of MOOCs. Udacity has focused exclusively on free online courses in the mathematical, computational and physical sciences. The for-profit company typically brings in recruited instructors to its Palo Alto facilities who work with Udacity staff to build entirely new courses. In contrast, Coursera and edX leave course development to their university partners, which are largely elite research institutions.
The participation of elite universities has been essential to the development and popularity of the Coursera and edX platforms. EdX is a nonprofit venture among M.I.T., Harvard University, University of California-Berkeley, and the University of Texas system. Coursera, a for-profit firm founded by Stanford University professors, has enlisted 33 partner schools and leads in total number of courses and student enrollments. More than 1.7 million people have signed up for Coursera courses since launching early in 2012.
"(MOOC platforms) do provide access to courses students might not otherwise have. It's a great opportunity for students who are mature and who can focus well," says Dr. William McHenry, executive director of the Mississippi e-Center at Jackson State University.
Udacity's collaboration with Morgan State and Alcorn State may lead to the HBCUs being among the first institutions to contribute courses to a MOOC platform while simultaneously granting academic credit for MOOCs. There's also the likelihood that the Morgan State agreement will specify revenue sharing with Udacity because there's an expectation the school will be allowed to charge for the MOOC academic credits granted to its students.
"There's going to be a charge for the (academic credits). … Udacity is going to get some portion of (that)," says Brad Gebert, the TMCF Senior Advisor to the President for Technology and Infrastructure. "Anybody will be able to take the courses for free. There's no debate about that."
Udacity's outreach to enlisting HBCUs as university partners has been in keeping with the company's strategic vision, officials say. Robotics scientist Sebastian Thrun launched the company early in 2012 after having converted an Introduction to Artificial Intelligence course he was co-teaching at Stanford University into a MOOC. More than 160,000 students signed up for the course in the fall of 2011, and about 23,000 completed the course. The unique experience of teaching so many students inspired Thrun to start Udacity.
"Ultimately, our mission is democratizing education, and that means [facilitating] broad access to education, not just to the traditional Ivy League populations and courses there," says Clarissa Shen, the head of strategic partnerships and business development at Udacity.
"In terms of the reach, the service and the access that HBCUs have traditionally provided … that's always been inspiring and of interest to us. We're just lucky to get an introduction there and to have started talking to Morgan State and Alcorn State about what they do and the students they serve," Shen adds.
Embracing Innovation
As HBCUs, Morgan State and Alcorn State are part of a highly diverse set of 105 institutions that are located primarily in the South. Established when legalized racial segregation severely limited higher education opportunities for African-Americans, HBCUs were founded from prior to the Civil War up until the Civil Rights era.
Now well into the post-Civil Rights period, HBCUs still play a pivotal role in African-American participation in American society. While comprising just 3 percent of U.S. higher education institution, HBCUs educate 20 percent of Blacks who earn bachelor degrees.
Late last spring, the White House Initiative on Historically Black Colleges and Universities, a federal advocacy agency that is based in the U.S. Department of Education, convened a meeting at which officials from Udacity, HBCUs, and the Thurgood Marshall College Fund gathered. Taylor and Wilson say Thrun made a compelling case for HBCU collaboration with Udacity. In July, Taylor, Wilson, and Alcorn State University president M. Christopher Brown met again with Thrun in Palo Alto.
"I was very impressed with (Thrun's) concept of democratizing higher education and bringing high-quality college courses to the masses," Wilson says. "His willingness to say to us that 'We want to work with you because we understand your mission and we think this model could be a good pilot for us'… was a message that resonated with me."
Says Taylor, "We really saw the win-win there" in Thrun's pitch.