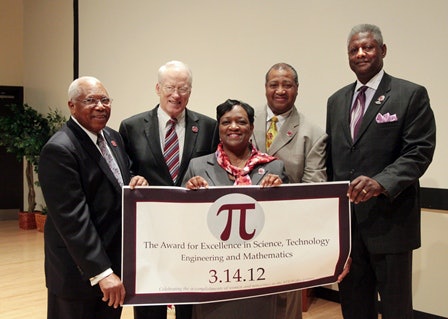 As the daughter of cotton farmers in rural Alabama, Dr. Juliette Bell didn't comprehend exactly what scientific researchers were until she was a college undergraduate. Since then, she has become a renowned researcher, professor and administrator who has recruited, trained and mentored another generation of women and minorities in the sciences.
Bell doesn't plan to stop or even slow down now that she's president of the 4,400-student University of Maryland Eastern Shore. If anything, she expects student and faculty opportunities there in science, technology, engineering and math to expand.
"My joining this campus was not coincidence," says Bell, who assumed the presidency last summer. She notes that the top job "felt very attractive because this university is an emerging, potential powerhouse in STEM fields."
During 2011-'12, UMES awarded a record 166 bachelor's, master's and doctoral degrees in STEM disciplines combined, exceeding the previous year's total by 42 percent. This spring, the university will graduate its charter class of doctoral pharmacy students, too. And, in recent weeks, the National Science Foundation awarded the university a $220,000 grant to support its minority women faculty and undergraduate curriculum in STEM subjects.
"I've been very impressed so far with the overall commitment to STEM," Bell says, referring to UMES.  
A biochemist, an expert on molecular genetics and a veteran of historically Black universities, Bell was most recently provost and vice president for academic affairs at Central State University in Ohio. Her research, focused on DNA synthesis and mutagenesis, has significant implications in understanding diseases like cancer as well as genetic disorders.
Bell has studied an enzyme responsible for linking together the billions of building blocks that make up DNA, the genetic code. Among other accomplishments, she has identified ways to manipulate that enzyme to measure the enzyme's ability to make DNA accurately under a variety of natural and experimental conditions.
A Talladega College graduate, Bell holds a Ph.D. in chemistry with a biochemistry concentration from Atlanta University (now Clark Atlanta University).
Within a few days of the University System of Maryland board of regents' announcement that Bell was hired to head the campus in Princess Anne, the UMES alumni association and individual donors had contributed cash gifts totaling $7,000 to start a new, endowed, undergraduate scholarship in Bell's honor, says Kimberly Dumpson, UMES vice president for institutional advancement. The scholarship has been named "The Award for Excellence in Science, Technology, Engineering and Mathematics." The fund, which now totals $10,000 thanks to additional gifts, came "as a wonderful surprise" to Bell, Dumpson says, adding, "The alumni wanted to show appreciation for whom Dr. Bell is and decided this would be an appropriate way to welcome her rather than just buying her a gift."
University officials hope to award an inaugural scholarship of at least $500 from that fund in 2014.    
Meanwhile, Bell has created a new Office of Research and Economic Development on campus, and the soon-to-be-hired vice president heading that office "will look at our graduate-level programs and research agenda and grow them," she says. Sponsored research at UMES was $19.4 million for the year ending last June 30.
After earning her Ph.D., Bell conducted postdoctoral research at the University of North Carolina at Chapel Hill and later as a staff fellow at the nearby National Institute of Environmental Health Sciences.
In 1992, she joined the full-time faculty at Fayetteville State University and directed its biomedical research program, which garnered more than $9 million in grants. She later rose to dean of its College of Basic and Applied Sciences, then provost and vice chancellor for academic affairs. She served as interim provost and vice chancellor for academic affairs at Winston-Salem State University before becoming the academic chief at Central State in 2009.
Bell has deliberately worked at only HBCUs since joining the teaching and administrative ranks two decades ago.
"As a product of HBCUs, I know the impact they have on students," Bell says. "And because I went through the postdoctoral process, I felt I could make a significant contribution. Students need role models."
She believes a major challenge in recruiting minorities into STEM fields lies in convincing them it's worth taking on advanced studies. "The most common complaint is that STEM takes too much time, but I impress upon them that it's important to have diversity among researchers in order to continue addressing health disparities in minority communities. Another way of making STEM relevant to students is emphasizing how they can impact the lives of their children and parents."
Key to retention of STEM students is allowing them to tackle experiments and research questions centered around real-world problems, Bell says, "so they can see how science really works. Don't let them get stuck in labs washing dishes. Ideally, they get summer internships at research universities or at least an equivalent on the home campus."
She adds that it's important for students to present their work at scholarly conferences "because science can be very isolating. Getting to know students from other campuses helps them stay excited about the work."
Ironically, such notions of travel and in-person networking were once quite far from Bell's mindset.            
The fourth of six children, Bell was first in her family to attend college and the only one to obtain a four-year degree. As a teenager, she had difficulty envisioning many job possibilities beyond the family farm, where they grew peanuts, corn, sweet potatoes and other crops year-round. But the physically draining labor of picking cotton convinced her there were surely more appealing alternatives to life in the fields.
Social norms resulted in most high school girls being steered toward careers as teachers or nurses rather than scientists. Nonetheless, Bell excelled in chemistry and chose it as her major at Talladega.
"I share my story with students so they might use it as motivation," she says. "Even though I wasn't built for hard labor, I would challenge myself to pick 100 pounds of cotton a day. And then I challenged myself to accomplish my goals in chemistry. And if I could do that, the students can achieve in STEM."