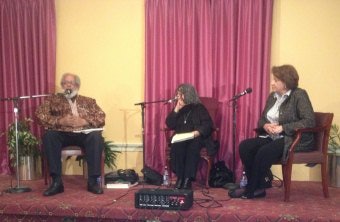 PHILADELPHIA — Three prominent scholars gathered to discuss the life and legacy of journalist and anti-lynching crusader Ida B. Wells in a two-hour panel discussion held last week in the heart of the City of Brotherly Love.
Sonia Sanchez, the poet laureate of Philadelphia, who retired in 1999 as the Laura Carnell professor of English and women's studies at Temple University, was joined by historian John H. Bracey, Jr., the chairman of the W.E.B. Du Bois Department of Afro-American Studies at the University of Massachusetts, Amherst, and Paula Giddings, a professor of Afro-American Studies at Smith College and the author of the best-selling biography called Ida: A Sword among Lions.
"Ida was a warrior for peace and justice in this world," Sanchez told the more than 200 people in the audience. "She teaches us that we can be activists, we can be fulfilled. She helps us to understand, what does it mean to be human?"
For Bracey, who grew up on the campus of Howard University in Washington, D.C. and had heard of Wells as a youngster, he did not come to fully appreciate her significance until he relocated to Chicago in the 1960s and got involved in the Civil Rights and the Black Liberation movements there as a graduate student.
"I knew the name, but the name didn't mean much," he confessed.
It was not until he discovered that the Ida B. Wells Housing Projects for Black families, which was built by the Chicago Housing Authority between 1939 and 1941 in the city's South Side neighborhood, that he came to understand the significance of Wells as a pioneering activist and journalist who boldly took on lynching as her primary cause. "The community wanted her name on that building," he said. "This was a very important, dangerous Black woman."
For more than 40 years, Bracey has introduced Wells to his undergraduate and graduate students, teaching them about her social justice campaigns and the vociferous journalism that she actively practiced. "If something was wrong, she was on your doorstep. She lived a very long and principled life," he said. "Her thing was: don't compromise. If there's oppression anywhere, that means we got work to do."
Giddings' introduction to Wells came in the years that she was conducting research for her earlier book, When and Where I Enter: The Impact on Black Women on Race and Sex in America. Wells was prominently featured in the book and emerged as the central, heroic character who Giddings was convinced, was worthy of a full-length biography.
"To understand her story is to understand America," said Giddings, the former book editor and journalist whose writings have appeared in the New York Times, The Philadelphia Inquirer and The Nation. "She was absolutely uncompromising. She never look to the left or right but always forward."
And despite her long record of accomplishments, scholars have long lamented that Wells, who traveled throughout the South with two pistols for protection, is an overlooked figure in African-American history. For years, she was left out of canonical texts that focus on Blacks, a trend that started years earlier when her prominent Black male contemporaries, such as Du Bois, Booker T. Washington and Carter G. Woodson tried their very best to undermine her, refusing in many cases to even support her causes.
"Du Bois' worst moment was the things he did to block her from coming to the NAACP," said Bracey, who added that Wells, not Du Bois, should have been next in line to serve as the editor of the civil rights organization's periodical called the Crisis. "He knew who the competition was for that job, and he blocked her."
Washington, who founded Tuskegee University, was also deeply suspicious of Wells, and kept his distance for fear that White philanthropists, like Julius Rosenwald, who donated money to his college would cease to make contributions if he embraced her. On one occasion, Washington, according to Giddings, told Wells that "no graduate of Tuskegee had ever been lynched."
Women groups "would name clubs after her, but didn't want her to come to the meetings," said Bracey, who pointed out that Wells' activism was not confined to the United States. She spent years traveling throughout Europe to drum up support for her anti-lynching crusade in the U.S.
"We can't overstate her loneliness," Giddings added. "Although she was not isolated from the masses, she was isolated from the leadership."
Born in Holly Springs, Miss. in 1862, Wells refused to give up her seat on a segregated train and later sued the train company. After she moved to Memphis and began a career as a newspaper editor, a mob of Whites descended on the headquarters of the Free Speech and Headlight in 1892 and destroyed the office while she was up north.
Vivian Peterson, 39, says that she was embarrassed that she knew very little about Wells before attending the free lecture. "I'm saddened that this woman, who was an important freedom fighter, did not orbit my universe for all of these years," she said as she purchased a copy of Giddings' book for sale. "But I'm leaving here today determined that my three children know how important she was to the freedoms that they now take for granted."
The discussion on Wells was part of a three-week lecture series called "Ida B. Wells, Lynching & Trayvon Martin," sponsored by the Moonstone Arts Center, a nonprofit arts and education organization founded in 1983. For more information about the organization and its events, go to www.moonstoneartscenter.org