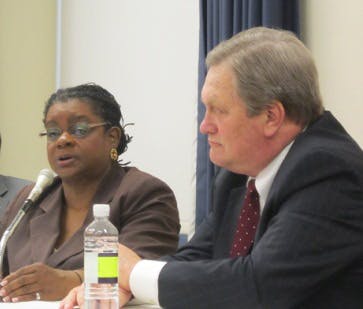 WASHINGTON — With across-the-board federal spending cuts looming as a real possibility as of March 1, TRIO program advocates made a timely plea Tuesday for congressional support of the federal government's oldest group of college outreach, readiness and retention programs for low-income and aspiring first-generation college students.
TRIO program beneficiaries, including U.S. Representative Gwen Moore (D-Wis.) and other advocates such as U.S. Representative Mike Simpson (R-Idaho), spoke on behalf of TRIO programs during a Capitol Hill briefing in Rayburn House Office Building. Moore and Simpson are co-chairs of the Congressional TRIO Caucus.
"As everyone knows, we're facing the possibility of sequestration cuts, scheduled to kick in on March 1… TRIO itself would be cut about another $43 million; the Department of Education overall would be cut about $2.6 billion," said Joel Packer, moderator of the TRIO briefing and the executive director of the Committee for Education Funding (CEF).
"We're facing a very immediate and deep cut," he added.
Seven programs make up TRIO, with some of them dating back to the mid-1960s. The programs, such as Upward Bound and the Ronald E. McNair, provide low-income middle school and high school students with the guidance, support and academic help they need to apply to, enroll in and graduate from college, as well as pursue post-baccalaureate opportunities. In fiscal year 2012, TRIO programs were funded at $838.63 million, and they served 789,676 participants.
The title 'TRIO' came about in the late 1970s, following the founding of the first three programs. Upward Bound, the oldest of the programs, had been created by the 1964 Economic Opportunity Act. Educational Talent Search was established by the Higher Education Act of 1965, and the Higher Education Amendments of 1968 added Special Services for Disadvantaged Students, which is now known as the Student Support Services Program.
"We need to make sure that advocacy voice for TRIO is loud and clear, and (the members of Congress) know that people support it," Simpson told more than 100 congressional staffers and other officials attending the briefing.
Simpson said that as a youngster growing up, the "thought of not going to college was foreign" to him. "I never realized how many people in this country don't have the opportunity to go to college and had never thought about going to college. TRIO programs are really what open up those doors for an awful lot of students," he said.
Moore described how TRIO programs have made it possible for low-income students to overcome the burden of family isolation and poverty to attend and complete college. "These are the best and brightest kids, who, because of the mitigating factors of their poverty, mitigating factors of their parent just being disconnected from what it means to turn in a FAFSA form … that prevent really good kids from going to college," she said.
"What this program, TRIO, does is the work. … It's in every single state, Puerto Rico (and) the Virgin Islands," Moore added.
Dr. Arnold L. Mitchem, the president of the Council for Opportunity in Education, praised the congressional co-chairs and their leadership of the Congressional TRIO Caucus. Mitchem, whose organization advocates for TRIO programs, was not optimistic that Congress will avoid federal budget sequestration. He said the severity of the cuts would likely lead to a "revisiting of budgets."
Congress "will correct the mistake of sequestration … but I think that they have to see the blood and guts before what they do what is rash and sensible for this country," he said.