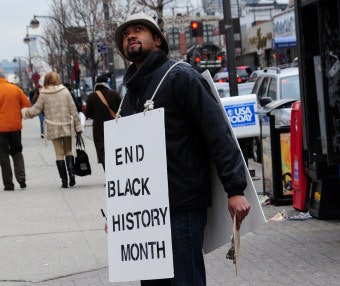 One scene in a CBS "60 Minutes" profile of Morgan Freeman that was broadcast several years ago garnered a lot of attention.
"Black History Month you find …?" the interviewer Mike Wallace began.
"Ridiculous," said Freeman. "You going to relegate my history to a month?"
Then the veteran actor turned the tables on his interviewer:
"Which month is White History Month?"
"I'm Jewish," Wallace said quickly.
"Which month is Jewish History Month?" rebutted Freeman. "You want one?"
"No."
"I don't either."
That exchange made an impression on millions of people, including an aspiring African-American filmmaker by the name of Shukree Tilghman, who would later earn an MFA in screenwriting from Columbia University. A year ago, in collaboration with PBS, Tilghman produced "More than a Month," a provocative film about the need (or lack thereof) for Black History Month.
Scenes in the film show Tilghman standing in Times Square with sandwich boards that call for the abolition of Black History Month. He waves a petition trying to entice passers-by to sign it. Some oblige him. Others react scornfully.
Despite the theatrics, the film is not an attack on Black History Month. It is a personal journey by Tilghman who grew up looking forward to Black History Month activities but whose thinking about the celebrations has evolved. He doesn't see the thesis of his film as an either-or proposition. His goal, he says, is how Black history can be told in a more meaningful, more sustained way.
"You can be for the continued yearlong exposure of African-American history and also be for having Black History Month," he says. "However, the important thing is to remain vigilant to make sure that our story, that the story of African-Americans, continues to be seen as vital, to make sure that it continues to exist even if it means criticizing Black History Month. In other words, don't (just) settle for Black History Month. Black History Month itself is not a problem."
Tilghman's approach to Black History Month mirrors the thinking of many scholars around the country. It's next to impossible to find scholars of Black studies who call for an end to Black History Month, but many would like to see some type of metamorphosis.
In the Africana Studies Department at the University of South Florida in Tampa, Dr. Abraham Kahn, an assistant professor of African Studies and communications, has been given the task of re-thinking Black History Month. Much of Black History Month, he notes, is focused on the past and on the accomplishments of individuals.
While this can be inspiring, he says, it can also present problems.
"One of the criticisms is … all of the backward looking of Black History Month," says Kahn. "Does it stifle conversation? One goal for us is to move from looking at the past to looking at the future. One of the things that has received a lot of criticism among scholars is the notion of the focus on first—the first Black astronaut, the first Black millionaire or the first Black baseball player. Attention to first not only deflects attention from the second, but it leads us to believe that, once there has been a first, the problem has been solved. Take the example of Jackie Robinson. Did the problem of racism in sports end? No."
Kahn says that, while most of the Black History Month activities have been handled by the multi-cultural affairs department at the University of South Florida, the department of Africana Studies is taking some steps to change the orientation of the month's events and celebrations.
"We have decided to call it Black Emphasis Month," says Kahn, who moderated a panel discussion about the film last year. "Instead of focusing on the past we have decided to use Black History Month to examine the present. What does it mean to be Black in America today? What are the issues of importance to Blacks in America today?"
Dr. Vicki Crawford, a scholar of African-American studies and director of the office of the Morehouse College Martin Luther King Jr. Collection, shares Kahn's assertion.
"We need to be forward looking," she says. "To a great extent, Black History Month has been contributionist focused. What is greatly needed and where we really need depth and breadth is in the area of grassroots history. We could name names of people who have made remarkable contributions who are not well known like Bayard Rustin and Fannie Lou Hamer."
Crawford says that, because Morehouse has a mission that includes helping students know whom they are, the college has been aggressive about letting students experience history up close. Throughout the year, they have had many prominent veterans of the Civil Rights Movement, such as Andrew Young, Rev. C.T. Vivian and Dorothy Cotton come speak to students. Not only is this an opportunity for students to learn history from eyewitnesses, she says, it is also a chance to learn lessons they can apply to their young lives.
"They hear the story, hear the narrative and also to engage the young people in a conversation so they can ask questions like what were the organizing strategies of SNCC," says Crawford. "It's amazing to hear them talk bout strategy, planning, tactics and give them a chance to talk back."
Tilghman says that, while most people agree with his assertion that Black history should be thought of as vital to American history, there's no unanimity on how it should be done.
For instance, at the middle and high school levels, he says, while many teachers are enthusiastic about teaching Black history outside of February, there are some constraints.
"A high school teacher will have something different to say because with standardized testing they have to teach to the test," he says, adding that Black History Month gives them an opportunity to some special programming. "Intellectually we all agree that we've got to find a way to teach African history to make sure it feels and is perceived as interwoven into American history so there is no difference. Intellectually we all agree [it's] just a question of how do we get there."
But at the university level, faculty members can afford to be more nimble in weaving Black history into the curriculum.
Dr. Venise Berry, an associate professor at the University of Iowa with dual appointments in both African Studies and journalism and mass communications, says the journalism program tries to weave issues relating to people of color into many of its classes.
"I teach a course called 'African Americans in the Media' where we look at images of Blacks in all media," she says. "We have writing across cultures where faculty members help students understand all cultures. We have tried to pay attention. We also make sure faculty have certain exercises like in our broadcast classes about how to go about covering various diverse groups."
Berry says the key to ensuring that Black History is not just confined to one month is to "push it out of the month."
"Sometimes, if you don't show people the importance of having more rather than less, they don't think about it," she says, adding that the African-American studies at Iowa routinely has events throughout the year as a way of helping people understand the importance of Black history throughout the year.
Similar programs, she says, could do the same throughout the year having events in January about Martin Luther King Jr., in March about the accomplishments of Black women, and in June around Juneteenth.
She adds: "Sometimes I get tired of people saying I wish this would get done but they don't step out to do it."