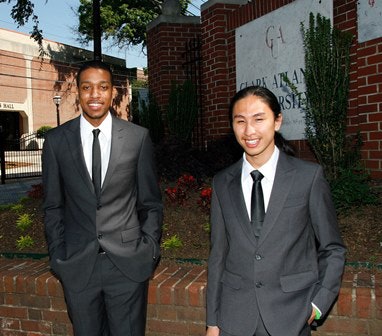 It's a man's world at Clark Atlanta University as two male students took top honors in the graduating class of 2013.
Despite being outnumbered 3 to 1 by their female counterparts, valedictorian Lorin Crawford and his roommate salutatorian Tam Quach earned the highest grade point average among all students—a rarity the school claims is the first time in recent history. Their academic excellence shatters some common statistics and stereotypes about the gender gap in college.
Reports indicate that men enter college at lower rates than women and are more likely to drop out. Nationally, female enrollment hovers near 60 percent and 61.5 percent at the nation's 100 accredited Black colleges and universities, according to the Department of Education's National Center for Education Statistics.
Statistics enthusiast Crawford did not set out to smash any; he simply wanted to perform his best.
"I just wanted to learn as much as I possibly could and make straight A's," said the mathematics major, who finished with a perfect 4.0 GPA. "A lot of men see life as now; they live in the moment, and that's where a lot of mistakes happen."
To avoid the trappings of freshman freedom, Crawford, a Chino Hills, Calif., native, eliminated distractions—even declining to have a television in his dorm room—to focus on his studies. He took a lot of notes during class and rewrote them before studying to better retain the material. He practiced extra homework problems, read ahead and met often with his professors.
Crawford met Quach during their freshman year in 2009 following above average, but not outstanding, high school careers. The two became friends a year later during an honors program retreat after discovering they shared a thirst for knowledge and a strong desire to achieve academically and professionally.
By their senior year, the honors program "brothers" decided to become roommates.
"I feel like he's been a huge part of my success because you are the company you keep," Crawford said of his on-campus housing mate. "Being around someone who is trying to achieve their best pushes you to do your best. Our relationship will extend way past CAU."
Quach agreed.
"Sometimes in school you can get overloaded and stressed out," said Quach, a criminal justice major who finished with a 3.92 GPA. "The people at CAU really care about you and make themselves available to you. That's one of the biggest factors that have helped me to stay in school and stay focused."
Quach moved from Vietnam about 11 years ago with his family, and, although he grew up just outside Atlanta in Morrow, Ga., he was unaware of CAU. In fact, he had not heard of HBCUs until his favorite high school teacher—a CAU alum—suggested he apply.
Immediately, Quach said he felt welcomed and embraced by his fellow students. When he did not understand a lesson, he sought guidance from his teachers and mentors, prioritized his responsibilities and asked questions relentlessly. He also took advantage of campus resources for help.
"It's like a family that cares for you, and they really show me that they care," he said. "They did everything they could for me, so I needed to do everything I could to not let them down."
One of his most challenging and proudest moments came during a world literature honors class. Exhausted and feeling defeated by the writing assignment, Quach had almost given up when other students encouraged him. His teacher also helped him develop the theme before he submitted the final paper toward a B in the class.
"That B felt like an A because I really earned that grade," said a very proud Quach. "When she told me that I'd written a nice paper, I felt a real sense of accomplishment like I'm the man!"
The mentoring and accountability did not occur by happenstance, said school president Carlton Brown.
After observing dwindling male enrollment rates about three years ago, Brown led efforts to attract and retain male students. Peer mentoring groups were organized, and Brown resurrected the Man of the Year program to promote academic excellence.
Society has perpetuated the belief that men can only show excellence in athletics or arts, he said. Colleges and organizations such as 100 Black Men are making efforts to turn the tide around.
"We've got to support these achievements," said Brown, president for six years. "It's about improving the quality of life for all of our people to get out of the desperation we see in our professional and personal relationships to lead a fulfilling life."
The efforts are paying off at CAU as the last two Student Government Association presidents have been men. Crawford and Quach are in good company, he said.
In addition to their peers and professors, the scholarly standouts credit their parents for being positive role models and inspirations. They plan to continue making them proud.
"We have a plan," said Crawford, who will pursue a Ph.D. in physical science at Duke University this fall and explore quantitative research to predict stock market trends.
Quach will pursue a master's degree in criminology at Georgia State University. "We may not have all the details worked out, but we want to be successful."