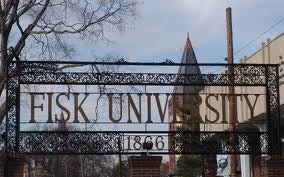 Fisk University, asserting it has begun "a renaissance" of the historic institution, has overhauled its board of trustees, putting more members with extensive business and financial experience in key positions as it seeks to preserve its accreditation.
As six trustees rotated off the university's board, Fisk trustees elected board member Barbara Landers Bowles, 65, a Nashville native and Fisk alum, as chair of the board. They elected Patricia Castles Meadows, a veteran Certified Public Accountant from Nashville, as vice chair of the board. She had been on the board for several years serving on its audit committee.
Bowles, a retired Chicago investment banker, has extensive experience in banking and investor relations. After graduation from the University of Chicago with a master's degree in business, she started her banking career at the former First Chicago Bank. She subsequently ran the investor relations operations for Beatrice Foods and, subsequently, Kraft Foods, before venturing out on her own. She is a director of Wisconsin Energy Corporation and serves on the governing boards of several Chicago area profit and nonprofit organizations.
The Fisk trustees also elected Patricia Castles Meadows, a veteran Certified Public Accountant from Nashville, as vice chair of the board. She had been on the board for several years serving on its audit committee.
Separately, two board members — Gregg F. Morton, president of AT&T Tennessee, and Jacqueline Denton Alton, president of Houston-based Alameda Travel — were appointed co-chairs of the board's Development Committee.
Another board member, Challis M. Lowe, elected to the board last October, was named chair of the Financial Strength Committee. Lowe, a former executive of Dollar General Stores and one-time member of the board of trustees at Florida A&M University, is a senior vice president of St. Louis-based Ascension Health.
Robert W. Norton, who rotated off the university board after 13 years as a trustee, was appointed chair of the university's $60 million comprehensive campaign. Described as in its "silent" phase, the Fisk campaign has been talked about by various Fisk officials for nearly three years.
"We know this is a pivotal year," said Bowles, referring to the timeframe Fisk has to get its financial house in order to meet the demands of the Southern Association of College and Schools (SACS), the principal accrediting agency for colleges and universities in the South. "Even people who are new to our board are jumping in with both feet."
SACS has had the institution on probation for more than a year, citing numerous questions about the university's financial management and viability. SACS is to decide in December whether Fisk has made sufficient progress in addressing the accreditation deficiencies.
Bowler, who said the new university leadership plans to be a "very transparent entity," acknowledged that the university has been criticized for "muddling" for a number of years, as financial support, enrollment and graduation have steadily declined for a number of years.
"We are muddling less today," she said, expressing her confidence in the new leadership team.
The Fisk moves, announced Monday, after its trustees' regular meeting this past week, appear aimed at complementing the trustees' choice last December of Dr. H. James Williams as its new president. Williams, who started work February 1, had been Dean of the Seidman College of Business at Grand Valley State University in Michigan.
In the few weeks he has been on the job, Williams has outlined belt-tightening measures for the rest of this fiscal year (ending June 30) and the next. Among them are several weeks of furloughs that he anticipates will save the university approximately $1 million next fiscal year.
Meanwhile, Williams has embarked upon a multi-stop road trip designed to establish his presence with alumni, many of whom became distanced and alienated from the university over the past decade. Part of that stemmed from the rapid turnover of leadership in the past decade and the university's decision to monetize part of its priceless art college as a means of raising money to keep its doors open.
Williams and his wife, Carole Campbell Williams, have been warmly received in Nashville and in private audiences with alumni in Washington, D.C., and Detroit. He is set for visits next month to Chicago and Florida.
"We've been working with SACS making sure we're going to be responsive to their concerns," Williams said in a brief telephone interview following the trustee board overhaul. "We're developing the financial discipline we need. We think we're going to be in good shape addressing the issues they want addressed."