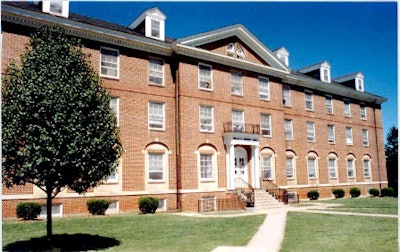 Reeling from the deal that got away, Saint Paul's College officials announced today that closing the private Black institution will be "temporary" until another "strategic opportunity" can be found.
In the meantime, Saint Paul's said it will relinquish its accreditation with the Southern Association of Colleges and Schools Commission on Colleges (SACSCOC) while it implements a closure plan which includes transferring its current students.
"The time deadlines associated with our accreditation issues with SACSCOC and the termination of the proposed merger require our Board to take this action in the best interests of our students," said Oliver Spencer, Ph.D., chairman of the Saint Paul's College Board of Trustees on Monday in the first prepared statement since a proposed merger-acquisition agreement with Saint Augustine's University in Raleigh, N.C., fell through in early May. Oliver also called the failed plan "especially disappointing in view of our very successful completion to the 2012-2013 academic year and the graduation of 51 students just weeks ago."
For Saint Paul's, the acquisition represented a lifeline, but instead the 125-year-old rural institution has been left as is — in debt, with few students, and in disrepair. Saint Augustine's, another Historically Black institution, decided that moving forward was "not a fiscally responsible option."
Lawrenceville, Va., the tiny rural town of roughly 1,423 people, also is home to St. Paul's College. Local businesses there will feel the impact when the campus shutters, said Lawrenceville Mayor Doug Pond. "This is tough for a small town like ours," Ponds said of the "70 or 80" jobs that may be lost and the overall economic impact.
The board's decision to close Saint Paul's College and now, was not only the best decision, but one that was "bold and responsible," said Walter Kimbrough, Ph.D. , the president of Dilliard University, an Historically Black University in New Orleans.
"It is always sad when we see a great, historic institution close," said Kimbrough who also expressed concern for the impact of such a closure on the nation's other Historically Black Colleges and Universities (HBCUs) when they are beyond being resuscitated.
"We've recently seen United Methodist and women's colleges close responsibly, which has helped maintain the brands of their sectors. Yet some HBCUs hang on even without accreditation, and their diminished existence damages all of our schools. Those schools are always mentioned when we are attacked. This act by Saint Paul's is very unselfish, one that all in the HBCU community should support."
When the proposal between Saint Augustine's and Saint Paul's was announced, Kimbrough was among those applauding its innovation, but also recognizing that the hefty cost of such an acquisition would likely be a deal breaker.
"But this isn't just an HBCU issue. People don't rally to give to something that has money problems. Over the past 15 years people have rallied to save Morris Brown (College) and they are still $30 million in debt. I have never seen it work."
In the few weeks left before it's June 30, closing and beyond, Saint Paul's officials are vowing to "explore all solutions" to continue its mission and "call on all members of the Saint Paul's community to come together to guide and support the College in the next phase of its life in service to the many thousands of students deserving of the very special educational opportunities that Saint Paul's College can offer."