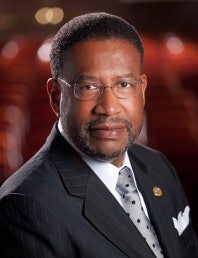 On August 28, 1963, some 250,000 people endured the sweltering sun and heat to participate in the March on Washington for Jobs and Freedom.
The march — held on the 100th anniversary of Lincoln's Emancipation Proclamation that ended slavery in the USA — still ranks as one of the country's largest political rallies in support of human rights. It was where Dr. Martin Luther King Jr. delivered his iconic "I Have A Dream" speech that is often considered one of his most powerful orations.
The march is also credited for helping create the momentum for passage of the 1964 Civil Rights Act and the 1965 Voting Rights Act. Both pieces of legislation helped transform this nation.
Barack Obama, our first black president, was elected in 2008 and re-elected four years later. We have made much progress in achieving Dr. King's dream where "my four little children will one day live in a nation where they will not be judged by the color of their skin but by the content of their character."
But these achievements are not sufficient to say that we are free from racism and prejudice. There is much to make us feel discouraged. We are once again facing issues that we thought were behind us. The future does not look as promising as it once did; in many areas it feels like we are moving backward.
Take, for example, the U.S. Department of Education's untoward attack on the mission of Historically Black Colleges and Universities. At the start of the 2012-2013 academic year, the Department implemented — without prior notice — tighter underwriting standards for its Parent PLUS Loan Program. This draconian change forced 125,000 African-American students across the U.S. to abandon their higher education plans.
Approximately 300 Johnson C. Smith University students could not secure funds under the new federal lending standards to meet their financial obligations to attend the University. To address these external factors beyond the University's control, in the short term, the University substantially increased institutional aid in the form of tuition discounting to retain about 180 of these students. The remaining 120 students were forced to defer their dreams of a college education and returned home.
In addition, the Voting Rights Act has been gutted by the Supreme Court. Many Southern states — including our own North Carolina — moved quickly to enact Voter ID laws designed to suppress the vote of people of color and of those who are poor. In fact, the North Carolina law is considered among the most onerous in the nation, one that will also make voting difficult for the elderly and the disabled. The state has also repealed its Racial Justice Act and is eliminating and slashing funding for education and programs designed to help the poor and create opportunities for them to rise out of it.
And then there's the recent case in Florida where George Zimmerman was acquitted of gunning down Trayvon Martin. Every parent of a young black man feels chilled to the bone about the implications of that decision and is frustrated and fearful about what to tell their children about how to behave in a world where they are still stereotyped as the "dangerous other."
But we should also remember that in his speech the day of the March, Dr. King told the crowd — and the nation — to "not wallow in the valley of despair."
Instead, it is a time to take action, a time for thought leaders to come together to plan an intellectual march on Washington. The purpose of that effort must be, paraphrasing Henri Bergson, to prepare people's minds to comprehend what is going on — to connect the dots between seemingly unrelated government policies so their eyes can see and appreciate their cumulative impact on minority groups. And, of equally significance, to understand these policies' implications as these so-called minority groups become the majority in the U.S.
For example, how can you teach civil engagement when voting is deliberately made difficult for certain groups, resulting in their disenfranchisement? When you curtail pre-K education how can you begin the process of lifting children up out of poverty? It is the responsibility of thought leaders to increase awareness of the effects rippling through our society. It is the first step to begin transformative change.
Some may bemoan the current age's lack of strong leadership or moral outrage and courage. But it is also time, to use the words of Mahatma Gandhi, to become "the people we have been waiting for." We need to stop sitting back and complaining. Each and every one of us needs to begin — even in small ways — to take actions to become the leaders we want others to be. For if we don't do it, who will?
So while we proudly and jubilantly celebrate the March on Washington that fired a movement and changed a nation, let us not be trapped in the glory days of the past. Nor, looking at the current state of affairs, let us be mired in hopelessness.
In another of his speeches, Dr. King said, "The arc of the moral universe is long, but it does bend toward justice."
But it requires us to apply pressure to help bend it in that direction. We can bend the arc with our ballot, our buying power, our courage to speak out, our willingness to be inclusive, our ability to endure and prevail. Let us also remember the Buddhist proverb: "If we are facing in the right direction, all we have to do is keep on walking."
Yet when we lose heart or become disheartened, let us also remember the words of Nelson Mandela: "There is no easy walk to freedom anywhere, and many of us will have to pass through the valley of the shadow of death again and again before we reach the mountaintop of our desires."
Dr. Ronald L. Carter is the president of Johnson C. Smith University.