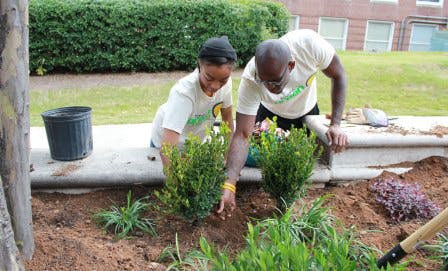 It hasn't been easy for historically Black colleges and universities to be green considering that many don't have the resources to invest in an environmentally conscious strategy. But that's changed thanks to partnerships with organizations that are encouraging sustainability efforts on HBCU campuses.
Now, more institutions are becoming eco-friendly by establishing conservation programs and updating their campus infrastructures. HBCUs are also raising awareness among students and training them to become good stewards of the environment.
In July, Clark Atlanta University signed an agreement with the Environmental Defense Fund to administer a grant to promote conservation, environmental protection and restoration. Originally held by the United Negro College Fund (UNCF) Special Programs Corporation, transfer of the Building Green Initiative grant to CAU will expand eco-friendly opportunities for more HBCUs.
The Atlanta research institution plans to establish a $4 million, state-of-the-art living, learning energy lab on campus to house the Clark Atlanta Center for Alternative, Renewable Energy, Technology and Training (CARET2). The center will provide a hub for engineers and scientists to conduct cutting-edge research and foster collaboration between the Atlanta University Center and national laboratories.
"It is exciting to have the wealth of support that comes from being on a college campus," says Felicia Davis, director the Building Green Initiative under UNCF and now CAU.
Established in 2010, the Building Green Initiative aims to advance sustainability efforts at minority-serving institutions (MSIs). Under the UNCF, the grant made 23 planning grants and increased the number of campuses committed to reducing carbon emissions.
In conjunction with the U.S. Department of Energy, U.S. Environmental Protection Agency, U.S. Department of Interior and other governmental agencies, the Initiative has set a strategic plan for energy efficiency and improvement (such as HVAC, lighting and water) and a student ambassador program. It also calls for a sustainability curriculum to prepare students for a green economy and an HBCU Green Fund to generate complete green projects on college campuses.
"Our students are the main drivers of all green initiatives," says Dr. Olu Olatidoye, principal investigator at Clark Atlanta University. "President Carlton Brown's vision on sustainability and the creation of leaders who are good students of the environment will play a major role in shaping the future of our country."
At Spelman College, facilities director Arthur Frazier cites numerous green initiatives at the all-female institution, such as increased recycling campaigns, reduced energy consumption through various retrofit projects and reduced water consumption. The school has also completed two Leadership in Energy & Environmental Design (LEED) buildings, certified as a green building.
"If you are building an institutional quality building that will last 50 to 100 years, you're building a LEED building," says Frazier. "It's all in the decisions you make, and it makes sense to build it as efficiently as you can so operational costs can be applied to other needs of the institution. They are healthier for the environment and for people to live and study in."
In Washington, D.C., Howard University's sustainability efforts include student-involved Earth Day activities, a climate action plan with a focus on carbon neutrality and sustainability partnerships and relationships with other universities and agencies. With full implementation of the Office of Sustainability's strategic plan, Howard will rank among the top sustainable institutions of higher learning in the country, according to Building Green Initiative reports.
Hampton University has been going green by replacing some of its gas-burning cars with more furl-efficient hybrid vehicles. The Virginia campus encourages recycling and the use of more eco-friendly cleaning products and is establishing eco-friendly guidelines for new construction and renovation projects.
Membership and advocacy organization the National Association for Equal Opportunity in Higher Education (NAFEO) has assisted HBCUs in green and sustainability efforts. NAFEO recently spearheaded efforts by HBCUs and Predominantly Black Institutions (PBIs) to shape federal policies and initiate foundation programs in the aftermath of Hurricane Katrina and the BP oil spill.
NAFEO also maintains partnerships with businesses and organization designed to protect and promote safe, sustainable energy. Its Presidential Work Group on the Environment & Energy establishes environmental and energy policy, helps prioritize environmental and energy projects at HBCUs and PBIs, and advocates on these issues for the HBCU/PBI communities.
"The environmental portfolios at HBCUs and PBIs are broad and include smaller-scale efforts like campus recycling projects to complex and integrated strategies to reduce the overall carbon footprint," says Lezli Baskerville, president and CEO of NAFEO.
"Participation in these efforts is taking the work of researchers and students to the next level, and resulting in the enhanced capacity of these institutions to share their talents and expertise with the larger community."