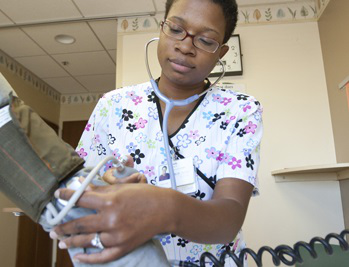 A new analysis of health care job growth, stimulated in large part by the rollout of the Affordable Care Act (ACA) of 2010, estimates that over the next 10 years the health care sector will see 4.6 million new positions, or a 31 percent increase from current employment levels, open up in the U.S. economy.
In the Joint Center for Political and Economic Studies report, "Affordable Care Act of 2010: Creating Job Opportunities for Racially and Ethnically Diverse Populations," people of color are expected to make up at least one-third of the U.S. health care workforce within a decade. With racial minorities already comprising one-third of the health care workforce, the report says it's likely that people of color will hold and possibly exceed this current share given that much of the job growth will be in low –and mid-skill positions where minorities are now well-represented.
"As insurance coverage expands under ACA, people will increasingly access health care services, particularly primary care services. A corresponding increase in the supply of health care workers is likely to be necessary to meet the increase in the demand for health care services," the report says.
The report notes that the employment prediction for racial minorities "is almost certainly lower than what will occur, because many people of color — especially Blacks and Hispanics — are in occupations that are among the fastest growing in the U.S." Dr. Joanne Spetz, a University of California, San Francisco economics professor, and Dr. Bianca Frogner, an assistant professor at The George Washington University School of Public Health and Health Services, are co-authors of the report.
Spetz said that "a huge amount of growth is going to come in the long-term care" and home health sectors, which employ significant numbers of low- to mid-skill professionals such as home care assistants and nursing aides. With ACA provisions not expected to add much new demand, the Joint Center report says those sectors had been projected for significant growth regardless of the act.
"There's this tremendous burgeoning of opportunities" expected in the long-term care and home health fields, she said.
Current "glitches in the Affordable Care Act [rollout] and the slowdown in insurance enrollment" that have been heavily covered by the news media may affect the occupations whose future growth is believed to be closely tied to the ACA. Those occupations include "registered nurses, health practitioner support technicians, medical assistants, medical secretaries, diagnostic technicians, pharmacy technicians, and pharmacists," and are likely to see at least one-third of their growth result from demand changes spurred by ACA provisions, according to the Joint Center report.
"I do think we're going to get there," Spetz said, noting that the health care industry should be taking measures that address educational disparities that put underrepresented minorities at a disadvantage in getting hired and advancing in health care jobs.
The report recommends the following policy measures:
1)    Secondary schools should implement program that educate youth about job opportunities in the health care industry and the educational path to achieve these opportunities.
2)    Community college and university funding for health care occupation programs should be increased. Many health occupation training programs are more expensive than other programs, because laboratory and closely supervised clinical experiences add to education costs.
3)    Health care industry employers will benefit significantly by developing on-the-job training programs that encourage promotion and support retention of workers. In addition, they should offer tuition support for their workers to pursue postsecondary education in high-demand health care occupations such as registered nurse, licensed practical/vocational nurse, social worker, diagnostic technician, and dental hygienist.
4)    Workforce Investment Boards, community colleges, and high schools establish health-occupations-focused career guidance and mentorship programs that support mid-career movements into emerging job opportunities.
5)    Federal, state, and local agencies, as well as private organizations that support scholarships and job training, should identify and address barriers that prevent individuals from pursuing higher education.
Dr. Brian D. Smedley, a Joint Center vice president and director of the center's Health Policy Institute, said the employment report is one in a series of research efforts the institute will undertake to document what the ACA will mean for racial and ethnic minorities in the U.S. The Joint Center is a Washington-based think tank founded to conduct research and analysis, with the goal of improving the socioeconomic status of African-Americans and other people of color.
"The ACA turns out to be a huge engine of economic growth. [While] covering more people and insurance reform are good from a health policy point-of-view, most economic models show that the ACA is going to create a lot of jobs, particularly in the health sector," he said. "We wanted to get a handle on what some of these estimates are given current workforce trends."