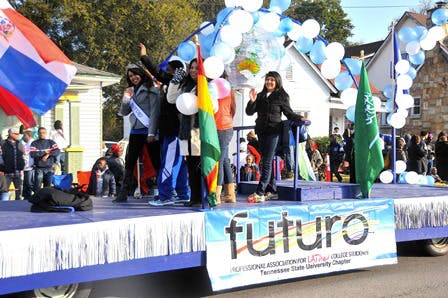 Tennessee State University's FUTURO chapter float during the university's homecoming parade in October. (Photo credit: Daryl Stuart)When Tennessee State University (TSU) staged its homecoming parade in October, the parade returned to its roots, beginning on Jefferson Street, the main business corridor of the historically Black neighborhood connecting three widely known historically Black colleges — TSU, Fisk University and Meharry Medical College.
While looking back, the event also gave hints of TSU's future. Amid the entourage of school bands from Nashville and across the region, as well as signs touting a new direction for TSU, the parade included a float featuring the institution's first Hispanic student campus organization, FUTURO.
In just more than a year, FUTURO, which means "future" in Spanish, has helped the Tennessee State community become more comfortable with the university enhancing its appeal beyond Blacks, its historic target audience of students, based on years of legalized racial segregation and several decades of tradition.
"It's nice to be able to show that we, too, have that sense of pride, celebrating that legacy and history," says Dalila Duarte, 29, a third-year, TSU Ph.D. candidate from Chicago. "Now, it's not why are we here, but how can we collaborate."
Duarte, an American-born daughter of immigrants from Cuba and Mexico, says the atmosphere on campus toward Hispanics has gone from puzzled resentment over their presence to learning how much both cultures have in common. This year, the president of FUTURO is a young Black man from Tennessee, a Spanish major who speaks Spanish as well as many Hispanic students.
Diversifying demographics
While many institutions with histories of appealing to niche groups, based on law or tradition, have had open doors for decades, what's happening recently at TSU and other historically Black colleges is new: they are now aggressively pursuing long-talked-about, yet cautiously embraced, affirmative action and diversity agendas as part of their survival strategy.
Faced with intense competition for their historically "safe pick" of students, HBCUs are becoming more like their non-HBCU peers, campaigning for the nation's diverse demographics. HBCUs see this strategy as essential to growing enrollment and achieving a level of campus diversity that will make their institutions more appealing and their students competitive in the workforce.
"I think we see across the board HBCUs are diversifying," says Dr. Kim Bobby, director of the inclusive excellence group at the American Council on Education, the principal umbrella organization of higher education groups, and former chief diversity officer at the University of Puget Sound. "They are doing a lot of different kinds of outreach."
Indeed, the fears expressed by those urging caution, particularly older HBCU alumni, are based on a strong body of history. The "older" alumni say they want progress, but not the kind they experienced with the desegregation of elementary and secondary schools. The process essentially decimated Black schools, as Blacks had little or no political power to help determine how school systems were to be consolidated. In a matter of years, from the 1950s through the 1970s, hundreds of Black elementary and secondary schools were shut down and their teachers, principals and other staff largely demoted or fired.
Proponents of pushing the diversity envelope at HBCUs note many of the nation's Black Americans who consider themselves college-ready are increasingly choosing colleges for more than historical reasons. That's especially true when it comes to those who grew up in the post-segregation era. HBCUs have lost their monopoly on Black students and, despite continued underfunding in the open market for students, are having to meet the demands to change or disappear.
"We are out there letting people know how inclusive we are and narrowing the gap," says Dr. Jewell Winn, chief diversity officer at TSU and director of the university's new Office for Diversity and International Affairs.
"Snowball effect" at HBCUs
Winn and officials at other HBCUs say, despite what many people think, more progress has been made in the area of diversity at HBCUs. They assert too much of the general public, including many alumni of HBCUs, share an inaccurate perception that there is no diversity at HBCUs and other institutions with a history of targeting a niche group.
North Carolina Central University, one of several state-controlled public HBCUs in the state, is ramping up its hunt for Hispanic students. It has joined Hispanic groups in hosting community events, published its website and scholarship aid information in Spanish and English and expanded the campaigning of its student ambassadors beyond traditional neighborhoods.
"It's not a pulling teeth kind of thing," says NCCU Director of Undergraduate Admissions Anthony Brooks, referring to the efforts at his institution. "We've seen a kind of snowball effect over the years, and a lot of recruiters do it on their own."
Florida A&M University has also made diversity a high priority as the institution looks toward the future. In its 2013 entering class, the law school counts 42.3 percent of its students as African-American, 31.7 percent as Caucasian, 17.6 percent as Hispanic, 2.8 percent as American Indian and 3 percent as Asian. Women make up nearly 60 percent of the class, the university says.
In Mississippi, historically Black Alcorn State University broke the head coach color line in 2012 when it appointed Jay Hopson, a White Mississippian who grew up not far from the university, as its head coach. There has already been a sprinkling of Whites as assistant coaches and team members at several HBCUs across the nation.
Environment spurs diversity
While most HBCUs are recognizing the need to take decisive action, some institutions have slowly evolved over the years, as Virginia's Bluefield (VA) State University did. At the once all-Black institution, Whites make up more than 90 percent of the student body, faculty and administration ranks.
In Arkansas, historically White Henderson State University, a four-year state controlled institution, has evolved over the past 30 years into an institution in which students of color make up more than 30 percent of its enrollment.
"A lot of recruitment is not about money," says Dr. Glen ones, an alumnus and president of Henderson State, and a former national president of the National Association of Diversity Officers in Higher Education. "Money is important. But environment is as important. Do [prospective students] feel welcomed? Do they feel supported, included and see they can grow?"
As a young Black man finishing high school in the post-segregation era, Jones visited Henderson, which was near the community where he grew up. He chose Henderson due to its proximity to home and its environment. Over the years, he has spread word of his experience as a student at Henderson State and, in the process, has had as much impact as a recruiter in helping change the institution's mix and feel.
Environment has certainly played a role at the University of Texas San Antonio, the rapidly growing public four-year liberal arts institution, designated by the federal government as a Hispanic-Serving Institution.
"We are blessed in our south Texas region to be located in a very diverse area," says Dr. George Norton, associate vice president for student affairs at UTSA. "We have not had any recruitment strategy that targeted prospective students based on race and/or ethnicity. Our recruitment strategy has targeted well-prepared students."
Norton says UTSA has been able to maintain a high level of diversity based on the combination of strategy and guidelines, despite raising admissions standards three times in the last five years. Separately, the university has been aggressively raising funds to provide financial aid to students in need of help, as many of its students are the first in their families to enter college and have little money to support such goals.
UTSA's total enrollment is approximately 28,533. A little more than 12,200 of those students are classified as Hispanic, 11,351 as non-Hispanic Whites and 2,171 as non-Hispanic Blacks. The university counts some 1,612 students as Asian, 128 as American Indian and the remainder is composed of a wide variety from around the world.
"We live in a global society," says Bobby, stressing the importance of moving ahead while appreciating the history of such institutions as HBCUs. "Students want to go to the best school they can. Every school stands on its own merits."