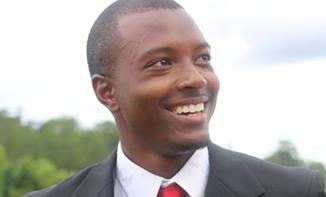 Jeramey Anderson isn't the least bit shy when he's asked about his political aspirations.
"My ultimate goal is to run for president of the United States," says the 22-year-old Tulane University senior, who was sworn in recently as the youngest person ever elected to the Mississippi state legislature. "In the short term, I eventually plan to get elected to Congress and use that as a stepping stone to get to the White House."
Ambitious? Perhaps, but it's that kind of self-confidence that helped the Gross Point, Miss. native defeat seasoned politician Aneice Lidell in a Democratic run-off last November for state representative.
Now, with a new legislative session scheduled to begin in just a few weeks, Anderson — who is majoring in homeland security and public relations at Tulane's Gulf Coast campus in Biloxi — says that he will take just two online courses this semester so that he can focus on the issues that impact his constituents.
And he says that one of his priorities will be to fight for more dollars for the state's HBCUs.
"We need to talk to some of these presidents and deans at HBCUs to see how we can generate more funding for these universities through legislation," says Anderson. "I understand that I don't know everything, but we need to get everyone at the table so that we can reach a consensus."
To this end, Anderson has requested to serve on the legislature's Universities and Colleges Committee where he says he will be a fierce advocate for higher education across the state.
His campaign and victory been hailed as a model for other young people across the country looking to run for office with the goal of unseating long-term incumbents. In fact, two Georgetown University students, looking to wage their own political runs, phoned him recently to solicit advice on how they might structure their campaigns.
He has also catapulted himself to the national political stage, making appearances on MSNBC and on the "Tom Joyner Morning Show," causing political pundits to speculate on his future.
"When I campaigned and ran, I tried to inspire a new generation of leaders," says Anderson of his decision to seek political office. "I ran to show my generation that the things you do today will have an impact on things tomorrow."
Anderson forged forward, winning the representative seat and even garnering substantial vote from the town's older voting bloc to fill out the term of Billy Broomfield, who vacated the post earlier this year when he ran for mayor of Moss Point and successfully defeated incumbent Lidell.
Lidell, in turn, ran for Broomfield's old seat and garnered the endorsement of the Jackson County Democratic Party Executive Committee. But, in the end, Anderson beat back the challenge with several hundred more votes.
When he announced his plans to run, not everyone was enthusiastic. His parents, who have long supported his political aspirations, wanted him to finish college before pursuing politics.
"I just don't believe in waiting," says Anderson. "If it's here, go for it. If you fall short, try again."
Though he is a Democrat, Anderson says that he hopes to break through the partisan gridlock and help create opportunities for his fellow Mississippians.
"I am really excited. I have a new perspective and outlook moving forward," he says, all the while, keeping his sights on bigger and better opportunities that he believes will come along.
"I just feel that when God has a plan for you, you follow it," he says of his political calling. "You don't ask questions, you just go out and do it."
Jamal Watson can be reached at [email protected]