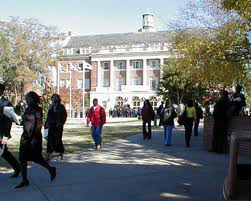 The new recruiting strategy of Florida A & M University (FAMU), strengthened by this month's clean bill of health ruling from the Southern Association of Colleges and Schools Commission on Colleges (SACSCOC) is boosting the university's admissions applications, the institution's chief executive says.
So far applications for the fall, 2014 academic year are up 10 percent compared to this time same a year ago, said university interim President Larry Robinson. The increase indicates success so far in FAMU's more feet-on-the-street, earlier in the recruiting season, new message strategy, Robinson said in a brief interview as the university approached the last days of fall and prepared to close for its winter break.
"We've had a much more deliberate effort to focus our recruitment much earlier," said Robinson, whose enrollment growth has faced several serious challenges in recent years. "We're trying to make the bulk of it in the fall time frame when parents and students are trying to make up their minds."
This time two years ago FAMU was reeling from public condemnation after the university acknowledged a student drum major had died at the hands of several fellow FAMU band members during an illegal hazing incident. Soon after the incident, several hazing complaints came to light and the university was placed on "probation" by SACS regarding student safety and, separately, other questions about the management of the university.
During the same time, the university faced significant cuts in state aid, forcing dramatic university budget cuts and program consolidations. It imposed increases in admissions criteria, eliminating admissions possibilities for some students who might historically look to FAMU. Meanwhile, the university has lost hundreds of admitted students whose parents were unable to secure federal education loans for their children through the once-popular Parent PLUS Loan (PPL) program.
FAMU seems to be emerging from this series of challenges stronger than ever, Robinson said, asserting the increase in applications for the fall, 2014 quarter came even before this month's SACS ruling.
FAMU recruitment teams have worked in Cincinnati, Atlanta, Baltimore, Cleveland and Chicago, to name a few examples, Robinson said.
Meanwhile, the pitch of the recruitment effort has taken on new dimensions, especially in the area of the university's music program.
Just last week, a contingent from the university's overhauled department of music visited a high school in Georgia and held an "anti-hazing" workshop for aspiring music students, auditions and presented short concerts from the university's chamber music ensemble and revived "Marching 100" band. From Georgia, the troupe of about 40 students and an associate professor of music was to visit aspiring musicians in high schools in the Chicago area making the same pitch.
The added attention to "anti-hazing" is part of the university's public commitment to address the issue publicly and regularly as part of a new effort to rid the institution of students, including prospects, who embrace hazing as vital to peer acceptance and success in college.
The university is planning more events along those lines for next year.
Meanwhile, Robinson acknowledged turning the rise in applications into admissions could impact the final fall, 2014 enrollment numbers at FAMU, the nation's largest historically Black college. He noted that tighter federal PPL financial criteria for parents has undermined enrollment goals for the past two years.
For the fall, 2013, the university lost more than 400 students whose parents were unable to qualify for federal PPL financial aid but were otherwise eligible for admission to FAMU. That last-minute enrollment hit cost FAMU several million in anticipated income.
"We're putting out competitive scholarships that people will know about now," Robinson said, noting that one attractive dimension of the overall financial obligation will be that FAMU's fall 2014 tuition costs will be basically the same as that for the fall of 2013.
How students fare once the family FAFSA disclosures have been processed by the federal government and institutions to which students have applied is unknown at this point in time, Robinson said.
As for resolving the PPL loan criteria dispute between the federal government and his institution and its peers Robinson said he was sorry about the cancellation earlier this month of the planned meeting involving several presidents, members of the Congressional Black Caucus and Department of Education Secretary Arne Duncan. Still, he said, there may be a silver lining.
"The good news is the dialogue continues and people are hearing our cries," Robinson said, referring to appeals to the government to revisit the tightened loan rules. "They hear the impact this is having on our students."