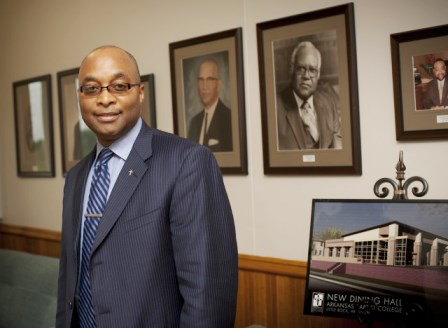 Last semester, Arkansas Baptist College students protested outside President Fitz Hill's office after a delay in the receipt of federal financial assistance from Washington, D.C.Arkansas Baptist College (ABC)—the small, private historically Black four-year liberal arts school in Little Rock—has long had its share of fiscal challenges.
But now, a group of faculty and staff are calling for the immediate ouster of the school's president, Dr. Fitz Hill, and the chief financial officer, Billy Owens, after being forced to go for more than a month without receiving paychecks.
"We were working with no compensation, broken promises of pay dates, and added stress due to our personal non-payment of personal financial obligations," says Diann Parker, president of the college's faculty senate and a faculty member in the music department. "Not only were we not being paid, but our insurance carriers were not being paid although the money was deducted from our monthly salaries."
While employees did eventually receive their paychecks a few days before Christmas, Parker says that she no longer has any confidence in the school's leadership.
"Under this administration there has not been any fiscal checks and balances established," says Parker. "They have not produced an actual budget for the faculty or staff to review. They have not implemented the use of departmental or operational budgets. As faculty, we have not seen any documentation from an audit review."
Last semester, students angrily staged protests outside Hill's office after there was a delay in the receipt of federal financial assistance from Washington, D.C. As a result, many went without books, grants scholarships and federal loans.
Owens and Hill could not be reached for comment, but school officials say that they are not to blame for the debacle. They point out that their computer system on campus was hacked into back in August, shutting down the internet and phone systems and wiping out the software they use to communicate with the officials at the U.S. Department of Education about financial aid reimbursements.
Shane Broadway, director of higher education for the Arkansas Department of Education, says that ABC students were contacting his office throughout the semester to complain. "We normally would not get involved because it's a private school," says Broadway, who has been advising the administration over how best to handle the situation in light of the many complaints.
He says that the hacking situation, coupled with the federal government shutdown in October, further hampered the school's ability to operate, particularly since it is virtually dependent on tuition and fees in order to pay day-to-day expenses. "All of this made for a perfect storm," says Broadway. "If it could go wrong, it did go wrong."
But faculty say that ABC should have had a backup plan to deal with a crisis of this magnitude and note that the administration's poor handling of this matter is symptomatic of other issues that the school now faces, including a dwindling student body and poor graduation rates.
"Most of the faculty's concerns reflect long-lingering problems that have largely from the faculty's point of view been continuously ignored by the current executive administration and by the college's board of directors," says Parker, who added that she believes that the school is in violation when it comes to accreditation issues.
ABC currently has about 1,000 students, but at one time its numbers dipped to about 200 and was on the verge of losing its accreditation. When Hill—a former football coach—arrived at the college in 2006, he pledged to turn around the campus that is headquartered in one of the toughest neighborhoods in Little Rock.
And, according to some, he has. He's presided over several new construction projects on campus, including two new dormitories.
"I think he's doing the best he can," says Brenda Hall, national president of the alumni association and a 1973 graduate of ABC. "What he has done to try and revitalize the school is quite remarkable."
Hall blames the alumni, who, she says, have not given back to the financially strapped college after they've graduated. "We've been too lazy and not active," says Hall, who has launched a fundraising initiative aimed at encouraging alums to contribute at least $100 to the college.
Despite the negative attention that's been focused on her alma mater, Hall says she is optimistic that things will eventually turn around in the near future. "It takes a lot of money to run a college," she says, "but I think a lot of good can come from a crisis like this."
Jamal Watson can be reached at jwatson1@diverseeducation.com