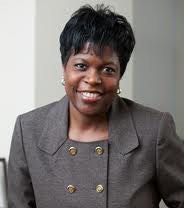 Florida A&M University named Elmira Mangum as its 11th president Thursday, entrusting the Cornell University administrator with closing the door on one of the most turbulent periods in the history of the nation's largest HBCU.
Mangum, currently vice president for budget and planning at Cornell, was chosen by a 10-2 vote of FAMU's Board of Trustees and will take over for FAMU interim president Larry Robinson at a date to be determined later. Magnum becomes the first female permanent president in the school's 126-year history and the first non-alumnus to hold the position in 46 years.
John E. Price, former president of the University of North Texas at Dallas, was the other finalist for the job.
"Dr. Mangum brings to FAMU the experience, expertise and energy needed to lead the university into the next phase of its great legacy," said trustee Karl White, chair of the presidential search committee.
Florida A&M has not had a permanent president since July 2012 when James Ammons abruptly resigned in the aftermath of the university being rocked by the hazing death of drum major Robert Champion. It also had been trying to cope with its famed marching band being shut down, a downturn in enrollment, budget cuts and an accreditation "warning" by the Southern Association of Colleges and Schools Commission on Colleges.
In the wake of Champion's death, the school took several steps to eliminate hazing and promote a safer environment on campus. The marching band is back in business after a nearly 22-month suspension. The rebound continued last month, with the SACSCOC giving the school a clean bill of health, which contributed to a 10 percent increase in applications for the fall 2014 academic year over the same period last year, according to Robinson.
The developing turnaround had led to calls for Robinson to at least be considered for the job permanently, but the board was not inclined to do so. That paved the way for the process that led to the hiring of Mangum, a self-described "clean-up woman."
"My history has been dealing with challenges," she told The Tallahassee Democrat the day before her selection. "I'd like to change [FAMU's] story. I'd like to focus on the positive things at the institution."
Mangum, 60, has been a senior associate provost at the University of North Carolina, Chapel Hill among her 28 years of administrative experience. She has a Ph.D. in educational leadership and policy from the University at Buffalo and graduated with honors from the University of Wisconsin-Madison with two master's degrees [public policy and public administration, urban and regional planning]. She received her undergraduate degree magna cum laude from North Carolina Central University.