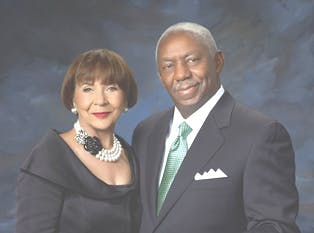 HBCU alums Joyce and Thomas Moorehead's most recent efforts have helped keep 11 students in college.When the U. S. Department of Education began tightening credit requirements in October 2011 for parents seeking loans through its popular Parent PLUS Loan program, college and university officials and thousands of students across the nation were caught off guard and unprepared for the troubles ahead.
Over the next two years the higher education community began to feel the full impact of the new rules. HBCUs, other tuition-dependent institutions and those serving low- and moderate-income students were hit hardest. Millions of dollars, built into 2013-14 year budgets, were not coming in as planned, and thousands of students learned their parents had been denied funds. Students suddenly found themselves unable to register for the school year.
In an attempt to recoup their financial losses, presidents of colleges and alumni associations turned to alumni and friendly donors. Those like Joyce and Thomas Moorehead in Northern Virginia — HBCU graduates who are regular donors to higher education — responded to the urgent calls to help keep as many students in school as possible. Their extra effort alone helped keep 11 students in college.
"We were really trying to reach that kid who would fall between the cracks [due to] a few dollars," says Joyce Moorehead, a veteran attorney and partner with her husband in the Joyce and Thomas Moorehead Foundation. The average gift was about $1,200, she notes.
Many university leaders pointed out that some students needed only several hundred dollars to keep their college dreams alive. In exploring the urgent calls for last-minute help, universities were able to identify such students with minimal effort, notes Thomas Moorehead, an automobile executive.
Universities say responses from the Mooreheads and other donors helped to lower the number of students cut from enrollment lists for lack of funds.
In early September, Tennessee State University announced it was able to quickly raise close to $500,000 to assist more than 350 students whose families had lost PPL and other financial aid. The contributions from alumni and university friends included $17,000 from TSU students, who used an allocation for campus events to create scholarships.
South Carolina State University raised thousands to avoid cutting nearly 400 students affected by PPL aid losses. Howard University encouraged students to appeal PPL decisions, which were largely successful.
Still, thousands of students today remain unable to pursue four-year education opportunities. A February update of PPL data from the Department of Education found almost half of the 790,348 public sector applications for PPL aid were initially denied, although most of the group's appeals were approved.
Meanwhile, hopes for a quick fix to the federal financial aid program continue to fade. Giving, to help fill the aid gap, is falling short of what was, is and will be needed.
"There was some success last year [with emergency calls]," says Johnny C. Taylor Jr., president and CEO of the Thurgood Marshall Scholarship Fund. "My belief is raising the issue again is not going to have nearly as much impact [as before]."
Taylor says many donors are unlikely to be as open this year as last because they feel the institutions did not fight hard enough to force the government to rectify a policy change that, as admitted by the government itself, was poorly executed.
"This was not a situation where you had a blip for one year," Taylor says.
The rules of the federal financial aid game of the past two decades are rapidly changing, with state and federal government investments shrinking by the year.
"We all realize this is going to be definite," says Dr. Dianne Boardley Suber, former president of St. Augustine's University in North Carolina, referring to the PPL losses. The institution has lost 230 students and nearly $4 million in university income over the past two years due to PPL aid denials, notes Suber.
"It's not the end of governmental changes, but probably the beginning," she says. "There's a trend going on that's going to require we think outside the box."
Though last year St. Augustine's joined many of its peers in appealing to President Obama, other White House officials and members of Congress for relief from the new PPL rules, unlike some institutions, St. Augustine's didn't make a special financial appeal. Although, says Suber, "We are now."
Future approaches
Top officials at other institutions feeling the pinch of PPL funding losses, along with cuts in other federal higher education aid programs, say their institutions are aggressively rethinking budget and fundraising strategies as they plan for a future with less traditional government support.
"You're going to have to take more of an entrepreneurial approach," says Paine College president Dr. George Bradley. Paine was expecting about $1.5 million in PPL loan income and lost about $1 million when its students lost their aid.
According to Bradley, with help from alumni, the United Methodist Church, C.M.E. Church and university friends, Paine was able to raise about $800,000 of the revenue shortfall.
"This is not a one-time thing," says Bradley, explaining that he sees the PPL cuts as the tip of the iceberg, requiring his fundraising strategy to change. "Around 2020, a lot [of] the funding we see [now], we won't see it anymore."
As an example of the "entrepreneurial approach," Bradley says he and his staff are putting some ideas together, by which faculty can connect with industry leaders in ways that can translate into financial support, internships and other kinds of partnerships.
"We're continuing our fundraising and [have] increased our merit and need-based scholarships," says Tennessee State president Glenda Glover.
Glover says there will be no special contributions appeal this year, explaining she was hopeful that the PPL crisis would be resolved sooner than later.
"I think (the PPL crisis) may have been scheduled for (the) long term. But, I think because of the outcry, it may be short-lived," says Glover, noting the appeal for relief continues.
In February, the presidents of 12 HBCUs and seven members of Congress, including the Congressional Black Caucus chair, met with Education Secretary Arne Duncan and key department staffers to discuss the PPL issue. At the meeting, the presidents and lawmakers offered suggestions on how the PPL issue could be resolved soon through rule changes and White House action.
There was no immediate response from Duncan, whose department had announced earlier this winter that it was working on a recasting of its PPL rule.
As Duncan and his team ponder how they will respond to the appeals, people like the Mooreheads are digging in for the long haul.
"Right now, we see we're going to have to do this for the foreseeable future," says Janet Moorehead. She and her husband say the regular college scholarship support provided by their foundation will now include a special supplement of funds earmarked for those students who may lack several hundred dollars to pay tuition and fees.
"We know we can't respond to every need and call," says Thomas Moorehead. He and his wife will give what they can, however, "as long as we can keep kids in school."