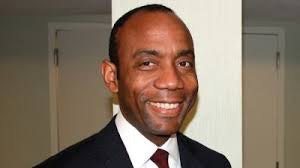 The selection of Cornell Williams Brooks as the 18th president of the NAACP came as a shock to many activists and historians who spend time studying and following the nation's oldest civil rights organization.
"I've never heard of this guy," said one national civil rights activist, who was surprised by the pick but who asked not to be identified because he did not want to appear critical of the organization's choice. "No one I know has ever heard of him or has worked with him. It's a really bizarre choice."
Likewise, many academicians who write about race and social issues say that they too are unfamiliar with Brooks and the New Jersey Institute for Social Justice, the Newark organization that he's led.
Unlike his predecessors, Brooks does not come to the job with national name recognition, which experts say is critical to helping push the organization forward. In recent decades, the NAACP has struggled to stave off declining membership and has tried to promote awareness about the organization's storied history, particularly among young people.
Benjamin Todd Jealous, the youngest president to lead the organization, was a popular attraction on college campuses and helped to rally student activists around the shooting death of Trayvon Martin. Jealous resigned last year and has gone on to work for a venture capital investment firm.
During his tenure at the NAACP, Jealous also helped to bring the organization back from financial stagnation, expanding its donor base from $16,477 when he took office in 2007 to more than $132,000 five years later. He also doubled the organization's revenue to $46 million in 2012.
It's unclear if Brooks, 53, will have that same kind of reach. He could not be reached for comment.
"I honestly have not heard of him and have not researched much on him," said Mikaela Ferrill, a rising senior at Georgetown University and vice president of the NAACP chapter on campus. "My hope is that the NAACP continues to reach out to young people, including building college chapters and youth councils. I always think that should be a priority."
Dr. David Canton, an associate professor of history at Connecticut College and an expert on the NAACP, says that the 64-member Board of Directors may have intentionally wanted to choose a leader that wasn't so high-profile.
That theory makes sense to Dr. Thomas Bynum, director of African American Studies at Middle Tennessee State University and the author of NAACP Youth and the Fight for Black Freedom. He said that, despite the fact that Brooks has operated under the radar screen, "he does bring a wealth of talent to the organization," adding that he has been involved with issues around fair housing. "I think he may be the one to renew the organization and get it back to its grassroots image from the 1960s."
Bynum said that Brooks should focus on issues like police brutality and voter ID laws. "I think what the organization has to do is reorganize its energy around young people," he said.
Originally from Georgetown, S.C., Brooks is an ordained minister and a former lawyer for the Federal Communications Commission and the Justice Department. In 1998, he ran unsuccessfully for Congress as a Democrat in Virginia.
Dr. Melanye Price, an assistant professor of Africana Studies at Rutgers University, said that the challenges facing the NAACP go beyond who is at the helm of the national organization.
"The NAACP has a problem with its branches," said Price, who pointed out the recent debacle surrounding the Los Angeles NAACP chapter's decision to honor Donald Sterling, the owner of the Los Angeles Clippers, with a second lifetime achievement award. The chapter later withdrew the award after it was revealed that Sterling had been recorded making racist statements against Blacks and had a couple incidents of alleged housing discrimination.
Price also chastised the New York state NAACP for protesting Mayor Michael Bloomberg's effort to join a lawsuit that was aimed at restricting businesses from selling extra-large sodas, despite high rates of obesity among African-Americans.
"It's unclear to me what anybody can do to turn the organization around without restructuring it," she added.
Despite his anonymity, national civil rights leaders offered laudatory praise and vowed to work with Brooks in the future.
"He certainly was a dark-horse candidate but has a range of experience being a civil rights lawyer, running a nonprofit and being a minister and a lawyer," said Marc H. Morial, president of the Urban League. "They picked someone that people were not expecting, and they picked someone who was not well known in civil rights circles and political circles."
Jamal Watson can be reached at [email protected]. You can follow him on twitter @jamalericwatson.