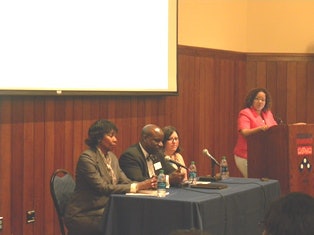 PHILADELPHIA ― Historically Black colleges and universities continue to be relevant in the 21st century, according to the director of a center that emerged in response to a history of inequality and lack of minority access to higher education at the University of Pennsylvania.
Dr. Marybeth Gasman, head of the Penn Center for Minority Serving Institutions and professor of higher education in the Graduate School of Education, refutes the notion that HBCUs are not an integral part of American higher education.
"Perfect students on paper do not always translate to perfect students," Gasman said at The Library Company of Philadelphia's annual Juneteenth Freedom program. "We have to stop comparing HBCUs to Ivy League institutions unfairly."
The seminar theme, "Freedom and its Aftermath: Black Education from Emancipation to the Present," commemorated one of the oldest known celebrations for the end of slavery in the United States by highlighting the overarching HBCU significance since 1865, and the fight for equal education post Brown v. Board of Education.
Gasman noted that HBCU graduates greatly contribute to the middle-class economy in spite of the overall low African-American student enrollment in higher education and the opposition to the mission of Black colleges.
"If it were not for Black colleges, we would not have the Black middle class we have right now," she said. "HBCUs graduate students at a disproportionate rate, even though they enroll 11 percent of all African-American students, yet graduate 22 percent. Although many have tried to force Black colleges to steer away from their mission of racial uplift, they continue to have impact."
HBCUs also prepare Black students for STEM disciplines and doctoral programs in greater numbers than majority White institutions.
"Black colleges have STEM programs that generate the idea of collaboration rather than a cutthroat competition mentality," said Gasman. "Many minority and female students drop out of STEM programs at majority institutions and that is not happening at Black colleges because they get the message that they do belong. Tougaloo College, a tiny college in Mississippi, boasts that 40 percent of their graduates go on to get doctorates."
Panelist Michelle Howard-Vital, president of Cheyney University, explained the strides made at her institution since its founding in 1837 as the Institute for Colored Youth. It is known as the first institution for higher learning for African-Americans.
"We need for faculty and administration to nurture their students," said Howard-Vital. "We wrap our arms around our students and nurture them so that they know they are important."
The seminar also had a candid discussion about the challenges Black education faces, specifically in K-12. Reverend Mark Tyler, pastor of Mother Bethel African Methodist Episcopal Church in Philadelphia, said that that many of the same racial inequality issues that prompted Brown v. Board of Education still exist in today's K-12 public education but are cloaked in subliminal forms.
"The more things change, the more they stay the same," Tyler said. "People are still burning down Black education. It may not be with real torches, or with real fire, but through budget cuts. Budgets are not an accident. This is the civil rights issue of today."
Tyler pointed out the inequity within cuts to education.
"According to the recent report from the Philadelphia Public Law Center, over the last three years by race, Black children suffer cuts of over $700 per child across the state of Pennsylvania, compared to less than $400 for White children," Tyler said. "That is not an accident. Even though the law has passed, the fight continues. A one and done victory does not mean anything if Brown v. Board of Education is not enforced. And 60 years later we are seeing the same thing."
The seminar was moderated by Erica Armstrong Dunbar, associate professor at the University of Delaware and director of the Library Company's Program in African American History, which surveys Black experiences from the beginning of European colonization through the 1900s. The Library Company, founded in 1731 by Benjamin Franklin, is the first successful lending library. It brings together scholars and members of the community to explore the American society and culture.
Jamal E. Mazyck can be reached at [email protected] and on Twitter @jmbeyond7.