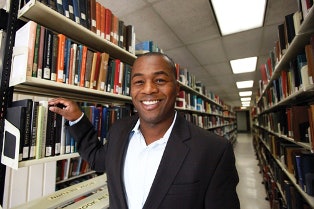 In an effort to enhance the Obama administration's My Brother's Keeper Initiative, a group of minority male-focused academic research centers issued a joint statement in early June asking the White House to consider intervention programs that have been effective in social science research.
In the statement, which was a response to a My Brother's Keeper task force cabinet meeting held at the White House on May 30, the coalition of seven research centers, including the Center for the Study of Race and Equity in Education at the University of Pennsylvania and the Morehouse Research Initiative at Morehouse College, advised funders who are expected to invest $200 million in initiative projects to seek research-based evidence on the programs they will evaluate for the initiative.
"We urge private foundations, federal funding agencies (i.e., the Institute of Education Sciences, the National Science Foundation, and the National Institutes of Health), and other entities that invest in projects associated with My Brother's Keeper to take seriously the evidence base of initiatives that are proposed, as well as rigorous evaluations of newly funded projects …," the statement said. "To ensure the success of My Brother's Keeper, our research centers stand ready to serve as resources to its funders and the Obama Administration."
If funders, such as the Annie E. Casey Foundation and ‑the Atlantic Philanthropies organization, reach out to any of the seven centers for help, the Minority Male Community College Collaborative at San Diego State University may prove to be a compelling choice for expertise on improving higher education outcomes for young men of color.
Community college enrollment
Established in 2011, the Minority Male Community College Collaborative, or M2C3, has become a leading center for the study of minority males at community colleges. Minority male-focused research centers have long documented the fact that the largest segment of African-American and Latino men in American higher education are enrolled in two-year public institutions.
"From a philosophical and on a practical level, the community college is absolutely essential if we're talking about the success of men of color [in higher education]," says Dr. Frank Harris III, an associate professor of postsecondary education at San Diego State University (SDSU) and an M2C3 co-director.
Harris notes that with "the overwhelming majority of men of color who are in higher education [being] either enrolled in community college or (having started) at a community college, it would be important … to focus [M2C3's] effort on partnering with community colleges to strengthen what they do with men of color as it relates to their achievement."
Under the leadership of co-directors Harris and Dr. J. Luke Wood, M2C3 has developed the Community College Survey of Men (CCSM) as a research assessment tool and has partnered with 40 community colleges in eight states that have made use of the survey.
With the CCSM posing questions about education goals, feelings of inclusion, campus participation, sense of belonging and on-campus support, M2C3 researchers have been able to collect data and formulate quantitative benchmarks for gauging student success. While the survey universally applies to male students regardless of race or ethnicity, it has been designed to help community college faculty, staff and administrators understand how campus climate and racial identity affect the college experience of minority male students.
Wood, an assistant professor of administration, rehabilitation, and postsecondary education at SDSU, describes the CCSM as a tool that enables community colleges to focus on "institutional responsibility and how institutions foster climate that affects success for men of color." Analysis provided helps schools see how male students are faring at the institutions they attend. Wood adds the CCSM analysis documents how schools can enhance student services and the measures they can take to improve the campus climate.
"[The CCSM] is an institutional responsibility instrument …," he says. "It looks for and places the onus of student success on the institution rather than the students."
Dr. Shaun Harper, a professor in the Graduate School of Education at the University of Pennsylvania and founder of the Center for the Study of Race and Equity in Education, has long advocated that colleges and universities should assess and refine their commitment to institutional responsibility so that they better serve students from underrepresented populations.
Harper, who is a member of the M2C3 advisory board, says the center's research focus on community colleges and use of the CCSM "fills a major void in the current scholarship and practice concerning men of color."
"The Community College Survey of Men now provides actual guidance and good data for folks to determine where the institutional responsibility ought to be focused," he says.
Partnering with M2C3
Community colleges have been using CCSM results to develop professional development workshops for faculty and staff. Those results have also enabled schools to target intervention efforts through minority male initiatives and programs. For example, San Diego City College officials secured a $50,000 grant last fall based on analysis from a CCSM study at the campus.
The grant will fund a first-year experience program for men of color during the 2014-15 academic year, says Dr. Nesha Savage, the chair of counseling at San Diego City College. Forty Black and Latino students will each receive $400 per semester as a stipend to motivate and provide encouragement to the students as part of the first-year program.
"We took the information that we learned from the survey, specifically the strategies that work best in supporting men of color, and we designed a program for men of color," says Savage.
Savage explains that while the college's institutional research department provides faculty and staff research data about students who attend San Diego City College (SDCC), it rarely presents that information broken down by race and ethnicity. This fall, SDCC faculty and staff are expected to have a full briefing on the data the M2C3 collected from the CCSM study conducted in 2013.
Dr. Ray A. Ostos, the district director for student affairs for the Phoenix-based Maricopa Community College system, says the Maricopa administration has planned a day-long event for September 5, at which Wood will be speaking to faculty, staff and administrators from the 10-campus system.
Wood will present data that applies nationally and to Maricopa specifically. "We'll be able to get an idea of what our minority male students say about their college experience with us," says Ostos.
Wood will also be offering the Maricopa system concrete ideas on what its 10 campuses are "going to do next" to support minority males. Last year, a total of 2,088 Maricopa male students completed the CCSM, according to Ostos.
Propelling forward
Wood's interest in community college scholarship dates back to his doctoral student days at Arizona State University, where he worked as a researcher for a minority male program within the Maricopa Community College system. Since earning a doctorate at the University of Southern California, Harris has focused on how gender and racial identity influence student performance in higher education.
Both Wood and Harris say establishing M2C3 originally stemmed from a vision to combine their respective strengths as researchers.
"I've always been concerned about student achievement as a higher education scholar," says Harris, who joined the SDSU faculty in 2007.
Following Wood's SDSU appointment in 2011, the two launched M2C3.
"When the position opened up at San Diego State, it was a perfect opportunity to work with Harris and extend my community college research to investigate issues of masculinity and racial identity pertaining to men of color," says Wood.
Dr. Victor B. Saenz, an associate professor of higher education administration at the University of Texas at Austin, says M2C3 is helping to bring a sustained and direct focus on the impact community colleges are having on African-American and Latino men. An M2C3 advisory board member, Saenz believes the M2C3 will likely shape how other minority male-focused research centers conduct their higher education research efforts.
"A majority of [Black and Latino males] in states such as California and Texas are clearly beginning their postsecondary experience in community colleges. These are the areas where the rubber meets the road in terms of how our institutions can respond proactively and address the needs of these students," says Saenz.
"I do see other centers around the country following [M2C3's] lead in focusing on the community college sector and particularly on men of color at community colleges," he adds.