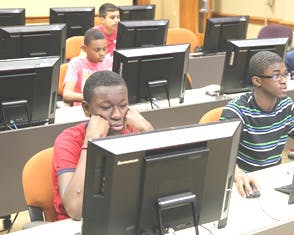 The computer camp classes will continue this academic school year and efforts to recruit additional students are underway.Howard University alumnus Kyle Rivers has been concerned about the lack of minority representation in the STEM field for some time.
"Whenever I walk into conferences and tech groups, there are still not enough minorities and women represented," says Rivers, who currently works as the webmaster at Bloomfield College, a small, private four-year liberal arts school in northern New Jersey.
Determined to do his part in stemming the tide and reversing the trend, Rivers helped convince administrators at the college to start offering free Saturday morning classes to minority middle and high school students from neighboring cities like Newark and East Orange. The classes are designed to interest students in pursuing science-related careers.
Partnering with the Black Data Processing Associates, a nonprofit organization of professionals who work in or have an interest in the computer science and information technology fields, 27 minority students from more than two dozen area schools answered the call and converged on the college's 11-acre campus last spring to learn about web programming, web development and database design.
"The students really got into it. They were excited," says Rivers, who also volunteers as an instructor for the computer camp. "We started with two-hour sessions and then we moved to four."
The program was so successful that the school will offer the camp during the upcoming academic school year and has increased its efforts to recruit additional students.
The camp is one of a number of initiatives in effect on college campuses across the country with the intended purpose of introducing middle and high school minority students to careers in the STEM fields.
Nationally, African-Americans comprise just 3 percent of all American scientists and engineers, with Hispanics making up 4 percent of the total. The numbers are equally dismal among minority women, with 1 out of every 10 STEM professionals fitting the demographic, according to the National Science Foundation.
"Colleges have to partner and go beyond traditional education borders to bring STEM to our students," says Dr. Marion Terenzio, vice president for academic affairs and dean of faculty at Bloomfield and a strong supporter of the camp. "I think it is extremely significant and perhaps most necessary to get students into the pipeline. These students can do it, but they have to be exposed to teachers and professors who can bring STEM to them at that level."
For many of the youngsters, particularly those who had not considered matriculating into college post-high school, the camp provides rigorous academic instruction and opportunities for them to compete in regional and national competitions like the High School Computer Competition (HSCC), held in June at Bowie State University. Dr. Steve Kreutzer, an associate professor of computer information systems, also recruited several Bloomfield undergraduate students to serve as peer mentors to the participants as part of the school's long-term commitment to service learning.
"My objective was to give undergraduates an opportunity to work with middle and high school students and give back, while also developing skills themselves," says Kreutzer. "I expected that my students would benefit by reinforcing the knowledge that they gained from their coursework, but the unexpected benefit has been that the younger students have challenged and inspired their mentors. They are all remarkably talented, which raises the bar for everyone involved."
It's these kinds of campus-based partnerships that are necessary, experts say, if the goal is to eliminate long-term racial disparities within the STEM fields.
"We wanted to partner with a local college that had a good reputation and was central to where our students lived, and Bloomfield College certainly fit that bill," says Coram Rimes, immediate past-president of BDPA and program co-coordinator of the computer camp.
Bloomfield is an emerging leader in recruiting first-generation and underrepresented students into STEM majors. Last year, the Roche Foundation awarded the college with funds to provide students with research opportunities.
Now, college officials say, the STEM focus should be on reaching a younger generation of students who are still in middle and high school.
"Many young students love computer science and we must do everything we can to support their passion for learning," says Kreutzer. "The quality of K-12 computer science education is a well-known national problem, and this is our way of doing our part to ensure we are helping to prepare passionate students for the growing number of technology jobs the world has to offer."