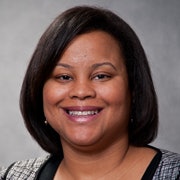 Although the Howard University School of Law is known for its graduates' contributions to civil rights and social justice, Danielle Holley-Walker, the recently appointed law school dean, says sending African-American attorneys into corporate firms is also a critical part of its mission.
Holley-Walker, a Yale- and Harvard-educated attorney, arrived at Howard this summer with a strong background in academia, including research, teaching and administration at the University of South Carolina School of Law. She also practiced corporate law for Fulbright & Jaworski LLP, in Houston (now Norton Rose Fulbright). And, early in her career, she clerked for Chief Judge Carl E. Stewart in the U.S. Court of Appeals for the Fifth Circuit.
"When I came out of law school I worked for one of the largest law firms in the country, and while I was there I worked in a section that did commercial litigation defense," Holley-Walker told Diverse in a recent interview. "I feel that it was one of the most important work experiences that I had."
She says her core interests were educational equity and educational inclusion, "but by working in a corporate law firm I saw there was an ability for people like me who have those underlying interests to be able to bring those points of view into the law firm. … Clients are more and more concerned about having lawyers that reflect the community, whether it be the local community or the United States more broadly."
So she says that, while Howard law school's legacy of preparing students for careers in the area of social justice is important, the mission is now more encompassing. "What we're about today is redefining and expanding social justice to not just civil rights cases, but … to corporate law where they are often the only voice in the room for people who look like them and things that might interest them."
She says those interests include income inequality and intellectual property protection, "which are incredibly important to advancing marginalized communities. That is part of what Howard law school is about now—having that recognition that our students and our institution are about all of these things."
Holley-Walker has published articles on a range of issues, particularly related to public education, including the No Child Left Behind Act, charter school policies, desegregation plans and affirmative action in higher education.
"The theme of my scholarship has been how do we create more opportunity and inclusion for people who are the most marginalized in society and for people of color and people who are poor and disenfranchised," she says.
In her 2011 article, "A New Era for Desegregation," published in the Georgia State University Law Review, she discussed how traditional desegregation cases relate to the continuing struggle to achieve racial and socioeconomic integration in public schools. Another article, "The Importance of Negotiated Rulemaking to the No Child Left Behind Act," published in the Nebraska Law Review, contended that the controversial 2001 legislation was "failing both in theory and execution."
Holley-Walker also researched the proliferation of charter schools in post-Katrina New Orleans that resulted in that city having the first majority public charter school system in the United States. Her article stated that "it presents essential questions for legislatures and courts, including whether these autonomous, experimental public schools will actually succeed in improving student achievement."
The new dean points out that, in addition to its legacy in the civil rights arena, the Howard law school tradition also includes "a strong leadership component." This quality is borne by such alumni as Washington, D.C., former mayors Walter Washington, Sharon Pratt Kelly and Adrian Fenty, as well as current Atlanta mayor Kasim Reed, and trailblazers such as L. Douglas Wilder, the first African-American U.S. governor, and Thurgood Marshall, the first African-American U.S. Supreme Court Justice.
Holley-Walker says many outstanding students may not become such high-powered officials but are still likely to make significant contributions to their communities.
"They may go home at night and chair the board of directors for a new charter school or lead their neighborhood association … students who choose this school tend to be students who are looking to make improvements," she says. "They tend to choose this school if they believe they are ready to be transformative leaders."