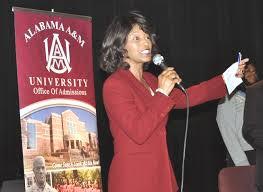 Traditionally, HBCUs known for attracting the best and brightest African-American scholars boast about their prime catches — those alumni who have made their mark on the national scene. Morehouse College in Atlanta, for example, is widely known for graduating such well-known figures as Dr. Martin Luther King Jr., former Atlanta mayor Maynard Jackson, filmmaker Spike Lee and actor Samuel Jackson, among other notables. Howard, Florida A&M, Hampton and many other HBCUs have similar reputations.
Venita King, assistant vice president of enrollment management and director of admissions at Alabama A&M University, says they have capitalized on this in their ramped-up recruitment efforts.
"We initiated the presidential bus tour and decided we were going to take the university and reintroduce it to the Alabama community. We began that in 2013, and we adopted the slogan, 'Start here, go anywhere,'" says King. As part of the initiative, she says the university gave the students examples of alumni who had excelled in their fields.
King says they started telling the stories of alumni such as 1989 graduate Col. Martha Brooks, director of public affairs for the U.S. Army Expeditionary Contracting Command, and NFL Hall of Famer John Stallworth, a 1974 graduate who played 14 years with the Pittsburgh Steelers and built a defense contracting company that he sold for a reported $74 million in 2006.
"We have success stories that we have not shared before in this way," she says. "We have not taken advantage of our success stories. We need to be able to say, 'Look who we've prepared. Look where they started and where they are now.'"
Emphasizing current students
Darryl Isom, director of admissions and recruitment at Morehouse College, says the Atlanta institution has always showcased its successful alumni, but they are now ramping up their efforts to attract top scholars. Not only are they highlighting their alumni and current students, but also outstanding incoming freshmen.
This summer, Morehouse's website displayed features about new arrivals who received prestigious scholarships. "We're very proud that students who choose to come to Morehouse can go anywhere, and have scholarships to go wherever they want," says Isom. "We have five Gates Millennium Scholars coming to Morehouse."
One of them, Juan Watkins Jr., of LaPlace, Louisiana, who plans to study biology, was featured prominently on their website this summer. He is one of 1,000 students selected by the Gates Millennium Scholars Program out of 52,000 applicants for the "good-through-graduation scholarship," reportedly valued at nearly $200,000.
"There was a time when Morehouse was the institution for the top African-American male students to attend," Isom says. "Now these students can go wherever they choose. So we have to make sure the students realize the unique culture of Morehouse, the mentoring, role models and connections that exist here that you can't obtain at any other institution."
He says Morehouse recruiters also point out to students that many of the other schools that are courting them will still want them as graduate students — and they "will be well prepared to attend graduate school at those other institutions. That way, they can get the best of both worlds," Isom says.
At Florida A&M University, a Gates Program recipient, Delana Green from Jacksonville, Florida, also garnered publicity on the school's website. "To have a scholar like Delana choose FAMU speaks volumes about the caliber of the programs and opportunities the university has to offer," said Dr. William Hudson Jr., vice president for student affairs at the institution, in a recent news release announcing Green's scholarship and her choice of FAMU.
Hudson says that he reaches out personally to highly sought-after students, knowing that they are receiving attractive offers from competing institutions, but like Isom, he says FAMU emphasizes its unique assets. One way it attracts high-achieving students is by publicizing the groundbreaking work of those already there.
For example, FAMU doctoral candidate Daryl Sibble spent the summer completing research in an internship with the National Oceanic and Atmospheric Administration (NOAA).
Sibble is one of only two students to receive NOAA's first Educational Partnership Program (EPP) Graduate Research and Training Scholarship, which provides $45,000 for research opportunities with NOAA.
Sibble, who is enrolled in FAMU's School of the Environment, is conducting research related to developing safer practices for the application of fertilizer in agriculture, specifically fertilizer that uses ammonium nitrate, which can be harmful to humans.
Students like Sibble make Hudson's job easier. Hudson recently made a presentation on recruitment practices at the Association of Public Land-Grant Universities HBCU Student Success Summit in Atlanta.
He says at the conference he provided a list of tools needed in today's recruitment environment. "The first thing that's very important is your modes of communication — that is, you have to utilize social media and use virtual tours of the school on your website," Hudson suggests. "You also have to embrace the global market, and what is most important is showing the return on your investment, so you have to give them real-life scenarios of people who are successful and have attended the school."
He says he typically does a bit of name dropping. "I usually use John Thompson, the chairman of Microsoft," Hudson says. Thompson, a 1971 graduate of FAMU with an MBA from MIT's Sloan School of Management, was named chairman of Microsoft Corp. in February 2014.
Improving outreach
Hudson also says many HBCUs are waiting too late to begin their outreach to college-bound students — that it needs to start in middle school instead of high school, using summer programs that are academically based but also fun.
Isom suggests that timing is also important. "We have to be at the table at the front end to award scholarships and indicate to students that we recognize their ability and they have done an excellent job in high school and offer that money upfront, knowing that other schools may come behind us and top our offer."
But he says the early outreach allows Morehouse to distinguish itself, its culture and overall environment in the initial stages of a student's decision-making.
A major challenge, even with stepped-up recruiting, is financial need, particularly for students from middle-class families with incomes too high to qualify for Pell Grants or out-of-state waivers. The credit score requirements on Parent Plus loans have also made more families ineligible for that assistance.
So HBCUs have had to become more creative in attracting good students who are not top scholars and who are not from low-income families. "We rely heavily on our foundation and our alumni to provide scholarships to help support those students," Hudson says. "And we look to the community to provide employment to our students, but we don't encourage students to work more than 25 hours a week."
In addition to the new methods, the top recruiters all agree that the old-fashioned involvement of alumni meeting with prospective students in their communities continues to be as important now as it ever was.
But overall, says King, "Recruitment for HBCUs has changed.
There was a time when recruitment was just a matter of how many students did you accept, and you just waited because you knew they were coming to you. Those days are gone."