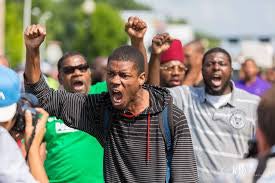 The protests that have swept up Ferguson, Mo., following the fatal shooting of Michael Brown, in part have been powered by the young people. Some are local and others have come there to help organize.
Antonio Parker, a student at University of Missouri-St. Louis, said that he has been at protests during the day.
"When I'm there, it's calm, people are just chanting, trying to get their voices heard," he said. "When I was down there, the police that were there during the day, don't seem to be as on edge as they are at night, from what I've been told. A lot of people think that the message is getting covered up by all the looting, but I think the message is still being carried out—justice for Mike Brown.
"The Black community, we are tired of police brutality."
According to Parker, students have been swept up in a common cause.
"The beauty of it is, there are a lot of college kids down there that are not there because they're in the SGA, or they're representing this program, or that," he said. "They're there because they have been there, and they continue to be there, because they want to be."
Parker is a graduate of St. Louis Community College, a predominantly Black institution, where he majored in criminal justice. Florissant Valley, the campus from which Parker graduated, is just a half-mile from where the protests precipitated by the death of Brown are now taking place. He works in the admissions department there and mentors for the STLCC's African-American Male Initiative.
Keith Ware is director of the African-American Male Initiative, which is funded with a grant from the Department of Education. The initiative provides tutoring, writing labs, mentoring, and even books to students who cannot afford them, since its beginning in 2009. A full 60 percent of the students that the initiative serves are among the most vulnerable type of student, those referred to by Ware as "non-traditional."
Some of the students who fall under the umbrella categorization of non-traditional are students who have been laid off from work and are returning to school after 10 to 20 years. Some have been incarcerated. Others suffer from undiagnosed mental illnesses. And some have dropped out of larger universities and are starting out again in the community college system. All paint a picture of an under-resourced urban area.
Ware said that, for now, academics will take precedence over the protests at STLCC.
"We've wanted first and foremost that (the students) get in and their focus is making sure that academically they take care of their business," he said. "The focus of our initiative is persistence and retention."
As far as Ware has witnessed, the protests have been calm. "They've been extremely peaceful," Ware said. "You'll always get some individuals who will be a bit out of hand, but the majority of the people down there have been quiet."
Even so, Ware does admit that the past few weeks have been "hectic." Classes started at STLCC on the 18th with the backdrop of the protests. "At the beginning of the week, one of the conversations that we had was trying to put some things together, some focus groups, where we could have some discussions on what's going on in Ferguson," Ware said.
In addition to campus conversations, faculty, staff, and students have been talking to people in the area and socializing with protesters.
"There are some smaller organizations at St. Louis Community College that, as a matter of fact, on Saturday will be having a service day down in Ferguson, where they will be able to go down there and help out with community vendors," Ware said.
Charlene Carruthers, the national coordinator of the BYP 100, the organizing arm of the Black Youth Project, has been on the ground in Ferguson since Wednesday. "We are here to support the young black people who are on the front lines making the movement here in Ferguson, and continuing the movement," she said.
She earned her masters in social work from Washington University in St. Louis. According to Carruthers, opportunities for jobs and education in the area are limited. "A lot of the young people out here are unemployed. They don't have jobs. They don't have opportunities, not because they don't want jobs," she said.
Even as Ware grapples with retaining the students who do enroll at STLCC, Carruthers said that others do not make it past high school. "Just getting folks through high school is a major issue here. Before they can even get to college, they're cut off," she said. "Looking at the infrastructure of public education, here in the St. Louis area, people don't have access to opportunities that they actually want, or need, to be successful."
Carruthers said she hopes the energy of the protests will transform to a base of "long term power" for African-American people in the area. She hopes some good may come of the sorrow surrounding Brown's death. "The most positive thing is that people have come together. It's a tragedy, but they made a choice to come together, as opposed to break apart," she said.
Staff writer Catherine Morris can be reached at [email protected]