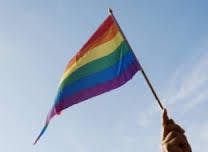 Four HBCUs, with the support of the Human Rights Campaign and Promised Land Films, are working to ramp up their LGBTQ inclusion efforts, just ahead of National Coming Out Week.
Alabama State University, Spelman College, Johnson C. Smith University and Tennessee State University were recently awarded $4,000 grants for on-campus screenings of "The New Black," a new film that examines the role of race, faith, justice and identity in the lives of politically powerful Marylanders leading into the 2013 election—which included a referendum to legalize same-sex marriage in the state. Grant awardees are hoping the discussions in the film will serve as a catalyst for discussions on campus that will lead to a more inclusive environment.
"'The New Black' is our first step towards creating greater visibility, establishing a safe space, and providing support for LGBT Hornets amongst faculty and the student body," said Darian Aaron, president of AMPLIFIED, the LGBT organization at Alabama State University. "Our goal is to create a campus environment where the totality of our identity is celebrated in culture and university policy."
Warren Radebe, a senior at Johnson C. Smith University and vice president of S.A.F.E. Pride—the campus' LGBTQ and human rights organization—said that HBCUs must foster a more inclusive environment if they are to remain relevant in the 21st century. Citing the recent closure of St. Paul's College and reports of other schools flailing, Radebe believes "that would never happen" if Black LGBTQ students-to-be felt there weren't such a closed-off culture on HBCU campuses.
When preparing to apply for schools, prospective students "look at what can this school do for me, how can it support my issues," he said, noting that for many, their "issues" revolve around their sexual identity and acceptance. PWIs, he said, tend to be much more liberal and thus more supportive of LGBTQ students than HBCUs, many of which have very conservative foundations.
Aaron agreed.
"These conversations are necessary if HBCUs want to remain relevant and competitive in the 21st Century," he said. "HBCUs have always been on the forefront in the advancement of civil rights, and if they are serious about creating a world where African-American students are prepared to succeed during school and after graduation their plan must include their LGBT students as well."
AMPLIFIED is the first university-recognized LGBTQ organization on Alabama State's campus.
"I had a member of AMPLIFIED tell me he chose ASU after learning an LGBT group was available to him on campus. LGBT students can no longer be an afterthought at HBCUs," Aaron said.
For even schools that are considered more inclusive of the LGBTQ community, there is still lots of ground left to cover.
Dr. Erica L. Williams, an assistant professor of sociology and anthropology and a member of the LGBTQ Curriculum Development Steering Committee at Spelman College, said even at Spelman, often regarded as one of the most inclusive, issues persist.
"There must be less of a disconnect between the rhetoric about Spelman as the most queer-friendly HBCU and how one feels on the ground," Williams said. "Last Spring semester during Spelman-Morehouse Pride Week, there were a few homophobic incidents that left some students feeling unsupported and disillusioned with the institutions. The film screening and discussion will provide an important opportunity to bring people together in the Atlanta University Center to discuss issues of LGBT equality and inclusion on our campuses."
Aaron agreed. Saying "Visibility, religious bigotry, and the eradication of homophobia" are the biggest issues facing the ASU campus. "Coming out in order to create the change we seek, especially amongst the black gay male population on campus, continues to be a challenge," he said. "There's so much misinformation and [so many] stereotypes surrounding the lives of LGBT people. Our issues have gone unaddressed on this campus for years because there were few people willing to be open about their lives in a state that has a history of being racist and homophobic."
Radebe said that at Johnson C. Smith, the campus is overall inclusive, but there needs to be top-down, total buy-in on the importance of inclusion. The campus has made great strides, he said, but there is still room for improvement.
But for Aaron and others, there is hope that a traditionally conservative campus climate at ASU (and other institutions) will give way to an environment in which all Black students will feel comfortable.
"Thankfully, times are changing," Aaron said.