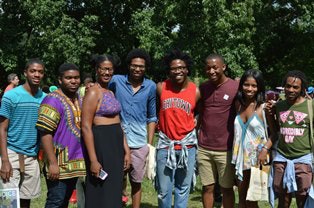 Though it is difficult to make sweeping generalizations about HBCUs, for the most part, they are more commonly associated with conservative traditions and Christian-based values than they are with vibrant LGBTQA communities. Yet as times and student demographics change, HBCUs will be increasingly challenged to ensure that all students are equally protected and valued on campus.
Dr. John Michael Lee Jr., vice president for access and success at the Association of Public and Land-Grant Universities (APLU), notes that HBCU student bodies have greater expectations of diversity.
"Students that are coming (to HBCUs) are different," Lee says. "They've had different experiences, they've grown up in more diverse communities, and so the expectations of diversity are very different."
Broader national issues like the legal battles over same-sex marriage have brought LGBTQA issues to the forefront. As national sentiments change, that has spilled over to HBCUs. "I think you're seeing more efforts to be inclusive on campus," says Lee.
Some majority institutions have invested substantial dollars in efforts to combat discrimination on the basis of sexual identity. They have dedicated resources, spaces on campuses and even administrative positions to promote LGBTQA issues.
A handful of institutions, like Harvard University and the University of Pennsylvania, have taken it several steps further by covering gender reassignment surgeries for employees and students under the campus health plan.
All this is part of a general movement to help LGBTQA students come into their own at higher ed institutions. "Research has shown that students who don't feel supported in their identities on campus are more likely to leave, and the same goes for faculty and staff ," says Demere Woolway, co-chair of the Consortium of Higher Education LGBT Resource Professionals, in an electronic message to Diverse.
LGBTQA groups flourish
Individual HBCUs do not have the same type of resources as Harvard or Penn at their disposal. But what some HBCUs do have are motivated student groups that are actively effecting change. Given the space and encouragement to flourish, they have done just that.
In the past, LGBTQA students felt compelled to remain silent about their identities or risk censure or worse from their peers. But now, at some schools, it's possible for LGBTQA students to be more vocal about who they are. "The students are saying, 'Hey, we want to be supported. We want to feel like we're part of the campus,'" Lee says, noting that Spelman College and Bowie State University now have resource centers for their LGBTQA students.
Bowie State's quest to create an LGBTQA resource center is illustrative of how difficult it can be to get one operating with limited resources. Though the administration supported the idea, it took from 2007 to 2012 to bring the plan to fruition.
The University of Maryland, College Park, offered to donate furniture to the new BSU venture. But even then, BSU had trouble finding the funding to transport the furniture to campus.
Morehouse College's Safe Space is an example of a group that has been effective, even without an office or resource center on campus. Morehouse student Marcus Lee, Safe Space's president, says that the group does not feel shortchanged by the lack of space. After all, Morehouse does not yet have a student center for its student body. "The new president is working on building new space just generally," Marcus Lee says.
Instead Safe Space meets at different locations around the campus. This year, approximately 49 students came to the first meeting, which Marcus Lee says is a significant increase from the year before.
The group's primary objective is to help students come to terms with their identities in a constructive way. "We work with (students) with issues of internalized homophobia, so it's a lot of empowerment, a lot of helping gay people love themselves as they are," Marcus Lee says.
"In the South, we don't have a lot of resources around LGBT issues, so students from the South who are around 18, 19, don't really know much about LGBT history, or LGBT issues, besides marriage," Marcus Lee says.
Morehouse has boosted support for Safe Space: Last year, the college gave the group more than $1,000 to conduct PRIDE week events. The administration has also begun to educate students as they arrive on campus on what language to use and how to respect members of the LGBTQA community.
"I think it's gotten a lot more accepting since I came to campus," Marcus Lee says.
The group has been so successful that students at other HBCUs have reached out to Safe Space to ask how they can start LGBTQA-friendly groups. But there is no one-size-fits-all approach. "One school reached out to us with a student body of 25,000," Marcus Lee says. "Morehouse has 2,500. It's going to be a different kind of situation."
At Howard University, the student group CASCADE (Coalition of Activist Students Celebrating the Acceptance of Diversity and Equality) has been around since 2000, although originally it was known as BLAGOSAH (Bisexual, Lesbian, Allied, and Gay Organization of Students at Howard University). Just this past year, Howard gave the group an office.
"We're so happy," says Deidre Belinfanti, a Howard junior and CASCADE public relations chair. "We have an office where students can come in and talk to us. At our biweekly meetings, that room is packed."
Each successive class at Howard has been more accepting of LGBTQA issues, Belinfanti says. "From my experience, coming here in 2012, I haven't seen anything that's really heart-wrenching, or any examples of gay-bashing. But I know, from people who entered here in 2009, who come back and see the difference, (that) acceptance on our campus has changed dramatically," she says.
Though CASCADE has taken off, Belinfanti says that not all LGBTQA groups on HBCU campuses have as much success. Belinfanti says that it can be an issue of retaining enough students to keep the group active from year to year, or a lack of administrative support. In some cases, negative feedback on campus kills off the group.
"In the African-American community, it's a little harder to accept the gay community," she says.
But that's not the case at Howard. "At Howard we just have people who are not going to back down and we want to fight," Belinfanti says. "Because that's what Howard teaches us to do — it teaches us to fight and speak our minds."
While there is still much to be done — nationally and at HBCUs — in terms of greater acceptance for the LGBTQA communities, the student groups that have gained traction show that student activism is a powerful thing. D
Catherine Morris can be reached at cmorris@diverseeducation.com.