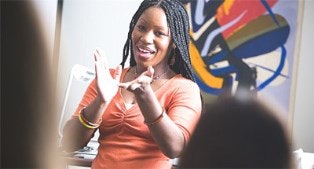 In past decades, the pendulum of funding has swung away from language learning at HBCUs. Though most HBCUs focus their language instruction on the traditional standbys, Spanish or French, a handful are moving in a new direction: developing Chinese programs.
The HBCU just edging out the rest of the pack, so far, is Morehouse College.
Morehouse is unique in that it offers its own Chinese Studies Program, through which students can minor in Chinese and participate in summer and semester study abroad programs with partner institutions in China.
Krishauna Hines-Gaither, an instructor of Spanish at Salem College, said that the dearth of languages at HBCUs is at odds with their origins. "There's a very rich history of languages at HBCUs, and among African Americans," Hines-Gaither said, adding that HBCUs once taught the classics and languages.
Hines-Gaither attributes the move away from languages to shifts in funding at the federal and national level. The Department of Education has favored funding for STEM programs in recent decades. "I wouldn't say it's an HBCU problem; lots of liberal arts programs are losing languages," she said. "It's a national issue."
Dr. Ruihua Shen, who joined Morehouse as director of its 6-year-old Chinese Studies Program two years ago, argues that Chinese is a vital skill to acquire.
"Think about it: the world, and China, are changing so much," Shen said. "China is already the second largest economy in the world. And students, no matter what they do in the future, even if they are doing business or political science, they have to deal with China. As a future leader, you really have to understand China."
Though Morehouse only offers a Chinese minor, Shen hopes that the college will offer a major in the coming years. Currently she is one of two professors overseeing a department with some 60 students and an array of study abroad opportunities.
The Chinese program at Morehouse was developed in 2008, the same year a Chinese program was started at nearby Spelman College. Students at Morehouse and Spelman College can cross-register at both institutions.
The Spelman program is smaller, with only one professor, Dr. Zhengbin Richard Lu.
Lu said that Spelman's Chinese program was started with a gift from Lehman Brothers, just before they went bankrupt.
"Lehman Brothers pledged funding for us to build a center—the Lehman Brothers Center for Global Finance and Economic Development," Lu said. "However, unfortunately, as you know, Lehman went bankrupt, before the Center was opened. Chinese actually was designed as part of the curriculum. But the Chinese program survived."
Funding remains a challenge particularly with regards to further expanding Chinese language learning at Morehouse and Spelman, and indeed at other HBCUs. But a form of help has arrived from a seemingly unlikely source—the Chinese government itself.
Last July, representatives from Morehouse and seven other HBCUs visited China, where they signed an agreement with the Chinese government. The Chinese government has agreed to pay for 1,000 scholarships for HBCU students between the fall of 2014 and 2017.
The scholarships will cover room, board, and tuition.
Shen was part of the HBCU delegation that visited China this summer. She said that China is offering the scholarships as a way to introduce HBCU students to Chinese culture and in recognition of the financial challenges faced by some HBCU students.
"China wants to have soft power, I think to try to expand their influence," Shen said. "The other reason is that most HBCU students have to rely on financial aid. And so it's very hard for them to pay the full tuition to go to China, and so the Chinese government has decided to [step in and] help with that."
Shen added that China will win "soft power" by showing HBCU students the positive sides of Chinese culture.
"China is a rising power. Historically it was always one of the most influential nations in the world. Only in the last 200 years, because of colonialism, China was totally behind. And now they're catching up. And they want to have the influence in the future. And they know the best way is to influence young people. That's the best way to influence the world," Shen said.