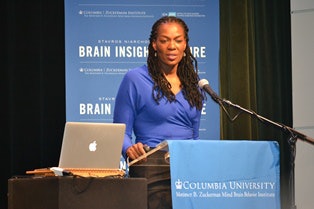 NEW YORK — The tone was somewhat somber in a packed auditorium Wednesday at the Schomburg Center for Research in Black Culture for a public lecture titled "Using Brain Science to Help Combat the Effects of Discrimination" by Dr. Valerie Purdie-Vaughns, an associate professor of psychology at Columbia University.
At the start of her lecture, Purdie-Vaughns noted that she was speaking on a "really difficult day in New York," as hundreds of protesters marched on city streets protesting the decision of a Staten Island grand jury not to indict a White New York City police officer in the chokehold killing of an unarmed African-American suspected of illegally selling cigarettes.
In her presentation, Purdie-Vaughns showed how targeted classroom interventions can help eliminate stereotype threat among African-American students and close achievement gaps. Stereotype threat refers to a phenomenon among individuals to internalize feelings of inadequacy linked to negative stereotypes about groups they are identified with and subsequently live up to such stereotypes, leading to academic underperformance in a classroom setting.
Purdie-Vaughns's research shines a light on the physiological effects of stereotype threat and effective ways of mitigating this phenomenon. A stereotype threat intervention Purdie-Vaughns and her colleagues experimented with was a 15-minute exercise in which a group of middle-schoolers were prompted to reflect on anxieties about intelligence, creativity, social acceptance, and other areas. The goal of this exercise was to lift the element of stereotype threat in an academic setting by zeroing in on and mitigating the negative impact of thoughts of self-doubt.
Purdie-Vaughns actually showed that, when stereotype threat is absent, cognitive activity is pronounced in various parts of the brain when working on a math problem, for instance. However, when an individual is confronted with a stereotype threat, i.e. a female working on a complicated math problem prompted to think she is not naturally disposed to excel in mathematics, cognitive function is most pronounced in one part of the brain, the ventral anterior cingulate cortex.
According to Purdie-Vaughns, that part of the brain "is implicated in social rejection. … It's also implicated in sensitivity to negative information about the self, and we also know that it's associated with clinical depression." Under the influence of stereotype threat, "you're actually not recruiting the parts of the brain that you need to recruit to learn."
Purdie-Vaughns was able to show that a targeted affirmation exercise led to significant closing of the achievement gap between the Black and White middle-schoolers that made up a study she referenced—a letter-grade-and-a-half improvement for Black students. Furthermore, Purdie-Vaughns presented findings that indicated that an achievement gap was basically nonexistent when the performance of this group of students was gauged several years later in a college setting.
"Most interventions are expensive, they take a lot of time, and they improve performance for everyone," Purdie-Vaughns noted. "But because we were able to give this intervention to everyone but it uniquely affected African-American students, we were able to close this achievement gap."
Dr. Thomas M. Jessell, co-director of the Mortimer B. Zuckerman Mind Brain Behavior Institute, introduced Purdie Vaughns and applauded her for her "mastery over the topics of the sociology of stereotype, the psychology of cognitive coping, and the neuroscience of the human mind." Jessell also serves as Claire Tow Professor, departments of neuroscience and biochemistry & molecular biophysics at Columbia University.
Dr. Sarah Woolley, chair of Columbia University's Department of Psychology, applauded Purdie Vaughns for "a fantastic job of integrating basic science and neuroscience and policy altogether," noting that there is a sort of built-in resistance to the type of interventions Purdie-Vaughns has experimented with, as educators say, "We don't want to invest in these interventions, we're having enough trouble trying to take care of these kids.
"Some of the interventions that have been proposed in the field are very time intensive. I think [Purdie-Vaughns has] done a great job of making this work very acceptable and demonstrated that, with small changes, you can bridge gaps," Woolley says. She adds that, if individuals "recognize that each of us are stereotyped in some way and sort of reflect on our values, we can recognize that we're all valuable people as individuals and we can kind of get through these times. I think that's a great lesson for all of us."
Purdie-Vaughns's presentation at the Schomburg Center was part of the Stavros Niarchos Foundation Brain Insight Lecture series, offered to the public for free to enhance understanding of the biology of the mind and the complexity of human behavior. The lectures are hosted by the Mortimer B. Zuckerman Mind Brain Behavior Institute at Columbia University and supported by the Stavros Niarchos Foundation.
For more information, visit the Zuckerman Mind Brain Behavior Institute on the web at http://zuckermaninstitute.columbia.edu/