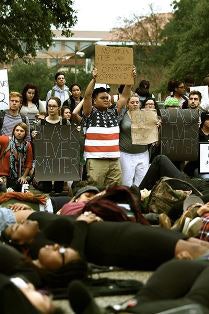 College campuses have, for decades, been hotbeds for activism and social change. With the recent non-indictments of police officers in the deaths of Michael Brown (Ferguson, Mo.) and Eric Garner (New York), the entire nation has been overwhelmed with emotion and outrage—and students are no exception.
On campuses from New York to Texas to Miami to St. Louis, students this week joined other protestors to stage "die ins" on campus to demonstrate for the lives that have been lost.
"Die ins" are this generation's sit-ins: students literally laid on the ground in areas of campus hoping to draw attention to the unlawful deaths of these two Black men at the hands of police officers.
Tiana Horn, a junior public policy and international comparative studies major at Duke University, said on her campus, students were solemn and angry, but she believes the point of the rallying theme that "Black Lives Matter" was made.
"We stand in solidarity with the family of Michael Brown, Eric Garner and all those who face injustice and that we will not apologize for our anger about the way Black lives are being treated," said Horn, who noted that many non-Black demonstrators joined in to show their support as well.
At the University of Missouri Tuesday, however, one outlet is reporting that White students were asked not to join in the protest.
"We are asking that only people of color be the demonstrators to" participate in the die in, an instructional flyer said. "We are asking non-people of color to hold hands in solidarity."
Desiree Francis is a senior at St. John's University in New York studying childhood education. "On our campus, the issues haven't been brought up in many classes," she said "Administration is just continuing to conduct business as usual. So to know that my fellow students are standing for the cause is simply beautiful."
She said students, who are studying not far from where the incident took place, had been feeling distressed and they "hoped to show the campus our outrage in light of the latest events." Francis said that though things seemed to be operating like "business as usual" during the day, she believes administrators and others on campus took notice.
"People were truly impressed by the protest and pleased to see it happen," she said. "Those who participated felt it was truly needed and we gained the attention of administrators and faculty across the board. … It is important to come to get and truly voice our opinions as well as Comfort one another. During these unfortunate times it's good to know that we are not alone in our feelings."
On at least one campus, administration not only supported, but was proud of the students and their efforts.
Dr. Gregory J. Vincent, Vice President for Diversity and Community Engagement at the University said he is "very proud of the students" at his institution who organized and demonstrated.
Vincent said UT-Austin encourages students "to be leaders and to take a stand on issues that are important to them. And I think they did a great job of effectively voicing their concerns and sentiments and doing it in a way that caught the attention" of the campus community. .. I just really have a lot of respect for them, because no matter what the issue is — affirmative action, integration—our students have been real leaders in those efforts," he said. "I could not be more proud of that."
Vincent said as a native New Yorker, he is personally "outraged by that decision" not to indict in the case of Eric Garner, the most recent of the announcements to come down the pike.
"I just think that our campus, our students have really had a history of speaking out on issues of injustice. … I'm just very proud of the leadership our students have displayed throughout my tenure," he said.
As students—and the nation continue to grapple with the recent events, demonstrations and protests are continuing to take place for the remainder of the week.