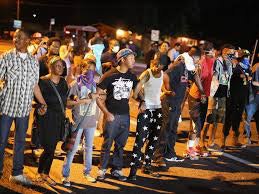 WASHINGTON ― Police violated the constitutional rights of protesters upset by the death in Ferguson, Missouri, of an unarmed Black man, lawyers told a federal judge Wednesday in urging she step in and curb the police.
Lawyers sought a temporary restraining order on Missouri police, who they say have unnecessarily intimidated demonstrators, assaulted them with tear gas and pepper spray, employed physical and verbal abuse, refused to identify visibly identify themselves when asked and categorically labeled demonstrations as unlawful assemblies.
"What they're doing is punishing people for being out protesting," said lawyer Thomas B. Harvey, one of the lawyers representing six St. Louis-area protesters who have been involved in what he called peaceful and lawful protesting. "It's having a chilling effect on their First and Fourth Amendment rights."
The summertime shooting of Michael Brown, 18, in Ferguson, and a grand jury's refusal to indict the White police officer involved sparked days of violent protests and racial unrest in the predominantly Black community. Some residents and civil rights activists complained then that responding police officers were overly aggressive, noting their use of tear gas and surplus military vehicles and gear.
Since then, mostly lawful protests have spread across the state and country following a similar decision in New York City not to indict a White officer in the death of Eric Garner, who died gasping "I can't breathe" while police were trying to arrest him for allegedly selling loose, untaxed cigarettes.
Instead of the traditional mass arrests, police liberally sprayed tear gas on lawful protesters as a means of crowd control, said Brendan Roediger, a law professor at Saint Louis University who is also representing the protesters. "That's different from how police have traditionally operated in regard with protest movements," Roediger said.
Judges should force police to come up with a specific policy that police follow when it comes to relying on chemical munitions to deal with crowds, said Nicole C. Lee, a Washington-based lawyer. "The purpose of the legal action is to bring to the attention of the courts the fact that this has been excessive punishment and has not been used in the proper instances. Instead, it's been used to punish and to harm peaceful demonstrators," she said.
Named in the temporary restraining order are the St. Louis city and county police chiefs, Sam Dotson and Jon Belmar, respectively, and Capt. Ron Johnson of the Missouri Highway Patrol. Their three organizations were ordered by the governor to work as a unified command around the grand jury's announcement.
Sgt. Brian Schellman of St. Louis County Police referred requests for comment to the St. Louis County Counselor's Office.
U.S. District Judge Carol Jackson in St. Louis scheduled a hearing today on the request. It would only apply to police in Missouri.
The request for a temporary restraining order says that if it is not granted, protesters fear "their First Amendment rights will continue to be impeded in the future." Brown and Garner's families are expected to participate in a protest in Washington on Saturday.
Police often did not give warnings before firing tear gas at crowds, and when they gave warnings, would not give protesters a safe route to disperse as ordered, the complaint said. Officers, some of whom weren't wearing name tags, would fire tear gas at legal observers and at peaceful protesters, some of whom were trapped between clouds of tear gas and the officers firing them. Officers would also declare crowds unlawful assemblies without attempting to determine whether anything unlawful was happening, Harvey said.
"We're not asking for crazy things here," Harvey said. "Wear your ID. If you're going to make your announcement to disperse, give people the right, a place, a way that they can comply with that order, and if you're going to declare something an unlawful assembly, follow the statute."